Top 7 Poker-Related Stories to Watch in 2019
By
January 3rd, 2019 | Last updated on January 3rd, 2019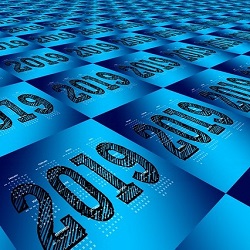 It's just another year, some say. It's just a new calendar. True, but there are numerous stories that have the potential to play out in very interesting ways in 2019.
Based on poker industry happenings in 2018, there are some interesting stories on the horizon. Company mergers and acquisitions, a shifting industry, and several milestones await poker players in the new year. While the US market faces several significant challenges, there are some positive events in the works that will be of interest as well.
World Poker Tour's Future
One of the big stories in the world of poker mergers and acquisitions happened in late December when Black Ridge Acquisition Corp. took over the WPT Enterprises and Allied Esports International. The companies seem to be continuing operations as usual for now, but they will both operate under the new name of Allied Esports Entertainment.
The signs that point to poker remaining a focus for the company include Adam Pliska staying on as WPT President and CEO and Lyle Berman, one of the WPT original founders, serving as AESE Chairman of the Board.
"Players and fans can expect a powerful integration of poker and esports unlike anything ever before seen on the global landscape," – WPT CEO Adam Pliska in @PokerNews regarding the newly formed Allied Esports Entertainment. https://t.co/4CDQe0G00G

— World Poker Tour (@WPT) December 22, 2018
The unknowns are many, however, as poker was infrequently mentioned in the press release as the focus of the new company except as an example of a business model that esports could use.
It will be interesting to watch the new company take shape as the World Poker Tour faces decisions about its 18th season, which should start in the summer of 2019.
PokerStars' History-Making Event
The poker world won't have to wait long to see how this plays out, as the upcoming PokerStars Players No Limit Hold'em Championship, conveniently abbreviated to the hashtag-friendly PSPC, is set for January 6-10 in the Bahamas.
Three more sleeps…#PSPC #PCA2019
Full schedule ➡️ https://t.co/AhnLK6hbbo pic.twitter.com/ubMPZn41yy

— PokerStars LIVE (@PokerStarsLIVE) January 2, 2019
What was previously known as the PCA – PokerStars Caribbean Adventure – has morphed through the years as the industry has changed, but the innovators at PokerStars thought of a way to offer something in 2019 that will be truly historic.
The $25K buy-in tournament is a standard these days, but the PSPC event is a bit different in that PokerStars has spent more than a year offering $30K prize packages to the tournament, with most of them awarded at low buy-in events and to people who would never ordinarily dream of playing in a $25K buy-in event. Multitudes of feel-good stories have already emerged throughout the year as people won their seats, but more will likely garner attention as the tournament takes place.
It's been a year full of #Twitch thrills, winning moments, and hundreds of #PlatinumPass packages.

Join us as we look back over 2018.https://t.co/TOOlueDXmr

— PokerStarsBlog (@PokerStarsBlog) December 31, 2018
The event is very likely to make poker history, as the rake-free tournament will receive an $8 million addition to its already-impressive prize pool from PokerStars, and the winner will receive an added bonus of $1 million.
WSOP's 50th Anniversary
Just before Christmas, the World Series of Poker announced the key dates and important information about the 2019 WSOP. While many tournaments remain yet to be scheduled, it was clear that there will be several big events – on and off the felt – to celebrate the 50th anniversary milestone of the largest live tournament poker series in the world.
Action kicks off on May 30 with a special $500 buy-in tournament called the Big 50. The anniversary tournament will not take rake from initial entries, but reentries will be allowed. With a $5 million prize pool guarantee and $1 million of that amount promised to the winner, the event seeks to kick off a record-breaking year at the WSOP.
ICYMI:
The 50th Annual World Series of Poker is set for May 28 – July 16, 2019. The $5 Million Guaranteed Big 50 leads off on opening weekend and everyone's first entry will be rake-free!

More Details: https://t.co/viSgXrHMUV pic.twitter.com/opEqnZl1bL

— WSOP (@WSOP) December 22, 2018
PartyPoker vs 888poker
While PokerStars is likely to continue holding its top spot as the most popular online poker site in the world, PartyPoker and 888poker will keep trying to outdo each other for second place.
PartyPoker ended its 2018 with a significant software update and the introduction of a new lounge area for players winning seats into their PartyPoker LIVE events. And 888poker updated its software while also introducing a new game called Pick'em Poker. Both sites continue adding and highlighting various poker site ambassadors and promising to listen to customer feedback, as well as improving live poker tour options, in competition for customers looking for a PokerStars alternative.
New Game Variations
It seemed that new poker variations garnered much excitement within some poker circles in 2018, and the race will continue into 2019 to come up with the new poker game that will blow players' minds.
PokerStars had the freshest options in 2018, putting up game after game in the hopes of finding one that would grab more players' attention than the others. The most popular seemed to be Six Plus Hold'em, known to many as Short Deck Poker, but the site also took its talents to the virtual reality space by launching PokerStars VR for play-money action.
Started today with @PokerStars #VR Cheers to the devs for the incredible holiday themed environment! Looks gorgeous! Frozen fish in pond lol. Personized presents to guests. Had a full blown snowball fight break out in lobby! Not to mention new avatar props at tables. #socialVR pic.twitter.com/A30OZ2K8Pd

— Chris Madsen (@deep_rifter) December 23, 2018
888poker tried to compete with the launch of Pick'em8, but many players were underwhelmed by the long-touted offering that proved to be little more than a game of chance rather than a poker variation.
DDoS Responses
Quite a few online poker sites faced significant downtime in 2018 due to DDoS (distributed denial of service) attacks. No matter how strong the security at various sites, a strong and pointed DDoS attack can cause tremendous tumult for a site that relies on constant poker action for business.
In 2018, Americas Cardroom was hit several times for extended periods and seemed to have the toughest time resuming normal play after the cyberattacks. In fact, all major poker sites were affected by DDoS attacks in the latter half of the year, including PokerStars and Winamax.
Top 10 online poker networks by cash game traffic, and whether they have been hit with a confirmed DDoS ☠️or not?in last two months:
☠️PokerStars
?IDN
☠️PokerStars EU
☠️partypoker
☠️Winamax
☠️GG Network
?Bodog
☠️888
☠️WPN
☠️PokerStars Italy https://t.co/YV7OmeOPce

— Nick Jones (@pokerprojones) September 24, 2018
No site has officially addressed the scope of the DDoS attacks or what may have been or will be done going forward to prevent further problems. But it is undeniable that there will be bigger and broader attempts at some point in 2019.
Women in Poker
Since poker entered the mainstream and online poker boomed, there have been discussions about how to bring more women to the game and eliminate some of the misogyny that has dominated some circles for far too long. It has been harder to measure the number of women participating online, but the statistics for live games are usually available. Steps have been taken by some online gambling operators on a global level to incorporate more women into executive positions, but the poker industry has suffered a lack of such sincere and necessary work.
In 2018, as in so many years before, the numbers from large events showed no significant improvement in efforts or the success of those efforts to bring more women to the tables. In fact, the final 2018 WSOP numbers showed the lowest female participation in the series in six years.
The World Poker Tour took a big step toward investigating the issue by hosting the first Women's Poker Summit in August, and a diverse group discussed many steps that could be taken to improve the atmosphere at live events and in poker rooms in general to create a safer space for women. While the resulting plans have yet to be implemented, there may be action taken in 2019.
Hey gals?❣️! Join @WPT at @BorgataPoker on Jan. 26, 2019 for a Ladies Poker Brunch and Learn session! Pro tips from @Luscious_Lon and @JessicaDawley! Mimosa on the house! ??and money-can't-buy fun! (My distorted face says all) #WPTBWPO https://t.co/VQ8VllIpwv pic.twitter.com/f0l6dmZerL

— Cathy Zhao (@CathyZhaoyuan) December 15, 2018
Related Articles