Indiana Online Poker Laws & Legal Gambling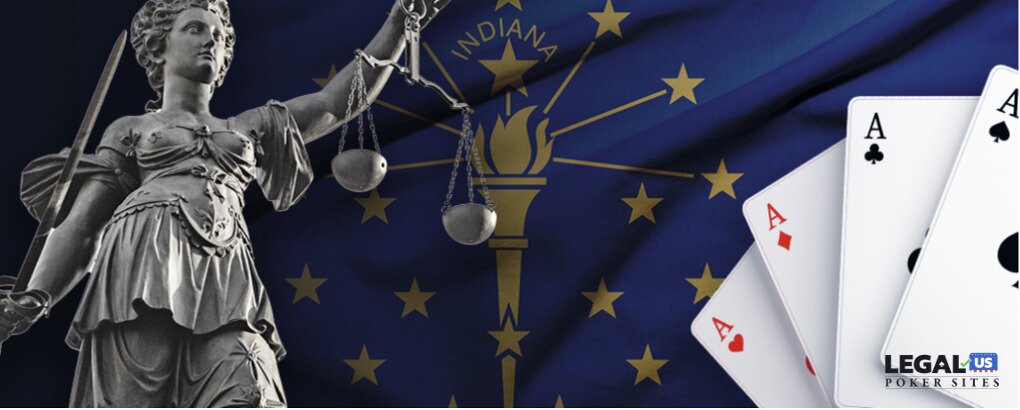 The Hoosier state has long been a poker hotspot thanks to the multiple casinos scattered within Indiana's borders. Online poker has also proven to be quite the draw for Indiana players, with players posting big wins and building big names at major online poker sites.
Some of today's best players still hail from Indiana. The state is simply missing out on revenue from taxing the igaming industry. The poker industry will move forward with or without proper state regulations.
For all the players who want to learn more about poker, this guide may help you see through the confusing laws and find a place to play online.
Eventually, Indiana will join the growing number of states that regulate their own online poker businesses. In the meantime, we have some suggestions for players.
In Indiana, you can play poker online, but it's important to note that playing online poker for real money is not currently legal. However, there is new legislation in the works with the aim of changing this situation by 2024. Although real-money online poker isn't currently permitted, potential changes could pave the way for its legalization in the near future.
Top Sites for Online Poker in Indiana
Indiana Poker & Gambling Laws Summarized
| Type/Code | Summary |
| --- | --- |
| State Code Section(s) | 4.31-36; 35.45.4.5 |
| Definitions | Gambling: Risking money or other property for gain, contingent in whole or in part upon lot, chance, or the operation of a gambling device.Gambling device: A mechanism by the operation of which a right to money or other property may be credited, in return for consideration, as the result of the operation of an element of chance.Games of chance not to be considered a bona fide contest of skill: A card game or an electronic version of a card game.Professional gambler: A person who knowingly or intentionally conducts any banking or percentage games played with cards, dice, or counters, or accepts any fixed share of the stakes therein or accepts, or offers to accept, for profit, money, or other property risked in gambling. |
| Online Poker/Gambling | Indiana statutes pertaining to gambling make it clear that internet card games are included in the illegal games section. The Indiana Gambling Control Division of the state government also addresses card games not classified as games of chance and concludes, "Thus, games like poker and euchre are considered gambling if played for money." However, poker players have never been penalized or hassled for playing online from Indiana. In recent years, lawmakers have even begun to examine laws to legalize poker and other forms of igaming. |
| Live Poker | Poker is allowed in all of the state's casinos, whether run by Native American tribes or on riverboats. |
| Casinos | There are numerous casinos, some on Native American reservations and others in the form of riverboats. |
| Sports Betting | Indiana legalized sports betting in 2019. The first retail sportsbook opened months later, and online sports betting sites launched before the end of 2019 as well. |
| DFS | Daily fantasy sports became legal via the Indiana legislature in 2016. |
| Other Forms of Gambling | Pari-mutuel wagering on horse races, state lottery, gambling games at racetracks, charitable gambling. |
Is Online Poker Legal in Indiana?
Playing online poker at a legally regulated site is important – it provides you with protection and some recourse if a problem occurs. That's why we only recommend sites that are fully regulated and legal for Indiana poker players.
Where to Play for Real Money
Creating an account and playing for real money is a snap for players in Indiana. All of the major online poker sites take players from Indiana and you'll have your pick among the top choices. That's well over two dozen rooms! So you might want to use our list of legal Indiana poker sites to narrow your search.
Whenever gambling comes into contact with the law, you're likely going to run into areas of ambiguity that demand interpretation. Whether or not it is absolutely legal or illegal to play poker online is beyond the scope of this guide. This is a job reserved exclusively for legal professionals.
What we can do, however, is extract the parts of Indiana law that are potentially relevant to online poker. Here are aspects of the law that all poker players should be familiar with; also, we encourage you to review the complete text of Indiana poker law .
Indiana Poker Law
The definition of gambling under Indiana law is so broad as to likely include poker. As defined in Section 35-45-5-1, gambling involves any bet made on anything involving an element of chance. It also includes the use of any "gambling device," further widening the scope of the definition.
Indiana law does directly handle the issue of online gambling, but only from an operator perspective. Section 35-45-5-3 makes it a crime (a felony) to operate almost any type of online casino, poker room or sports book and also criminalizes the processing of payments related to such activity. Players do not appear to face additional legal risk from this section.
"Unlawful gambling" (Section 35-45-5-2) is a class B misdemeanor in Indiana. The crime is defined as when someone "knowingly or intentionally engages in gambling" that isn't explicitly regulated by the state.
Much stiffer penalties are in store for individuals who are involved in the operation of an illegal gambling business. The crime of "professional gambling" doesn't refer to gambling for a living; rather, it refers to people in the business of operating illegal gambling. Doing so is a class D felony in the state of Indiana.
Is Indiana Going to Legalize Online Poker?
The short answer is yes. Indiana will eventually legalize online poker.
The long answer is that it's complicated.
Indiana is a very gambling-friendly state. Not only has it embraced casino gambling for many years, it legalized DFS in 2016 and all sports betting – retail, mobile, and online – in 2019. Lawmakers need to feel comfortable with it, but they eventually listen to their constituents. And they understand that the revenue is a positive way to help the state without raising taxes on Indiana residents.
In fact, lawmakers and lobbyists took notice of other states that benefit from legalized igaming. These states include Michigan, Pennsylvania, and New Jersey. During the pandemic, when all land-based gambling options closed for months, those states continued to pull in gambling revenue from online casino games and online poker.
Indiana Online Poker Laws
In 2021, a group of senators and representatives introduced a bill to authorize interactive gaming, though the proposal did not make progress.
A bill in 2022 appeared to have more potential, one with a House version and Senate version. Both had a number of sponsors and bipartisan support. Again, however, they could not get it to a hearing that could advance it out of committee.
That prompted igaming supporters to commission studies. Lobbying organization iDEA Growth and the Casino Association of Indiana commissioned one study that showed the likelihood of $420M of revenue in the first year of igaming. This would generate $75M in taxes for the state. By the fifth year of legal igaming, the total revenue number should easily exceed $600M, and the state tax amount should exceed $100M.
Indiana Gaming Commission Study
Another study followed that one later in 2022. The Indiana Gaming Commission requested its own study to gauge the financial prospects, the positive and negatives of legal igaming in the state. Those results showed revenue from three different perspectives, and those numbers averaged about the same as the aforementioned study.
The IGC-commissioned study also showed that there was no danger of igaming cannibalizing land-based casino revenue. This was a talking point of anti-igaming groups but one that has proven to be a false flag by every state that has legalized igaming in the new US market.
These studies appeared to bolster igaming proponents.
HB1536
In 2023, State Representative Ethan Manning appeared optimistic. He was also the new chairman of the Public Policy Committee, where he could push legislation to this effect. He did introduce HB1536 in January, a bill that went directly to his committee. However, three opportunities to put HB1536 on the docket for hearings passed without igaming.
While Manning didn't explain his lack of effort to move igaming legislation in 2023, other lawmakers expressed optimism that a late proposal in 2023 could have a chance, but in lieu of that, the best chance to pass the bill will be in 2024.
In light of advancements in recent years, it appears that Indiana will legalize online poker and online casino games in the coming years. As of mid-2023, it is difficult to predict what year that might be.
Indiana Gambling Facts
Much of Indiana's gambling history has been written over the last few decades. Almost all of the current regulated gambling options that are available in the state are less than 25 years old.
Of course, unregulated gambling has long been a part of the state, especially in the western areas bordering Chicago. Interestingly enough, Indiana has seen the modern surge of regulated gambling before, as much of the state was filled with gambling either tolerated or directly endorsed by the government in the early 1900s.
Indiana's Regulated Gambling Choices
Gamblers in Indiana have a great many choices for their entertainment, from the lottery to pari-mutuel betting, and from commercial to tribal casino operations.
As of 2016, daily fantasy sports (DFS) contests were an option, as regulated by the state. And in 2019, Indiana legalized retail, mobile, and online sports betting.
Poker players can find live poker rooms in several Indiana casinos, such as Caesars properties (Caesars Southern Indiana in Elizabeth, Horseshoe in Hammond, and Horseshoe in Indianapolis) and Ameristar Casino in East Chicago, Indiana.
Online poker players have no state-regulated options, but there are several offshore poker rooms that cater to players in Indiana.
Indiana Gambling Research Aides
Gaming Law Masters Indiana Guide. For those seeking a more in-depth analysis of Indiana law regarding gambling, this white paper from the Gaming Law Masters provides a breakdown of the statute and further reading like case law, AG opinions and more.
Indiana Gaming Commission. Responsible for handling regulated casino gambling in the state, you'll also find regulation information regarding charitable gambling in Indiana. If you have a question about how the state approaches gambling, the IGC site is a good place to start your search for answers.
Indiana Council on Problem Gambling. A hub for responsible gambling information provided by a non-profit alliance. Excellent resources for individual players and those interested in the critical topic of controlling problem gambling.
Poker History and Indiana
The state has been a hotbed for online poker talent thanks largely to its roster of colleges and universities, but Indiana's primary role in the development of poker has come over the last decade or so, with the state serving as host to some of the largest regional tournament events in the nation. Spread across several casinos, Indiana sees annual stops from the World Series of Poker, the WPT and the Heartland Poker Tour.
Famous Indiana Poker Players
A variety of experiences fills the top 10 list of top-earning live Indiana poker players. There's Mike Sexton, who won consistently over decades in poker. Chad Eveslage has been grinding and doing well consistently, as has Andrew Moreno. Then there are players like Ilyas Muradi and top-ranked John Cynn, who are good players but bolstered their winnings totals with a single career-changing score.
Cynn had been playing poker for many years before he found WSOP Main Event success. He finished in 11th place in that 2016 Main Event for $650K, but he won it all in 2018, as first place came with an $8.8M payout.
Eveslage is millions behind Cynn but climbing quickly with years of experience adding up to bigger results. In 2021, he won a World Poker Tour side event for more than $101K and then won a WPT High Roller months later for $767K. Soon after, he won the WPT Venetian for $910K and then a 2022 WSOP bracelet that came with $1.4M. He added one more WPT victory in 2022 for more than $1M.
Here's a full look at the top 10 Indiana live poker tournament players, per the Hendon Mob, as of April 2023:
John Cynn $10,214,121
Chad Eveslage $7,234,871
Mike Sexton $6,708,147
Andrew Moreno $3,914,716
Roger Teska $3,421,269
Mclean Karr $2,463,054
Michael Hahn $1,500,638
Aaron Steury $1,210,248
Ilyas Muradi $1,179,045
Jessica Dawley $1,094,697
All Poker and Gambling Laws by State
Indiana in the News
Online poker supporters – and advocates of igaming – can look away from Indiana once again. For yet another year,
Indiana is not exactly new to the idea of internet gaming. The state has embraced gambling and its revenue since
Indiana has not been at the forefront of internet gaming in the United States. In fact, Indiana mostly left the