WPT Takes First Steps to Bring More Women to Poker
By
August 29th, 2018 | Last updated on August 29th, 2018
Home
»
Poker News
»
WPT Takes First Steps to Bring More Women to Poker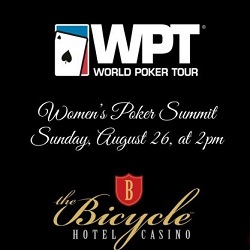 I was honored to be invited to the first WPT Women's Poker Summit on Sunday, August 26. The event took place in a conference room at the Bicycle Casino as the WPT500 tournament played out in the Los Angeles area cardroom.
The Women's Poker Summit was the first of its kind. It is true that not a single poker entity has held such an event in the United States to discuss women's participation in poker tournaments in the decade-plus that I've been in the industry, at least one that invited a range of poker writers, players, poker room staff, and industry executives.
Notable attendees for Sunday's WPT Women's Poker Summit include Barbara Enright, Deb Giardina, @LenaEvans88, @PokerLupe, and @MariaHo, just to name a few. Plus, industry media members @WriterJen, @jesswelman, and @vcrosspoker will be present.

— World Poker Tour (@WPT) August 26, 2018
In all, the single-day summit was well-organized, well-attended, thorough, focused, and well-executed. While the results remain to be seen, it was clear through pre- and post-summit conversations, as well as the meeting itself, that the WPT was seeking an honest discussion of problems and actionable solutions that can be addressed with expediency.
Motivations
The host of the summit was WPT's Vice President of Global Tour Management Angelica Hael. She has been in the position for quite a few years but decided to do something about the lack of women in poker this year. She admitted that some of her view of the poker industry has been influenced by working with the World Poker Tour, of which more than half of its management team is comprised of women. She was somewhat surprised to discover that other companies in the poker world do not reflect the same gender diversity, nor are the few women in poker media and other aspects of the game rarely – if ever – consulted to discuss the lack of women at the tables.
Hael was particularly struck by a question asked of her by Valerie Cross, PokerNews Associate Editor, at a Las Vegas tournament earlier in 2018. "What are you doing to include more women players in WPT events?" And the question stuck with Hael, lighting a fire in her to take action that would enable her to answer that question with substance and results.
Was honored to be part of this & excited about the very constructive discussions that took place. Thanks @WPT @AngelicaHael & @BicycleCasino for hosting! #MoreThan5percent Let's go https://t.co/9yZzwI8OhJ

— Valerie Cross (@vcrosspoker) August 28, 2018
After consultation with fellow executives at the WPT, Hael organized and hosted the Women's Poker Summit. And though actionable items were discussed at this event, there will be more summits to follow that will allow more women's voices to be heard.
Numbers
When the World Series of Poker released its statistics for the 2018 summer events, there was a statistic that caught the attention of many, including Hael. In this article that I wrote in late July, I noted that the number of female participants at the WSOP in its entirety for the summer was down to 4.86% of the total, the lowest it had been in at least six years. And that number was down significantly from the 2017 WSOP, which had climbed to 5.4% female participation.
As presented by Hael at the Women's Poker Summit, World Poker Tour events see approximately 5% of its fields as women, though only recently did the tour begin asking participating casinos to track gender as part of their registration data. More accurate numbers will likely be available in the future as a result.
Meanwhile, women play on free-play Zynga Poker at a much higher rate of 25%. And the viewership of the WPT episodes on Fox Sports reflects that same 25% rate as women.
The problem of bringing women from play-money online poker and watching the WPT on television to the live tables is a glaring one. And that gap is one that the WPT would like to help bridge.
Positive Start
The Women's Poker Summit, including everything leading up to it, is a very positive start. It is also seemingly more than any company has done in the past to address the lack of women in poker.
Hael mentioned that she has already begun talks with global partners and started meaningful dialogue with some in the poker industry on a level that is consistently increasing. And the summit was a key way to launch an initiative as well as to spark a greater level of conversation within the industry at many levels.
The First Lady of Poker, Linda Johnson, was asked to deliver the opening speech, and her words were a poignant way to begin the summit. She reflected on her decades in the business, including the growth she has seen but the many steps that still need to be taken to work toward gender equality in the game. And WPT Director Ging Masinda spoke to the attendees about her motivation and the dedication of the WPT to improving the environment for women in tournaments and beyond.
Kicking off the first-ever WPT Women's Poker Summit with an introductory speech from WPT Honors recipient, Poker Hall of Fame inductee, and Women in Poker Hall of Fame inductee Linda Johnson (@FirstLadyPoker). pic.twitter.com/DorcKrgEtL

— World Poker Tour (@WPT) August 26, 2018
The crowd was then divided into six tables of eight to ten persons each, and those groups participated in two working sessions. The first was dedicated to identifying problems in three specific categories, which had been determined by responses to a question posed by Masinda prior to the summit. This generalized the primary problems facing women in poker:
–Unwelcoming environment

–Game format and accessibility

–Societal attitude
The second working session responded to the task of discussing possible solutions.
Photos of the first-ever WPT Women's Poker Summit. Thank you to the @BicycleCasino for hosting! pic.twitter.com/P1rQ8rmOlM

— World Poker Tour (@WPT) August 27, 2018
Both sessions were difficult in that there seemed to be endless instances from most women at the tables about problems they have encountered and solutions that are reasonable and feasible. However, the positives outweighed the difficulties in that women were open and responsive, and their voices were heard. The men at the summit listened intently, and some took notes, like WPT President and CEO Adam Pliska, who emerged from the summit with several pages of notes. Many members of the WPT team were also available after the summit for more personal conversations as well.
There were also mimosas and chocolate at the summit, as well as a freeroll tournament later in the evening. And there were drinks. Many drinks.
All in all, it was a very productive and encouraging summit. Kudos to the WPT for hosting, to Hael for her commitment, and to Masinda and so many others at the WPT for their dedication and preparation.
We had a productive first @WPT Women's Summit at the @BicycleCasino. Was a pleasure sharing ideas w/ a great group of people who share the same passion for the game. Kudos to @AngelicaHael for spearheading this initiative. Thanks to all who came ? by @r3medies #WomenInPoker pic.twitter.com/ljw3LpMGLH

— Ging Masinda ? (@GingMasinda) August 27, 2018
Related Articles