By
July 3rd, 2018 | Last updated on December 17th, 2018
Online Poker in Wisconsin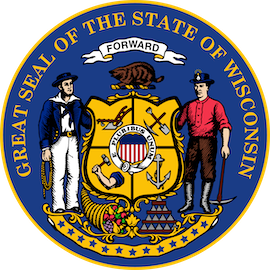 Online Poker in Wisconsin
Last Updated December 17, 2018
Wisconsin is in many ways the quintessential Midwestern state. While that may summon images of tractors and livestock for some, those from the Midwest know that gambling – especially poker – runs nearly as deep in the region's culture as agriculture.
Wisconsin shares that characteristic, producing a remarkably regular stream of live and online poker standouts. Those successes have bred a larger interest in poker among residents of the Badger State, and that interest is why we've developed this guide covering the Basics of Wisconsin Online Poker.
Online Poker in Wisconsin
Not all online poker sites accept players from Wisconsin. Sorting out those that do from those that don't can be time consuming and confusing, especially since the picture is constantly changing. That's where our list of the top online poker rooms for Wisconsin comes in. This online poker list is updated constantly, and we only list rooms that operate responsibly, reward players generously and provide top-notch game selection across cash and tournament action:
Wisconsin Gambling & Poker Laws Summarized

| Type/Code | Summary |
| --- | --- |
| State Code Section(s) | 562-569; 945 |
| Definition of a Bet | A bargain in which the parties agree that, dependent upon chance even though accompanied by some skill, one stands to win or lose something of value specified in the agreement. |
| Definition of a Gambling Machine | A contrivance which for a consideration affords the player an opportunity to obtain something of value, the award of which is determined by chance, even though accompanied by some skill and whether or not the prize is automatically paid by the machine. |
| Definition of Wire Communication Facility | Any and all instrumentalities, personnel and services, and among other things the receipt, forwarding or delivery of communications used or useful in the transmission of writings, signs, pictures and sounds of all kinds by means of wire, cable, microwave or other like connection between the points of origin and reception of such transmission. |
| Online Poker/Gambling | Wisconsin lawmakers have not taken any steps to examine or propose the legalization of online poker or other internet casino games. |
| Live Poker | Many of the casinos do offer poker rooms with cash games and tournaments available. |
| Casinos | There are a number of casinos in Wisconsin, most of them operated by Native American tribes on reservations and some of them including table games like poker. |
| Sports Betting | There have been no attempts to legalize or regulate sports betting. |
| DFS | There was a bill to legalize daily fantasy sports contests in 2018, but it did not pass. |
| Other Forms of Gambling | Horse and dog racing, on-track pari-mutuel betting, lottery, bingo and charitable gambling. |
Is Online Poker Legal in Wisconsin?
It's not hard to find conflicting opinions about the legality of online poker sites in Wisconsin. All you have to do is conduct a Google search or two and you'll come across a number of different sites with different things to say about the issue.
The truth is that you should be wary of trusting most of them. Many sites have undisclosed agendas that may lead them to skew facts one way or the other on the matter of online gambling legality. We stay out of that awkward space by only providing you an overview of – not an opinion concerning – gambling law in Wisconsin:
There is no direct definition of gambling in the Wisconsin statutes. Wisconsin's definition of gambling comes via their definition of what it means to place a bet:
"A bet is a bargain in which the parties agree that, dependent upon chance even though accompanied by some skill, one stands to win or lose something of value specified in the agreement" (Section 945.01(1).
Where does that put Wisconsin relative to other states? Wisconsin's definition is more flexible than average, suggesting that chance must be the controlling factor in an activity for gambling to occur. While other states require only the presence of some chance for a game to qualify as gambling, Wisconsin law appears to demand that chance be the dominant element of the activity.
What's excluded from the definition? All regulated gambling, obviously, betting on "bona fide" contests of skill by the participants and charitable gambling. There is no social gambling exception found in Wisconsin law.
It is a crime in Wisconsin to engage in illegal gambling. Section 945.02 describes the charge of gambling, which is a misdemeanor. You're guilty of gambling if you make a bet, enter a "gambling place" intended to bet illegally or if you conduct a lottery.
If you're the one behind the illegal activity and not just a mere player, the stakes are raised. Wisconsin law makes it a felony to engage in commercial gambling (Section 945.03), which basically covers all aspects of conducting or profiting from gambling that runs afoul of state law.
Remember, this is only a starting point. Below are links to Wisconsin state laws and don't forget that there is no substitute for professional legal advice – especially on thorny issues such as gambling.
Wisconsin and State-Regulated Online Poker
There is certainly a better-than-average chance that regulated online poker will come to the state of Wisconsin. The key question is how the state's powerful tribal gambling interests will approach online gambling. If the tribes see potential in the format and are willing to line up resources for a push to regulate online poker, bingo and other forms of gambling, Wisconsin residents could see such games come to their computers in short order.
However, if tribes take a less-positive view of online gambling, their immense power in the state could have the opposite effect, holding Wisconsin back from what seems to be a growing national trend in the United States toward regulating online poker and gambling.
Wisconsin Gambling Facts
Wisconsin offers everything short of commercial casinos to residents and tourists. There's the always-popular state lottery, sanctioned pari-mutuel betting and Vegas-style casinos operated by tribes such as the Potawatomi.
In addition to those choices, charitable gambling exceptions to Wisconsin state law allow qualified organizations to run bingo games and raffles. Social gambling enjoys no such exemption from Wisconsin law.
As of now, there are zero online gambling options holding a license from the state of Wisconsin, primarily because the state doesn't offer any such license. There may be forms of USA online betting that square with Wisconsin law, but there are not any forms that are regulated by the government of Wisconsin – at least not yet.
Recent Wisconsin Gambling Headlines
Tribal gambling issues dominate the gambling headlines in Wisconsin. Most recently, attention has been focused on the battle between the Ho-Chunk Nation and the Wisconsin government over what games the Ho-Chunk can offer [2]at their casinos. Wisconsin is also witnessing an increasing amount of disputes between tribe over conflicting visions of casino expansion in the state.
All Poker and Gambling Laws by State
Wisconsin in the News
Further Reading: Wisconsin Gambling
Wisconsin State Law Library – Gaming / Gambling. This dedicated page from the Wisconsin State Law Library is a clearinghouse for everything having to do with regulated gambling in the state. Access laws, research, historical information and more.
WI Division of Gaming . Complete details regarding tribal, charitable and pari-mutuel wagering, all of which fall under the purview of the Wisconsin's Department of Administration's Division of Gaming.
Ho-Chunk Nation . Official website for the Ho-Chunk Nation, the tribe behind some of Wisconsin's largest casinos.
Wisconsin's Contributions to Poker History
One name sums up the role Wisconsin has played in the evolution of modern poker: Hellmuth. Arguably poker's most famous player, Wisconsin native Phil Hellmuth has the hardware to back up his talk, including an incredible 13 World Series of Poker bracelets.
Hellmuth also played a part in one of poker's darker chapters. As a site pro for (and some say early backer of) Ultimate Bet, Phil was on board during some of the worst scandals ever to hit the game. While the Poker Brat has never been tied directly to any wrongdoing, questions remain about the final impact of UB's demise on the future of online poker.