Online Poker in South Carolina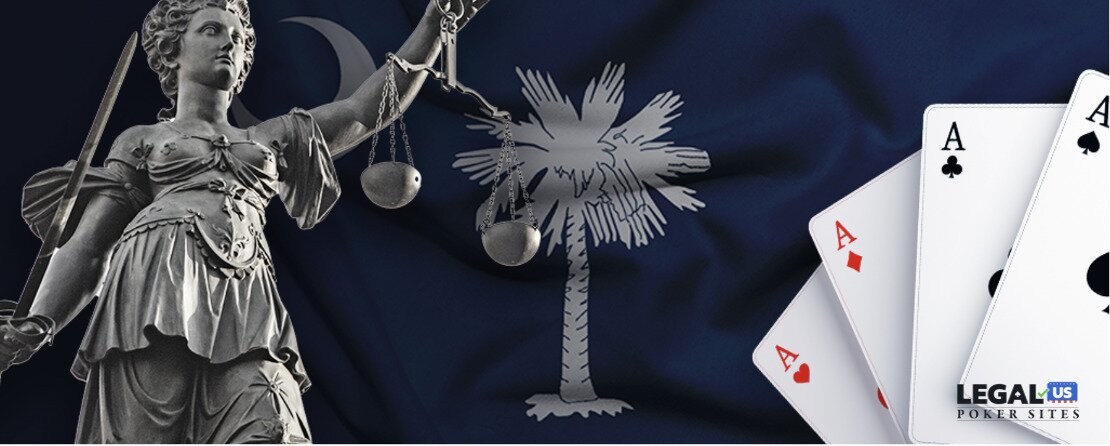 Despite the state's outwardly conservative stance, poker is alive and well in South Carolina. While you won't find any major tournament events or top-tier poker rooms there, you can feel more than confident that poker is being played in homes, in clubs and – increasingly – over the Internet. With online poker sites bringing the game directly to residents long accustomed to having little or no access, more and more players from South Carolina are choosing these sites as their preferred way to play. Get a comprehensive overview of where poker stands now and where it's likely to head in our Guide to Online Poker in South Carolina.
In South Carolina, similar to land-based casinos, online gambling is not regulated. The Palmetto State does not have locally available casino sites. Meaning there are no options for online poker or sports betting sites that operate within the state's regulatory framework. Residents of South Carolina should be aware that there are still great offshore poker rooms available!
South Carolina Internet Poker Overview
From Charleston to Myrtle Beach, the checklist for South Carolina's online poker players remains the same. They want safe rooms that charge low rake and offer big-ticket rewards. Plus they want rooms that are correctly licensed to offer online poker in SC. We're happy to say that, through our extensive experience with online poker sites in South Carolina, we've built a list of rooms that meet those requirements:
Top Sites for Online Poker in Your State
Where Can South Carolinians Play Poker Online?
There are basically two types of states in the US when it comes to online poker: states like Kentucky where you'll face restrictions when trying to sign up at online poker sites, and states like South Carolina where no such restrictions exist. The online poker situation in America is always fluid. We are constantly updating these guides to reflect the latest developments. As of our most recent analysis we find no restrictions on South Carolina players at the major US-facing online poker sites.
South Carolina Gambling & Poker Laws Summarized
| Type/Code | Summary |
| --- | --- |
| State Code Section(s) | 16.19; 52.5 |
| Definition of Unlawful Gaming Tables | Any person who shall set up, keep, or use any gaming table, roley-poley table, table to play at rouge et noir, faro bank, any other gaming table or bank of the like kind or of any other kind for the purpose of gaming and used for gambling purposes except the games of billiards, bowls, chess, draughts, and backgammon. |
| Online Poker/Gambling | South Carolina is very unlikely to consider legalizing online poker or any type of internet casino gaming. |
| Live Poker | There is no live poker allowed in South Carolina in the form of cash games or tournaments. |
| Casinos | Casinos are not legal in South Carolina. |
| Sports Betting | There is a bill remaining open in the South Carolina House to legalize sports betting, but it seems unlikely to pass in 2018. |
| DFS | A bill was introduced in 2016 to legalize daily fantasy sports contests but did not pass. |
| Other Forms of Gambling | Horse racing, social table games, lottery, charitable bingo |
South Carolina Law for Online Poker Games
What do they think about online poker down in Columbia at the South Carolina Statehouse? The age and complexity of South Carolina gambling law makes that a tougher question to answer than it might at first seem. As a result, those who need definitive answers must consult a lawyer. Those who are seeking more information simply for their own edification should review the following list that briefly articulates the core aspects of South Carolina gambling law:
There is not a specific definition of gambling, betting or wagering found in South Carolina law.
Instead, South Carolina defines what it means to engage in gambling through the charge of "Unlawful games and betting" (Section 16-19-40). The section is quite lengthy and you should review it personally, but the gist is that any type of betting is verboten, and some games – those that use cards, dice or "gaming tables" – are illegal to play even if no betting is involved.
In fact, by the letter of South Carolina law it's illegal to play any sort of game on Sundays. That's from Section 16-19-70:
"Whoever shall keep or suffer to be kept any gaming table or permit any game or games to be played in his house on the Sabbath day, on conviction thereof before any court having jurisdiction, shall be fined in the sum of fifty dollars, to be sued for on behalf of, and to be recovered for the use of, the State."
In addition to those charges, players could also be subject to a charge of "Keeping unlawful gaming tables" (Section 16-19-50), which reads:
"Any person who shall set up, keep, or use any (a) gaming table, commonly called A, B, C, or E, O, or any gaming table known or distinguished by any other letters or by any figures, (b) roley-poley table, (c) table to play at rouge et noir, (d) faro bank (e) any other gaming table or bank of the like kind or of any other kind for the purpose of gaming, or (f) any machine or device licensed pursuant to Section 12-21-2720 and used for gambling purposes except the games of billiards, bowls, chess, draughts, and backgammon, upon being convicted thereof, upon indictment, shall forfeit a sum not exceeding five hundred dollars and not less than two hundred dollars."
South Carolina gambling law makes no mention of the Internet, online gambling or transmission of gambling information.
All money involved in illegal gambling – including money staked, bet or pending – can be seized by South Carolina authorities (Section 16-19-80).
To continue reading on this issue, consult the online version of South Carolina state code .
Is South Carolina Going to Regulate Online Poker?
We feel comfortable asserting that South Carolina will not legalize online poker sites at any point in the near term. The state's historical resistance to gambling expansion coupled with a lack of any visible support for online gambling regulation suggest a dim future indeed for regulated online poker in South Carolina.
South Carolina Gambling Facts
It pretty much comes down to charitable gambling (bingo only) and the state lottery in South Carolina. There is apparently an implied acceptance of very limited social gambling, but that's more a matter of enforcement – South Carolina law itself does not make a direct exception for gambling in a social context.
South Carolina: Regulated Online Gambling
There are no state-regulated forms of online gambling in South Carolina. There are states – Nevada, for instance – that issue online gambling licenses to certain operators, and there are other states that permit certain forms of online gambling under the law (such as online pari-mutuel wagering in Kentucky). South Carolina does neither.
Learning More About Gambling in South Carolina
Catawba Indian Nation. Official site for the Catawba, who are pushing for the ability to build a casino on their reservation. Access schedules, quarterly reports for members and a selection of external news relevant to the Catawba.
PlayResponsiblySC . Problem gambling resource site provided by the South Carolina Education Lottery. Provides users with toll-free hotline, basic literature and an index of related resources.
Pechanga.net: South Carolina . Constantly updated list of national and local news pieces concerning South Carolina and gambling, with a focus on tribal gambling stories.
All Poker and Gambling Laws by State
South Carolina in the News
The last-minute touchdown in the College Football Playoff National Championship (Presented by AT&T) shifted millions of betting dollars on Monday
The Nevada Gaming Control Board approved NFL Draft proposition bets this year, so gamblers have a chance to wager on
After the South Carolina Republican primary on Saturday, the odds for both Donald Trump and Sen. Marco Rubio winning the
Sources & Citations For This Article on South Carolina Online Poker