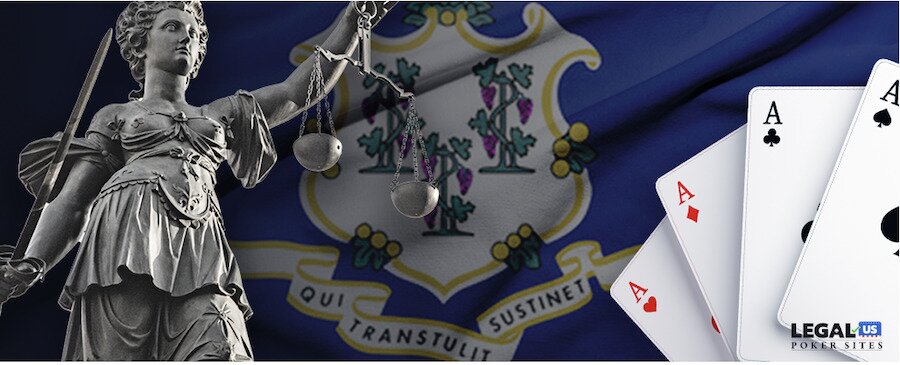 Understanding Connecticut law regarding poker specifically (and gambling in general) isn't an impossible task. Any poker player who wants to educate themselves about the law in Connecticut as it applies to online poker needs to do little besides set aside a bit of time and focus. To get you started on the right track for researching the legal status of poker in the state of Connecticut, here's our pocket guide to Connecticut gambling law, history, regulation and recent developments as well as which poker sites accept players from CT.
Connecticut has long been a hub for poker on the east coast, attracting poker players from both the region and the world with high-stakes cash games and a bounty of prestigious tournaments. With that pedigree, it's little surprise that online poker is also quite popular in the state. Thousands of people from Connecticut play poker online at a variety of sites. Here's some basic information you'll need if you're thinking about joining them.
In Connecticut, you can play poker online, and it's legal to play online poker for real money in the state, with this form of online gaming becoming legal in 2021.
Top Sites for Online Poker in Connecticut
Is Gambling Legal in Connecticut?
| Type/Code | Summary |
| --- | --- |
| State Code Section(s) | 53.278; 52.553-554; 12.557 |
| Definition of Gambling | Gambling: Risking any money, credit, deposit or other thing of value for gain contingent in whole or in part upon lot, chance or the operation of a gambling device, including the playing of a casino gambling game such as blackjack, poker, craps, roulette or a slot machine. |
| Definition of Professional Gambling | Professional gambling: Accepting or offering to accept, for profit, money, credits, deposits or other things of value risked in gambling, or any claim thereon or interest therein. |
| Online Poker/Gambling | Lawmakers passed bills to legalize online poker and casino games on the state level in May 2021. Governor Ned Lamont signed the bill into law. Online gaming operators can now partner with land-based casinos to become licensed and launch online poker and online casino sites for players in Connecticut. |
| Live Poker | Live poker is legal and available at the Indian casinos in the state. |
| Casinos | The Mohegan and Mashantucket Pequot tribes operate full-fledged casinos on their reservation lands per the federal IGRA law. |
| Sports Betting | Several years of bills have led to legislation that is likely to pass in some form. |
| DFS | Paid-entry fantasy sports contests were legalized as a part of the 2017 budget and subsequently signed into law with the permission of the state's tribes. |
| Other Forms of Gambling | Bingo, charitable gambling, jai alai, horse racing and off-track betting, pari-mutuel betting, social gambling. |
Early Efforts to Legalize Online Poker in Connecticut
As far back as the mid-2010s, Connecticut lawmakers tossed around the idea of state-regulated online poker and online casinos. They watched as Delaware did it with its three land-based casinos and New Jersey revive its entire gambling industry with the help of igaming. And the state's two tribes with gaming compacts – Mashantucket Pequot Tribe operating Foxwoods and Mohegan Tribe operating Mohegan Sun – wanted to enter the world of online gambling.
However, there were several problems standing in the way of legal igaming in Connecticut.
The first issue with igaming proposals was that many lawmakers didn't understand the way it worked. They didn't understand geolocation technology that sets a perimeter around the state to ensure people using the sites are located within the state. They didn't think the public would support the idea, despite no public polling to that effect. And lawmakers didn't see the revenue potential or the ways in which igaming would benefit the tribes and the entirety of the Connecticut gambling industry.
The pandemic in 2020, and the subsequent shutdown of all live casino activities for months, did force many lawmakers to take a closer look at the issue. Some lawmakers even pushed for emergency legislation during 2020 to allow the tribes to launch online sites right away. Tribes had previously established play-money online entities for their customers, and they asserted that they could fairly easily transition those sites into real-money gambling sites.
The bigger problem, though, turned out to be Governor Lamont. He flatly denied the emergency rules request for instant igaming. He said that it deserved debate and the full consideration of the legislature with input from the public. And launching igaming at a time when many people were suffering economically from a lack of work would be irresponsible.
Finding Broad Support for CT iGaming
When the Mashantucket Pequots and Mohegans spoke out in favor of igaming in 2018, many thought it would lead to positive movement by lawmakers toward legislative proposals. It did not. At that time, most lawmakers were still claiming that they weren't ready.
There was a bipartisan igaming bill in 2019 that made it all the way to the Senate floor, but it died there. Longtime online poker and casino games advocate Connecticut State Senator Catherine Osten introduced another bill in 2020, which would have also legalized sports wagering and online lottery ticket sales, but it died as well.
Enter 2021. Osten submitted another bill for consideration in the state legislature, and SB6451 moved forward. It had bipartisan support, as well as the endorsement of the two tribes. Lamont had participated in several meetings and negotiations with tribal leaders in the months preceding action on Osten's bill, and they all agreed to new compacts that permitted igaming.
They did it. Committees approved it. The Connecticut house approved it 122-to-8, and the Senate approved it 28-to-6. The US Department of the Interior approved the new compacts. And Lamont signed the bill into law – becoming Public Act 21-23 – on May 27, 2021.
With that, Connecticut legalized state-regulated igaming, including online poker, online keno, online lottery ticket sales, fantasy sports, and sports betting.
Online Poker in Connecticut
It's important to understand that not every state in the US treats gambling in the same way. As a result, online poker rooms often have policies that prohibit players from a certain state or set of states. Thankfully for online poker players from Connecticut, the state rarely appears on such lists, meaning that it's easy for you to play poker for real money online if you're living in Connecticut. Any one of our top picks for Connecticut players will work, as will the dozens of other poker sites that accept Connecticut players.
Is Playing Online Poker Legal in Connecticut?
The short answer is yes. The 2021 law legalized many activities, including online poker. The Public Act 21-23, signed by Governor Lamont in May 2021, includes poker among table games and video poker in the broader category of "online casino gaming." It is also one of the "authorized games" authorized by the Commissioner of Consumer Protection of Connecticut.
More specifically, the Department of Consumer Protection details specific regulations and defines poker as "peer-to-peer gaming" in which players compete against each other.
The regulations are in place, and some online gambling operators have already stepped up to sign agreements and offer online casino games to players in Connecticut. The problem is online poker. There is none yet.
As of March 2023, no igaming operators have requested an online poker license.
Most likely, this is because Connecticut is a small state with a small potential online poker pool. On its own, the cost of obtaining a license and establishing a presence in the state would not be profitable. The only way it will is if Connecticut signs on to the Multi-State Internet Gaming Agreement (MSIGA). This pact between states allows operators to link their poker site player pools for better liquidity, which means a bigger player base and bigger tournament guarantees.
In 2022, Michigan signed on to MSIGA, joining Delaware, New Jersey, and Nevada in the poker pact. However, Connecticut did not join. There has been no indication as to any reason for this.
For now, there is no state-regulated online poker sites available to Connecticut players, even though it is legal, and the state is prepared to license any qualified applicants. Online casinos and sportsbooks – both live and online – are operational and collecting revenue, as well as paying taxes and fees.
Connecticut Gambling Facts
Connecticut's emergence as a gambling haven is relatively recent, but the state's history with gambling goes back hundreds of years. Lotteries were a popular format for entertainment and raising funds for public projects during the state's early days. In the 1900s, Connecticut embarked on a slow but steady gambling expansion focused primarily around charitable gambling for the first half of the century. As the rest of the US loosened gambling restrictions, Connecticut followed suit. The lottery officially returned to Connecticut in 1972, with pari-mutuel wagering coming in 1976 and tribal casinos opening their doors to state residents and visitors in the 1990s.
Regulated Gambling in Connecticut: The Basics
The only major regulated gambling option missing from Connecticut: Commercial casinos, a gap more than filled by the massive tribal resort casinos that dot the state's geography. As mentioned above, the state lottery and pari-mutuel wagering are also available in Connecticut, although the state does not have any functioning race tracks as of the time of this guide. Charitable gambling is available in multiple formats, including bingo, raffles and sealed tickets. It was legal, once upon a time, to hold "Vegas Nights" at a charitable event, but that ability was ended by state action in 2003.
What Type of Gaming Is Regulated by the State?
After the legislation signed into law in 2021, nearly every kind of gambling is now legal and regulated in Connecticut.
Daily fantasy sports (DFS) contests are legal, as is sports betting – live and online. Online casino games are also now legal, as licensed by the state, to include online slot machines and table games, the latter of which includes blackjack, roulette, and baccarat.
Companies with active licenses for one or more of these online activities include DraftKings, FanDuel, and Rush Street Interactive. Mohegan Sun is affiliated with FanDuel, while the Mashantucket Pequot's Foxwoods works with DraftKings.
Famous Poker Players from Connecticut
Quite a few poker players got their start at Foxwoods. At one time, it was one of the largest poker rooms in the country. While it has scaled back its operations and affiliations with major tournament series like the World Poker Tour, it continues to be a player-favorite cardroom for Connecticut players.
Many more players honed their poker skills online. While they had more options for available poker sites in the past, they do still have options today.
In just the past few years, the leaderboard of the top live tournament players in Connecticut has seen some significant changes. A new leader is in town, and that is Stephen Song.
Song, a native of Greenwich, has been cashing in and winning poker tournaments since 2016, and he has been on the rise ever since. He won a WSOP Circuit ring in 2018 and a second in January 2019. He hit the World Series of Poker in Las Vegas that summer and won a bracelet in a $1K NLHE event.
His best year to date was 2022, when he collected more than $2.2M in live tournaments and finished the year in style with a Wynn Fall Classic victory and his biggest win to date – the WPT Prime Championship at Wynn Las Vegas worth $712,650.
Song now holds the top spot on the Connecticut leaderboard with more than $5M in earnings. Ryan Eriquezzo fell to a distant second, followed by several others who are not at all done with their poker careers and successes.
According to the Hendon Mob, as of March 2023, the top 10 Connecticut live tournament players are:
Stephen Song $5,060,439
Ryan Eriquezzo $2,346,686
Paul Darden $2,226,633
David Stefanski $1,989,503
Andrew Badecker $1,935,585
Justin Pechie $1,914,493
Stanley Lee $1,836,244
Matthew Graham $1,795,866
Greg Jensen $1,788,102
Michael Demichele $1,757,619
All Poker and Gambling Laws by State
Connecticut in the News
This article is an inevitable one. As a new year begins, it is necessary to look at the online poker
It was supposed to happen today. That's not happening. However, Connecticut will launch its first state-regulated online gaming sites soon.
Connecticut Secretary of State Denise Merrill's website indicates that igaming regulations are in full effect. The "regulation making record" pertains
Sources and Citations for this Article