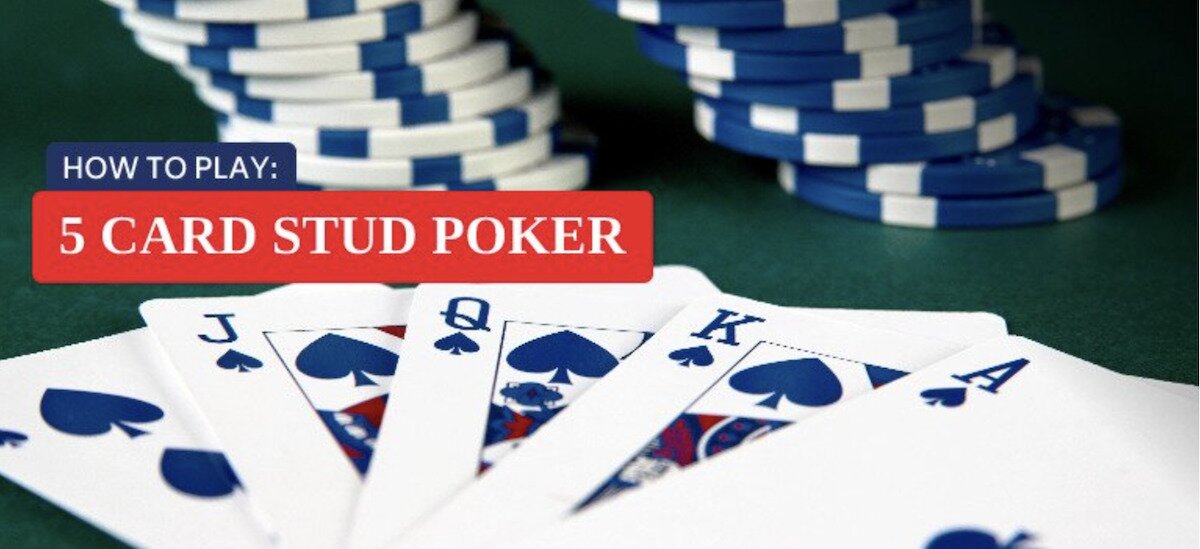 5 Card Stud is one of the most iconic poker games out there. It's an old school game that has roots that trace all the way back to the American Civil War. The game became prevalent on both sides during the war and its popularity kept growing.
There were tons of spinoffs like 7 Card Stud which is a bit more popular, but 5 Card Stud will always be the original Stud game that captivated a country that was split apart by everything else.
5 Card Stud has a few different variations, but chances are you'll encounter the game in the following form. At least two players will be seated at a table and everyone playing will have to put down an ante. The cards get dealt starting to the dealer's left.
After the antes are down, everyone gets one card face down and one card face up. The player with the lowest value card puts in another mandatory bet called the bring-in. If two players have the same value card, let's say 7s, then suit rankings come into play.
Spades
Hearts
Diamonds
Clubs
A quick way to remember the order is that strength is determined in reverse alphabetical order. The player who posts the bring-in is first to act and can either check or complete the bet. Action then continues around the table.
After the first round of betting is complete, the dealer gives all the remaining players another card and there's another round of betting. This continues until every player has five cards total, one facedown and four showing.
When the final bet has been called or action has checked down, players flip over their hidden and find out who the winner is. The goal is to make the best five-hand card. If you're unfamiliar with which hand beats what take a look at our 5 Card Stud hand rankings chart below: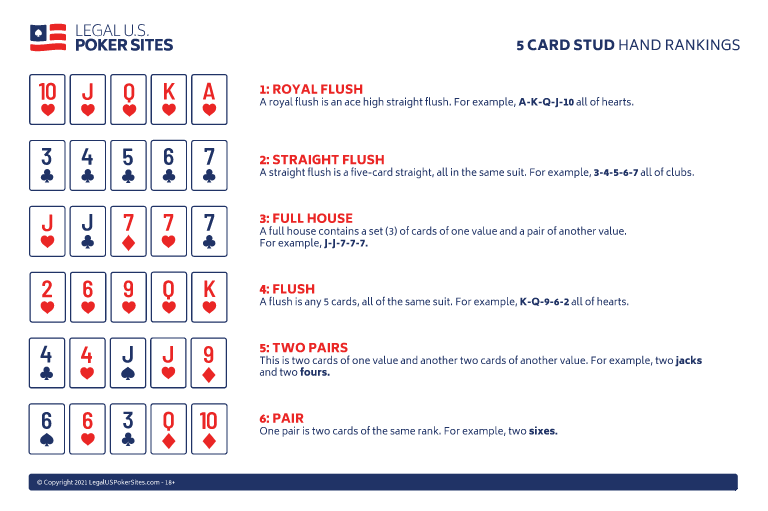 5 Card Draw Rules
As we mentioned before, 5 Card Stud has a few different variations. But generally, the rules are the same. Stud is normally played as a limit game. That means that the amount you can bet and raise are pre-established.
For example, if you're playing a 5 Card Stud game with $5/$10 limits, the standard bet is $5. The antes are usually much smaller and can be determined by the players. But they can go as low as 10 percent of the smaller bet, which in this case would be $0.50. The bring-in is bigger than the ante but smaller than the small bet. In this case it could be $2.
While 5 Card Stud is typically played for the best hand, there are a few variations. It's not uncommon to find both lowball and high-low versions of 5 Card Stud.
In Lowball, the goal of the game is to get the lowest hand ranking out there. In high-low the pot is split, with the highest hand winning half the pot and the low hand winning the other half. These variations typically use A-5 low which means that the lowest possible hand is A-2-3-4-5 (which is also a straight) but sometimes you can encounter an A-6 low game where the straight invalidates the low hand, making the lowest possible hand A-2-3-4-6.
Betting Sequence
Betting in 5 Card Stud takes place in what we call 'streets'. We number the streets based on the number of cards that are visible.
Initially, all players have to place an ante and the player with the lowest card pays the bring-in and action starts with them. 5 Card Stud is a limit game, that means there's a small bet and a big bet. This resembles the way blinds appear in a no-limit or pot-limit game, displayed as $5/$10.
The difference is that the size of the bet, whether it's a small bet or a big bet, depends on what street you're on. In the first round of betting, when everyone gets their first card facedown and the second faceup, the first player has the option to check the bring-in or to raise to the small bet, which is $5.
If the player calls, the following player can fold, call the bring-in or raise to the small bet amount of $5. If the bet becomes $5, then the other player can raise $5. Normally, games have a limit of three raises at this stage.
Third Street
This is when players have two cards showing and three total. This is referred to as Third Street. At this point the player with the best starting hand starts the betting round and then it moves clockwise. Again, if there's a tie, suits break the tie.
The small bet is the amount of the bet, but if a player is showing a pair they can place a big bet, which would be $10 in this scenario. Again, there's a maximum of three raises on this street.
Fourth Street
This is where the big bet comes out to play. Once again, the best starting hand starts the betting and they can either fold, check or bet the big bet. Similar to the other streets, players can make a maximum of three raises before capping the action.
Fifth Street
This is the end of the road. Fifth Street is when all the cards are out and action comes to an end. Again, the high hand starts and action goes clockwise. If players check the action down, a showdown occurs. If a player folds to a bet or a raise, there's no showdown (although you can show your stellar hand or bluff if you want!). And if a player calls the final raise or bet, a showdown happens, and the players move on to the next hand.
5 Card Stud Strategy
5 Card Stud is more straightforward than other poker games because there's less of an opportunity to bluff. Poker is a game of incomplete information and in 5 Card Stud there is a lot of information provided. This is partly why 7 Card Stud has taken over as a more popular variant of the game. In that version, players have three-hole cards that other players cannot see, increasing the chance for bluffs and hidden plays.
In 5 Card Stud, you only have one hidden card and four exposed cards so your chances for a well-hidden bluff are slim. Lots of players suggest trying to steal the antes as much as possible if you have a scare card showing, usually a Queen or better.
Big pairs are good hands to bluff on when you have the big pair card hidden. Flushes and straights are harder to hide since four of the cards would be showing. This could work if you plan the bluff in advance and commit on Third Street if you have two of the same suit. If your hole card doesn't match, you can hope for a flush bluff, but the upcoming cards would have to fall in your favor.
All-in-all, 5 Card Stud is a straightforward game. Your best chances of bluffing are early on and after that, play your strong hands and always be conscious of what your opponents are drawing to.
FAQs
5 Card stud is can be played either high or low. When it's high, then that means the standard poker hand rankings apply. If you need to catch up on that a bit, head on over to our poker hand rankings page for a quick refresher.
If you're playing for the low hand, then it depends on the game or casino you're playing, but you'll have two options. One is that A-2-3-4-5 will be the lowest and the other is where straights don't count and A-2-3-4-6 will be the lowest.
There are several 5 Card Stud variations. As we mentioned above you can be regular high hand, or high low. There are also several different betting formats that they game can take. Limit is a popular way to play stud games, but there are are also Pot-Limit and No-Limit variations. It all depends on the site, casino or home game you play at.
Both 5 Card Stud and Texas Hold'em have you use five cards to make the best possible poker hand. The main difference between the two games is community cards. In Texas Hold'em each player gets two unique cards and everyone else at the table shares five community cards. They then use any combination of those to make the best five card hand possible.
In 5 Card Stud you can only use the cards dealt to you to make the best 5 card hand.
Pretty much anywhere these days. If you have your phone and a Stable connection, you can play from virtually anywhere. If you're looking for a good site to play on, head on over to our reviews page to find a site that works for you. Our team of experts scour through every aspect of each online site to give you an honest and thorough review to help you pick the perfect site to play poker games online.