Idaho Poker & Gambling Laws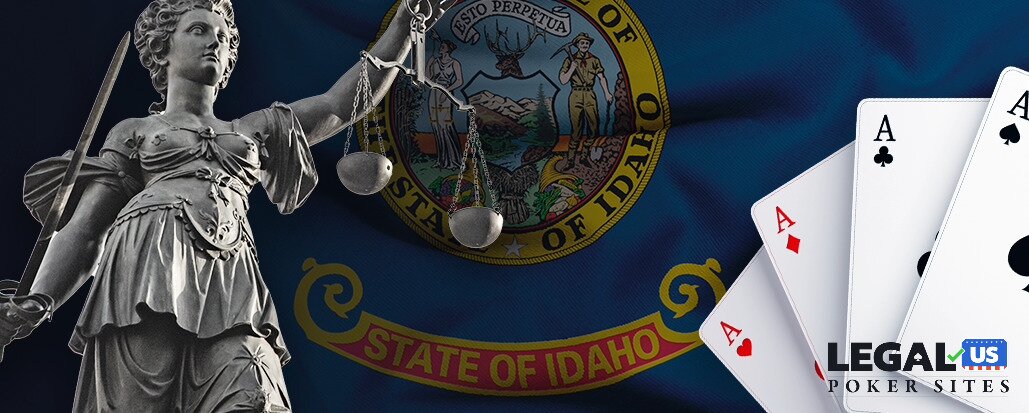 Online poker has swept across the United States, and Idaho – although small in population – has been no exception to the trend.  Just like players in other states, poker players from Idaho want to know whether or not online poker is legal, which sites are the best for Idahoans and what the future will bring for online poker in the state.  Let's jump right into those questions in our guide to online poker and Idaho.
Playing Online Poker in Idaho
Signing up for an online poker room in Idaho takes only a few minutes and is legal.  Players from Idaho have their choice of US-facing online poker sites, as all of the major brands accept sign-ups from Idaho.
In Idaho, you can definitely play poker online, and there are no specific laws indicating that playing online poker for real money is illegal. Therefore, participating in real-money online poker games is not illegal in Idaho.
Top Sites for Online Poker in Idaho
Is Gambling Legal in Idaho?
| Type/Code | Summary |
| --- | --- |
| State Code Section(s) | 18.3801-3810; 52.106; 54.2501-2517 |
| Definition of Gambling | Risking any money, credit, deposit or other thing of value for gain contingent in whole or in part upon lot, chance, the operation of a gambling device or the happening or outcome of an event, including a sporting event, the operation of casino gambling including, but not limited to, blackjack, craps, roulette, poker, bacarrat [baccarat] or keno. |
| Online Poker/Gambling | There have been no attempts to legalize online poker or casino games for residents of Idaho. |
| Live Poker | There are poker rooms in the Indian-run casinos located throughout the state. The Coeur D'Alene tribe tried to offer poker tournaments in addition to its cash games, but the state took the tribe to court, at which time the judge ruled with the state that there was too much chance involved. "Idaho law does not leave room for [a chance versus skill predominance] inquiry." |
| Casinos | A handful of Native American tribes negotiated compacts with Idaho's state government to run casinos per IGRA. |
| Sports Betting | Idaho has not attempted to legalize sports betting. |
| DFS | There have been no efforts for the legislature to examine daily fantasy sports opportunities. |
| Other Forms of Gambling | Lottery, bingo and raffles for charitable organizations, dog and horse racing, pari-mutuel betting. |
Idaho's Online Poker Laws
Idaho has clear laws on gambling, but no specific statute directly addresses the topic of online poker. Whether playing poker online for real money is legal or not legal in Idaho is a question that does not seem to have been tested by any arrests or trials, so the ultimate answer has yet to be written. But what about the practical answer?
In this section, we aim to outline the law from a layperson's perspective, based on Idaho statutes.
Idaho law is one of the few state laws that specifically mentions poker as a form of prohibited gambling. The statutory definition of gambling per Idaho law reads
"risking any money, credit, deposit or other thing of value for gain contingent in whole or in part upon lot, chance, the operation of a gambling device or the happening or outcome of an event, including a sporting event, the operation of casino gambling including, but not limited to, blackjack, craps, roulette, poker, bacarrat [sic] or keno" (Section 18-3801).
It is a misdemeanor to engage is such activity as a player (Section 18-3802).
Interestingly, Idaho has relatively few penalties (when compared to other states) for operating illegal gambling businesses. This may be a result of the lack of commercial casinos in the state.
While not a direct reference to the Internet, the Idaho constitution does forbid a class of game that would seem to include online casinos. Even if regulated, operators are not allowed to
"employ any electronic or electromechanical imitation or simulation of any form of casino gambling" (Section 20).
The complete Idaho gambling statutes can be accessed below. It's always a good idea for everyone to know their state laws, especially if you're involved in an activity the law is likely to address.
Will Idaho Legalize Online Poker Sites?
While players from Idaho would no doubt love to have a locally regulated online poker room available, it doesn't look as if Idaho is interested is doing the legislative work that such a room might require.
There hasn't been any real movement on the issue among Idaho lawmakers, but that doesn't necessarily mean legal online poker in Idaho is an impossibility. For example, Idaho could easily decide to tag along with a neighboring state that regulates poker. We could also see a federal bill that offers revenue to states like Idaho – revenue that will be hard for cash-strapped Idaho to pass up. The point, however, is that Idaho doesn't look as if they're planning to take independent action to regulate online poker in the status quo.
Idaho & Gambling: The Basics
While it's not really thought of as a gambling hotspot in the present, the past of Idaho tells a much different story. In the early part of the twentieth century, gambling was actually quite legal – and quite popular – in Idaho, controlled not by the state government, but by local governments. This lead to a flourishing of small casinos and clubs that provided classic gambling choices like poker, roulette and dice.
Idaho's days as a premier gambling destination came to a halt at the century's center, with state lawmakers declaring all forms of gambling prohibited. That position would soften somewhat over the years, as Idaho slowly introduced several forms of regulated gambling back into the mix.
Regulated Gambling in Idaho
Today's Idaho offers more choices than some states for regulated gambling activities, but less than others. The big game in Idaho is the state lottery; you can also play Class II devices at tribal facilities and enjoy limited pari-mutuel wagering. There are also some charitable gambling events permitted under law (primarily bingo). There are no commercial casinos in the state.
While Idaho does offer regulated land-based gambling as described above, the state has yet to venture into the world of regulating online gambling. That means gamblers from Idaho will have to be content playing at sites licensed by other states or jurisdictions, as Idaho simply does not offer residents any state-backed ways to gamble (or play poker) online.
Idaho Gambling Research Resources
AntiqueGamblingChips.com. While it might not sound like a research source, this site is actually a great source of historical information about gambling. One particular article details a chip from an Idaho club that operated near the turn of the nineteenth century, and provides a wealth of context regarding how gambling operated in Idaho before the state stepped in.
Idaho Lottery Website. Hub for information about lottery offerings, but also the central resource for charitable gambling information, regulation and the like.
History of Idaho. A free ebook from Google Books that covers the very early days of Idaho – which included no small amount of gambling. Additional related books available from the same link.
Poker and Idaho
Idaho is largely absent from poker's history books, although a number of well-known online poker players have called the state home. In fact, most of the state's connection to poker has more to do with what players from Idaho haven't done. To wit: Idaho is one of only 17 states in the US that has never sent a player to the final table of the WSOP. The state also produced no champions during the 2012 WSOP.
One bit of neat poker history does reside in the state, however, thanks to resident Richard Jimenez. He owns what must be the largest collection of vintage poker chips from Idaho's wilder days.
Poker and Gambling Laws by State
Gambling Legislation in the News
In the poker world, California is known for two things. One is the plethora of cardrooms for poker players throughout
There had not been a peep about this case since the end of September of 2019. The Borgata's case against
The YouStake matter is finally settled. While it didn't affect a large part of the poker community, it was an
Sources & Citations For This Article on Idaho Online Poker