West Virginia Online Poker Laws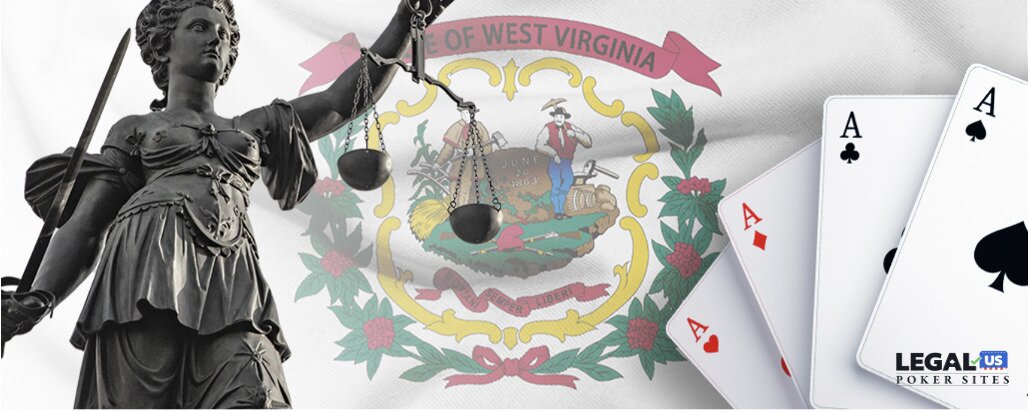 West Virginia is an integral part of the Eastern United States, a part of the country that has produced some of the greatest poker players in the World. Due to its size and population relative to neighbors like Pennsylvania, Ohio, and Virginia, it is not often seen as a hub of gambling. It has played its role, often behind the scenes, nurturing online poker players and growing the game in its own ways.
Of the five states bordering West Virginia, Pennsylvania is the only one with state-regulated legal igaming, including online poker. The igaming industry has been very profitable for Pennsylvania. Enough so that other bordering states like Kentucky and Maryland have also considered legalizing igaming in their states.
West Virginia did follow in Pennsylvania's footsteps in early 2019 by passing the West Virginia Lottery Interactive Wagering Act. Since then, WV has raked in sizeable rewards in the form of igaming taxes. Although there has yet to be a single poker operator applying for an online poker license.
Trusty and trustworthy online poker sites have stepped in for years to fill the void. They provide online poker options at large sites, which translate into large prize pool and game options. Let's take a look at the complicated relationship between West Virginia and online poker.
Online Poker in West Virginia
Whether you're a student at West Virginia University or a resident of historic Wheeling, you're probably looking for the same basic things from an online poker room: security, credibility and value. Those are the three aspects we gave the most weight when developing this list of sites that provide online poker for real money – a list that we regularly update to keep pace with the ever-changing world of online poker:
Top Sites for Online Poker in Your State
We can't guarantee that every bluff you run online will be a successful one, but we can guarantee that getting online, creating an account and then depositing into that account will be a pretty smooth process at the list of WV poker sites featured above. The most popular deposit method for West Virginians: major credit cards, followed by money transfer services.
West Virginia Gambling & Poker Laws Summarized
| Type/Code | Summary |
| --- | --- |
| State Code Section(s) | 19.23-24; 29.22; 61.10.1-5; 61.10.8-14 |
| Definition of Illegal Gambling | Any person who shall keep or exhibit a gaming table, commonly called A.B.C. or E.O. table, or faro bank, or keno table, or any slot machine, multiple coin console machine, multiple coin console slot machine or device in the nature of a slot machine, or any other gaming table or device of like kind, under any denomination, or which has no name, whether the game, table, bank, machine or device be played with cards, dice or otherwise, or shall be a partner, or concerned in interest, in keeping or exhibiting such table, bank, machine or gaming device of any character, shall be guilty of a misdemeanor. If any person at any place, public or private, bet or wage money or other thing of value on any game of chance, or shall knowingly furnish any money or other thing of value to any other person to bet or wage on any such game, he shall be guilty of a misdemeanor. |
| Online Poker/Gambling | West Virginia legalized online poker and online casino games in early 2019 as a part of an extensive gambling expansion law. Online casinos have since launched, but no online poker operator has applied for a license, even well into 2023. |
| Live Poker | There are poker rooms in many of the racinos in West Virginia that offer cash games and tournaments. |
| Casinos | Racetracks are allowed to offer video gaming terminals, similar to slot machines, and several of the state's gambling facilities also offer table games like poker. |
| Sports Betting | Operators can offer online and live sportsbooks, the latter of which are located at the five casino/racino locations around the state. |
| DFS | In lieu of waiting for lawmakers to pass a DFS bill, the WV Attorney General in 2016 declared daily fantasy sports as games of skill, not chance. That exempted DFS operators from violating state laws regarding gambling. |
| Other Forms of Gambling | Horse and dog racing, pari-mutuel betting, lottery, bingo and charitable gambling, video lottery terminals. |
Is Playing Online Poker Legal in WV?
Yes. In March 2019, West Virginia legalized online poker and online casino games via the West Virginia Lottery Interactive Wagering Act.
It all started several years ago when West Virginia Delegate Shawn Fluharty noticed the success of online gaming in New Jersey and knew that the same type of activity would help his own state. That the revenue would be beneficial, and it would keep the state competitive in the gambling industry.
After failed efforts in previous years, including in 2018, Fluharty tried again in early 2019 by introducing an online poker and casino games bill on January 9, but it didn't move. However, behind the scenes, he was working with fellow West Virginia Delegate Jason Barrett on a newer bill.
On February 8, Barrett introduced HB.2934 as the West Virginia Lottery Interactive Wagering Act, with Fluharty as a co-sponsor, of course. The bill moved rather quickly through committees, all the while being changed with amendments, and it appeared on the House floor in mid-February. Three days later, it passed by a vote of 72-22.
The bill had a deadline of March 9, as the legislature was set to adjourn for the session. When the Senate saw the bill, its members made several changes and passed it by 26-7. The House then reapproved the bill on March 9 by a vote of 78-18. The bill then went to the desk of Governor Jim Justice for his signature or veto. He chose not to act.
The bill became the law of West Virginia during the last week of March 2019. The law became effective on June 9, 2019.
At that time, the West Virginia Lottery Commission will begin finalizing the regulatory details for the new interactive gaming industry for its state.
Five licenses for online gambling operations can be awarded. One for each of the five land-based gambling establishments in West Virginia. Operators will pay an initial licensing fee of $250,000. And, they may then renew a license every five years at the cost of $100,000. They will also have to pay a 15% tax on gross gaming revenue.
The licenses will allow the operators to offer online poker, slots, and table games. And the five casinos/racinos that are eligible to partner with online gaming operators for this endeavor are:
The Casino Club at the Greenbrier
Hollywood Casino at Charles Town Races (operated by Penn National Gaming)
Mardi Gras Casino and Resort (owned by Delaware North)
Mountaineer Casino, Racetrack and Resort (owned by Eldorado Resorts)
Wheeling Island Hotel-Casino-Racetrack (owned by Delaware North)
West Virginia Licensed iGaming
By the end of 2019, the West Virginia Lottery had not yet issued the official rules for igaming. This was necessary before any operators could even apply for licensing. Lottery officials had been working on the regulations, however, even traveling to Pennsylvania for guidance. They wanted to get it right.
The law dictated that the WV Lottery could issue five igaming licenses, one for each casino/racino in the state. If they wanted to participate in the new online gambling industry, each could pay the $250,000 licensing fee, which could then be renewed every five years for just $100,000. And they had to agree to a 15% tax on gross gaming revenue.
As the state went into lockdown during the initial months of the 2020 pandemic, the WV Lottery Commission wrote a set of emergency rules to push through the legislative approval process faster than normal. The rules allowed for igaming sites to launch under provisional licenses that cost just $100,000 each for the first year. Those rules became official in April 2020.
By June 2020, DraftKings Casino was the first operator ready to provide online casino games to people located in West Virginia. BetMGM joined soon after.
As of early 2023, the online casinos in operation in WV, along with their land-based casino partners, were:
BetMGM via Casino Club at Greenbrier
FanDuel via Casino Club at Greenbrier
Caesars via Mountaineer Casino
BetRivers via Mountaineer Casino
DraftKings via Hollywood Casino at Charles Town Races
Is Playing Poker Legal in West Virginia?
The West Virginia Lottery Commission pushed through its emergency rules for the new igaming industry in 2020, and the same rules applied for online poker as for other online casino games. Operators could apply for licenses by the spring of 2020 and launch as soon as possible after. Several did just that for their online casino platforms.
Not one of them applied for an emergency license to launch online poker.
As of the spring of 2023, there are still no state-licensed online poker operators in West Virginia.
After a big push to legalize online poker, the absence of those sites is quite notable. Word from online poker companies in the new US market is that the WV online poker market will be small, too small to justify the cost of the license and launch. They are waiting for West Virginia to sign on to the Multi-State Internet Gaming Agreement, also known as MSIGA, that will allow operators in WV to connect their player pools with their sites in other states. This will likely justify the cost of launching in the smaller state and bringing its players into the larger fold.
MSIGA long had just three signatories: Nevada, Delaware, and New Jersey. The only licensed operator in all three states was Caesars/WSOP on the 888poker platform, so that is the only site that could increase its liquidity for online poker. However, in 2022, Michigan signed on to that agreement. And PokerStars launched its first interstate site on the first day of 2023, joining its New Jersey and Michigan poker sites.
West Virginia did not sign the agreement at that time. It is unclear as to when the WV governor will do so.
West Virginia Gambling Facts
Residents in and visitors to West Virginia have a multitude of choices when it comes to regulated gambling. The state offers a lottery that serves up old-style tickets and drawings, but there are also now video lottery terminals in land-based gambling establishments. These are resort casinos and racetracks that feature a variety of casino games, VLTs, and pari-mutuel betting.
Sports betting was legalized in West Virginia in August 2018, as it became the fifth state to do so following the May 2018 reversal of PASPA to allow states to legalize and regulate sports betting per their residents' wishes.
And in March 2019, West Virginia became the fifth state to officially legalize online poker and casino games with a specific bill to do so.
As with all states that legalize sports betting, especially both online and live, West Virginia has seen ever-increasing revenue numbers. Sports wagering brought in $1.9M in the portion of the year that sports operated after pandemic closures. Revenue increased for operators in 2021, however, to $4.1M, and it popped up to nearly $4.5M in 2022.
As for online casino games, like slots and table games, this delivered bigger numbers. The 2021 financials for West Virginia showed more than $5M in revenue that year. And it more than doubled in 2022 to more than $12.9M.
West Virginia Gambling Resources
West Virginia Lottery. Official site for the state lottery of West Virginia. Learn more about the state's unique form of video lottery, get lottery data and information about where funds from the lottery go.
UNLV Center for Gaming Research. The abstract for West Virginia from the UNLV CGR provides an excellent snapshot of regulated gaming in the state. You'll find a brief history, aggregate data since 1995 and a synopsis of the major regulated gambling options in West Virginia.
West Virginia Department of Commerce – Gaming. An all-in-one guide to the regulated gambling attractions of the state from the West Virginia DoC.
West Virginia Poker Players
The person who sits atop the all-time West Virginia live tournament player leaderboard is a man who did get his start during the poker boom playing online poker. He hails from Weston, West Virginia, and now splits his time between Las Vegas and living abroad. He has risen through the ranks of live poker players to become the one ranked fifth (as of March 2023) in the world. Jason Koon is a sponsored pro player with a World Series of Poker bracelet and too many high-stakes tournament titles to count.
It will take a long time for any other player to catch Koon, but these are the top five players currently on the leaderboard. They are listed here with their lifetime live tournament earnings as of March 2023.
Jason Koon $43,794,726
William Lee Childs $1,517,172
Steven Merrifield $1,395,437
Taylor Wilson $1,346,329
Kenneth Hicks $830,939
All Poker and Gambling Laws by State
West Virginia in the News
Only one state has joined the ranks of states with legal online poker in the past five years, and that
West Virginia State Delegate Shawn Fluharty has wanted online gambling legalized in his state for several years, and it seems
Recent movements toward a more substantive and lucrative online poker industry in the United States may create a snowball effect.
Sources & Citations For This Article on West Virginia Online Poker