Illinois Online Poker 2023 | Online Poker in Illinois for US Players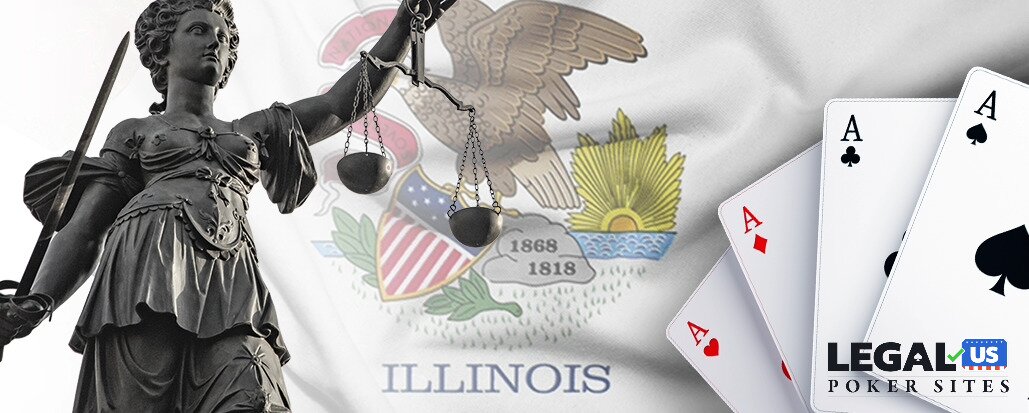 Home to the "Windy City" and an eternal favorite of gamblers, Illinois is the base for many successful online and live tournament poker professionals. Poker seems to be in the state's blood; President Obama often recalls his late-night games of poker played during his time at the Illinois Statehouse. In the live poker scene, locals have a wide variety of upcoming tournaments in poker clubs and riverboat casinos they can enter. However, Illinois has a more complicated relationship with real cash online poker.
In our guide to online poker in Illinois, we'll explain and analyze the current gambling laws in Illinois while discussing the poker sites which accept players from the state. We'll discuss the odds that Illinois lawmakers regulate the Internet poker industry. This review of Illinois online poker laws will analyze whether existing gaming interests in the state support or oppose such laws.
You can play poker online in Illinois, and as of March 2022, it's perfectly legal to engage in online poker for real money. So, if you're in Illinois and looking to enjoy some poker action online, you're in the clear to do so, check out some of our favorite poker rooms!
Top Sites for Online Poker in Illinois
Illinois Online Poker Guide
If you want to play online poker in Illinois, there are some very well-known options available. Sites like Ignition and BetOnline have been open to Illinois players for decades. Offshore gambling authorities regulate these sites, and they maintain positive relationships with American players.
To date, no online poker operators are licensed and regulated within the state of Illinois by the Illinois Gaming Board. As the state expands its gambling options and competes with neighboring states, regulated igaming, including online poker, is under consideration. It is likely to persist until a bill is passed by the legislature.
Is Online Poker Legal in Illinois?
This is a complicated question, as Illinois lawmakers have yet to pass a law to officially put online poker for real money on the books as a licensed form of gambling in the state. However, they know that many Illinois residents play online at the sites listed on this page. There has never been any type of legal threat to those players.
Meanwhile, many poker players flock to live card rooms throughout the state, and they look forward to the first Chicago-based casino opening in the years to come. Until then, players in cities without live poker play online as they have for more than two decades.
Thankfully, you don't have to worry about finding the right site that will allow you to sign up from Illinois. Our list exclusively includes real poker sites accepting players from Illinois, saving your time for playing on online tables.
Illinois Gambling Laws
| Type/Code | Summary |
| --- | --- |
| State Code Section(s) | 230.ICLS.5-40; 720.ICLS.5.28 |
| Definition of Gambling & Player | Person Commits Gambling: Knowingly plays a game of chance or skill for money or other thing of value; or knowingly establishes, maintains, or operates an internet site that permits a person to play a game of chance or skill for money or other thing of value by means of the Internet or to make a wager upon the result of any game, contest, political nomination, appointment, or election by means of the Internet. |
| Online Poker/Gambling | Multiple attempts to legalize online poker and casino games have failed in the last decade while Illinois expanded other forms of gambling. The latest attempt at legislation was in 2023, but the bills failed to achieve the required readings to move forward for votes. |
| Live Poker | Live poker is permitted in all of the casinos in Illinois, and the poker rooms offer cash games and tournaments. |
| Casinos | The Riverboat Gambling Act permitted a limited number of fully-functional casinos to operate as riverboats throughout Illinois, and the 2019 gambling expansion legislation expanded the definition of riverboats and authorized a long-awaited casino on land in the Chicago area. |
| Sports Betting | The 2019 gambling expansion bill legalized retail sportsbooks, and mobile and online sports betting for people located in Illinois. Retail options were slow to find success due to the 2020 pandemic casino closures, but online sports betting soared in popularity. |
| DFS | As with sports betting, daily fantasy sports contests were included in the 2019 gambling expansion bill. DFS is now legal in Illinois. |
| Other Forms of Gambling | Horse racing, pari-mutuel betting, bingo, raffles, pull-tabs, charitable gambling, poker runs, jar games, Native American gaming, video gaming terminals. |
Years of iGaming Efforts in Illinois
Actions in the Illinois legislature in 2017 gave many legal online poker supporters hope that lawmakers were beginning to see the positives of legalizing and regulating online gaming. There was a bill that would've done just that for online poker and casino games, which passed the full Senate by a 42-10 vote in May, but the House bill never made it through committee as hearings were canceled at the last minute.
However, online poker remained on the table going into 2018. State Representative Michael Zalewski's H.479 was still being pushed, and he was confident that the right mix of gambling expansion projects would appeal to most lawmakers.
The tide began to turn shortly after the United States Supreme Court overturned PASPA, allowing New Jersey and all other states to address sports betting as they chose. Supporters of online gambling revised SB.7 to add daily fantasy sports and sports betting to the bill. But, it happened late in the session and too close to its closing date of May 31.
Senate Bill 7 became bipartisan, with several Republican and Democratic sponsors: Senators Terry Link, Dave Syverson, Mattie Hunter, and Donne Trotter; and Representatives Robert Rita, Rita Mayfield, Chad Hays, and Litesa Wallace. The proposal included articles for the "Fantasy Sports Act," "Internet Gaming Act," and "Sports Wagering Act." Notably, the bill lacked details about tax rates, licensing, and the regulatory framework.
One of those sponsors, Rita, then took an opportunity in the summer of 2018 to announce two hearings to discuss gambling expansion for Illinois. The inaugural event took place in Chicago on August 22. It was more than four hours of debate featuring members of joint committees. The main topics included discussions on new land-based casinos and expanding the numbers of video gaming terminals.
The second hearing in early October was held in Springfield and focused heavily on sports betting. Horse racing prevails in Illinois, revealing issues that need resolution before presenting a solid bill to legalize sports betting. Still, it will be a priority for many lawmakers in the future. It may mean that SB.0007 could be discarded and rewritten. It is unclear if the new 2023 online gambling bill will cover online poker and casino games in its consideration.
In 2019, some speculation proved accurate as Illinois lawmakers united for state gambling expansion. However, online poker and other forms of internet gambling were not a part of that picture. So no matter the intentions of some lawmakers, it did not happen.
In the summer of 2019, a massive gambling expansion bill passed through the legislature after months of negotiations and discussions. Governor J.B. Pritzker signed it into law. It included the legalization of video gaming terminal (VGT) establishments, five new casinos in Illinois, a mega-casino in Chicago, a new racetrack, slot machines, and table games in racetracks (making them racinos), and sports betting.
Latest Efforts to Legalize Online Poker
The 2019 gambling expansion led to quick movement to implement the new sectors. Sportsbetting took center stage, launching the first retail sportsbooks at two casinos in early 2020. Just weeks before the global pandemic shut down all land-based gambling operations. That made room for the online sportsbooks to launch first, and BetRivers was the first to do it. By the end of 2020, there were four more online sports options online. As venues began to reopen, retail sports betting locations opened as well.
Sports betting has proven a good move for Illinois. The state recorded more than $18.6B in handle in 2022 alone. That translated into $1.4B in revenue, out of which the operators paid more than $232.6M in taxes.
It's fair to say that igaming got left behind. Without requiring it to be included in the 2019 gambling expansion bill, online casino games and online poker faced a long road.
Illinois State Representative Robert Rita did introduce an igaming bill in 2021, but it failed to advance. But in 2023, some new advocates entered the scene. Illinois State Senator Cristina Castro introduced SB1656, the Internet Gaming Act, alongside companion bill HB2239 filed by Rep. Edgar Gonzalez Jr. in the House. The bills contained the following provisions:
Each casino could partner with an online gambling operator and offer up to three skins.
Online operators would pay a 15% privilege tax to the Illinois State Gaming Fund.
Emergency rules would be mandatory to license and launch igaming as soon as possible.
The bills did garner some momentum after their introduction in early February. The Senate bill had its first reading quickly and moved to the Assignments Committee and then the Executive Committee. The House bill made it through the House Rules Committee and then the Gaming Committee. Governor J.B. Pritzker was aware of the bills and had previously supported gambling expansion.
Everything was on track until it wasn't. Both bills returned to their initial committees in April, with no hearings and no signs of life.
According to most analysts, igaming is all but certain to become a state-regulated entity in Illinois in the next few years. As states around it legalize igaming and states like Michigan show the fiscal possibilities, Illinois is sure to legalize online poker and online casino games.
Online poker players will now hang their hopes on the 2024 legislative session.
Illinois Law and Online Poker
So, where does Illinois stand regarding the law and online poker? The state addresses online gambling directly in its law. Let's talk a bit more about that part of the Illinois statute and a few other aspects that should interest the typical online poker player.
First, what constitutes gambling in Illinois?
The law is pretty clear; gambling occurs when someone "plays a game of chance or skill for money or other thing of value" (Section 28-1).
The only exceptions are state-approved forms of gambling.
Violation of that section as a player is a class A misdemeanor (Section 28-1(c)). Illinois does not have a history of aggressively pursuing mere participants in illegal gambling.
What does Illinois law have to say about online gambling? It is illegal if someone plays poker online?
"knowingly establishes, maintains, or operates an internet site that permits a person to play a game of chance or skill for money or other thing of value by means of the internet or to make a wager upon the result of any game, contest, political nomination, appointment, or election by means of the internet" (Section 28-1(12))."
Illinois law, including this section, seems to lack direct provisions addressing individuals merely participating as players on internet gambling sites.
Unfortunately, this situation lacks legal clarity. However, that should not be mistaken as a blanket endorsement that all online gambling activity is explicitly permitted. In such cases of uncertainty, players should start by reviewing the laws of Illinois personally and then continue consulting a lawyer if questions persist.
Illinois Gambling Guide
Most accounts of Illinois history assign gambling an early and prominent role in the story of the state. Whether through the lotteries of early settlers, the famous riverboat gambling ships that cruised Illinois waters during the 1800s, or the ubiquitous, ever-present gambling halls of Chicago, you'd be hard-pressed to pick a point in the Illinois timeline that didn't involve gambling in some way.
Today's gambling industry in Illinois is a result of nearly forty years of legislative shifts toward gambling expansion. This began in 1974 with the authorization of the state lottery. Online poker legislation follows the legislative trends, but interests in land-based gambling complicate iGaming bills in many states.
What Gambling is Regulated in Illinois?
Illinois law permits most popular forms of regulated gambling. In addition to the state lottery and the multiple casinos spread across the state, there is legal pari-mutuel wagering in Illinois and a comprehensive slate of charitable gambling formats.
Illinois has vastly expanded its gambling offerings in recent years, most extensively with a massive gambling expansion bill in 2019.
More than 32,561 video gaming terminals (VGTs) in Illinois were installed when the new law was implemented in 2020 with the creation of complete VGT establishments. There were also ten casinos in the state, but they expanded this year to allow for five new casinos and a mega-casino/resort in Chicago. And on top of the three-horse racing tracks in Illinois already, an additional one was approved in 2019. Racetracks will also be able to expand to become racinos. They will offer up to 1,200 casino games, including slots and table games.
As a result of that expansion, lottery games online found other online competition with the legalization of online sports betting. That coincided with retail and mobile sports betting and DFS, all of which began taking shape in 2019. Illinois now records more than $1B in sports handle per month. This hails from seven retail sportsbooks, multiple associated mobile apps, and seven online sportsbooks.
The Illinois Gaming Board oversees legal gambling except horse racing and pari-mutuel wagering, regulated by the Illinois Racing Board.
IL Online Poker and Gambling Facts: Objective Sources
ICGA. The Illinois Casino Gaming Association is a trade group representing the interests of many of Illinois' casinos. The group's site provides valuable research material for those interested in the Illinois gambling industry.
Illinois Gaming Board. The state gaming board's official site is the authoritative source for legal and regulatory details regarding gambling in Illinois. Get information on meetings, measures, help with problem gambling, self-exclusion, and a wealth of statistical information at the IGB website.
ICPG The online home for the Illinois Council on Problem Gambling is a central location providing access to a 24-hour helpline, speakers, and resources for educators, families, and players. The ICPG opposes the expansion and regulation of poker laws in the industry.
Famous Illinois Poker Players
There are several points at which the history of poker and Illinois intersect. One example is the story of Illinois native James Butler Hickok, better known in gambling and poker lore as "Wild Bill." Hickok's death gave a name to the now-famous "dead man's hand" – two pairs, aces, and eights said to be held by the lawman when someone shot him during a poker game.
Another example comes in the colorful tale of Nick "The Greek" Dandolos, who called Chicago home for much of his life. Dandolos was part of the mythic (and much debated) match-up with Johnny Moss. Cited as the template for the World Series of Poker. A final and more modern illustration of the shared history between poker and Illinois is author and poker player Jim McManus, who lives in the state.
The plethora of live poker rooms in Illinois has allowed poker players to flourish in Illinois through the years. The state's most famous players garnered most of their experience online.
More and more poker players are making their way into the professional realm. Especially with the availability of offshore online poker sites and live poker tours like the Mid-States Poker Tour and WSOP Circuit that make their way to and around Illinois. While the top of the Illinois rankings remains much the same as in years past, new names are beginning to knock those familiar names down a few notches.
Connor Drinan, however, maintains his spot atop the Illinois chart, though, as he continues to do well in live tournament poker. His career in poker began online prior to Black Friday. From that point forward, live poker became his strong suit, so to speak. He won the Florida State Poker Championship in 2011 for $378K. He also went on to win several events on the European Poker Tour through the years. Then he made final tables of major tournaments from Europe to the US and finally won his first WSOP bracelet online in 2020, followed by another one at the Las Vegas WSOP in 2021. All of it has contributed to more than $11.5M in earnings thus far.
Many other names in the top 10 have been in the poker game for years – Mohsin Charania, Gavin Griffin, Aaron Massey, and Kevin Saul. Others are making their way from a later starting point.
The top 10 Illinois live poker earnings through March 2023, according to the Hendon Mob, are:
Connor Drinan $11,591,377
Mohsin Charania $6,577,497
Aaron Massey $5,386,755
Gavin Griffin $5,094,711
Ryan Tosoc $4,980,800
Jason Wheeler $4,558,449
Ravi Raghavan $4,291,421
Kevin Saul $3,748,144
Brandon Shack-Harris $3,577,353
Chris Moore $3,571,429
All Poker and Gambling Laws by State
Illinois in the News
Illinois has tried to expand its gambling industry in many ways. In 2019, the state's governor approved a casino right
Illinois has more gambling options than most states in the Midwest. While long confined to riverboats, it became relatively easy
This article is an inevitable one. As a new year begins, it is necessary to look at the online poker
FAQ
The state does not regulate their own poker sites, however, our reviewed sites are perfectly safe, secure and legal for players from the US to utilize.
Players in the state must be 21 or over to play at online poker rooms.
As long as the player is 21 years of age and within state lines, players will have no issues playing online.
No. Poker players in Illinois will have to venture out and explore other online poker options, as Pokerstars does not let residents in Illinois open up accounts.
Yes! All online casinos offered for poker players in Illinois offer a variety of bonuses, including; welcome bonuses, deposit bonuses, and other weekly promotions.
Sources & Citations For This Article on Illinois Online Poker