Iowa Poker Laws & Online Gambling Legislation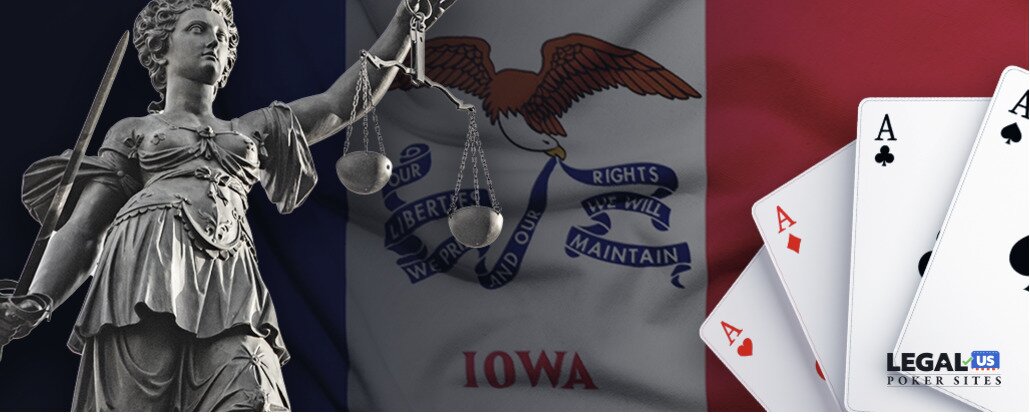 Iowa is a state which, like the majority of states in the US, has a healthy population of online poker players. Unlike some other states, Iowa could also play a pivotal role in the regulation of online poker in the US.
Iowa law with regards to gambling is somewhat unique. Gambling not directly approved by the state is likely illegal, but the severity of the charge is directly related to how much money is involved in the activity. In short, the bigger the game, the worse the crime (assuming the game is, in fact, illegal).
We're going to walk through the picture of gambling in Iowa, with a focus on online poker and the law, regulation, and culture of the state of Iowa.
You can play poker online in Iowa. However, it's important to note that Iowa has not yet legalized playing online poker for real money, so it's currently not a legal activity in the state. Players in Iowa should be aware of the existing regulations. But, know that they can still play online poker for real money at offshore poker rooms, such as the ones listed below:
Top Sites for Online Poker in Iowa
Gambling & Poker Laws in Iowa
| Type/Code | Summary |
| --- | --- |
| State Code Section(s) | III.99A-G; XVI.725.5-19 |
| Legal Definitions | Gambling: Any activity where a person risks something of value or other consideration for a chance to win a prize.Game of chance: a game whereby the result is determined by chance and the player in order to win completes activities, such as aligning objects or balls in a prescribed pattern or order or makes certain color patterns appear; specifically includes but is not limited to bingo.Game of skill: a game whereby the result is determined by the player's ability to do a task, such as directing or throwing objects to designated areas or targets, or by maneuvering water or an object into a designated area, or by maneuvering a dragline device to pick up particular items, or by shooting a gun or rifle.Legal social gambling: A person shall not receive or have any fixed or contingent right to receive, directly or indirectly, any amount wagered or bet or any portion of amounts wagered or bet, except an amount which the person wins as a participant while playing on the same basis as every other participant. |
| Online Poker/Gambling | There was a movement to legalize online poker in Iowa after Black Friday, but there was not enough support to push legislation to passage. There was a bill in 2023 to legalize online poker and online casino games. It didn't receive much attention, but the lawmaker wanted to plant the seed for a bigger effort in 2024. |
| Live Poker | There are live poker rooms in riverboat casinos and those in Native American-run casinos, as well as at some racetracks converted to racinos. |
| Casinos | Riverboat casinos were legalized in 1991, and three Indian tribes were allowed to build their own casinos per the 1988 federal Indian Gaming Regulatory Act. Racetracks were also permitted to install slot machines and table games in order to compete with other gambling facilities. Over time, Iowa eased its restrictions regarding casinos, and there were almost 20 casinos in the state at the start of 2023. |
| Sports Betting | The Iowa legislature legalized live and online sports betting in 2019, with the first retail sportsbooks opening in August 2019. In 2023, there were 26 retail locations at casinos and racetracks, with more than 18 online betting sites partnered with land-based sportsbooks. |
| DFS | The same bill that legalized sports betting in 2019 also legalized daily fantasy sports contests. FanDuel and DraftKings opened their DFS sites later that year and remain the only two licensed operators. |
| Other Forms of Gambling | Horse and dog racing, pari-mutuel betting, bingo, raffles not exceeding $200, social gambling not exceeding $200, charitable gambling. |
Iowa Gambling Laws – What's Legal?
Iowa law doesn't mention online poker, leaving players to interpret if playing online violates any regulations. You can review the entire Iowa code at the state website . Here are a few aspects of the law that seem especially relevant to online poker players:
Iowa law contains a sweeping prohibition against apparently all types of gambling. Section 725.7(1a) makes it a crime to "Participate in a game for any sum of money or other property of any value,"with the obvious exceptions for regulated gambling."
The same section (725.7(1b)) makes it a crime to "make any bet." This would seem to render any distinction between games of skill and games of chance moot.
As mentioned above, the size of the game dictates the severity of the charge. Section 725.7(2) lays out the thresholds for the "sum of money or value of other property involved," with bumps at $100, $500 and $5000.
Charges run up to the felony level at the top for both players and operators.
Iowa law allows the government to seize all money involved in an illegal gambling activity – including money or property wagered in the course of the activity and money or property simply connected to the activity (Section 725.8).
Iowa gambling laws seem harsh for illegal online gambling. Although, the state has been open to most forms of gambling expansion, especially in recent years.
Recent Years
Recent years witnessed lawmakers authorizing more casinos, easing restrictions on "riverboat" casinos, and legalizing sports betting and daily fantasy sports. Some lawmakers have also indicated a willingness to listen to supporters of online casinos and online poker rooms.
With that said, Iowa has not yet legalized igaming, nor does it issue licenses to operators. Iowa players may find offshore online poker options, but legal concerns should be discussed with a lawyer. (We are not here to provide legal advice, only summaries and opinions.) No player faced prosecution for online play in Iowa, but it's advisable to consult an attorney for any uncertainties.
Will Iowa Legalize Online Poker?
Iowa has not been at the forefront – or anywhere near it, to be honest – of the igaming movement in America. During the pandemic, Iowa observed New Jersey and Pennsylvania generating millions in igaming revenue while land-based facilities closed in 2020. Lawmakers witnessed Michigan, Connecticut, and West Virginia legalizing igaming, prompting them to consider the matter closely as well.
In 2019, Iowa legalized sports betting, embracing both online sportsbooks and retail betting locations for a comprehensive approach. Lawmakers and regulators recognized geolocation technology's effectiveness in limiting betting to individuals within Iowa's borders. They have seen its success, especially with regard to land-based and online entities working together to complement each other.
This all bodes well for online poker and online casino games in the future.
Iowa State Representative Bobby Kaufmann introduced HSB227, a house study bill, in 2023.
Kaufmann introduced a general proposal to the Ways and Means Committee to put it on record without pursuing action. He wanted his fellow lawmakers to know that the topic is something they will need to address in the coming year(s), so it was important to become familiar with the issue. The committee did not recommend movement for the bill in 2023.
This puts Iowa firmly on the map as a potential online poker and igaming contender in the coming years. Many casino operators support igaming, and others are willing to learn more about it. Only one racetrack (Prairie Meadows) came out in firm opposition to the bill in 2023.
Iowa Gambling Facts
During the frontier days, Iowans, like many Western states, undoubtedly participated in extensive gambling activities. For much of the last century, however, Iowa sat on the sidelines when it came to gambling expansion; it wasn't until; 1983 that pari-mutuel betting got the official go-ahead, and Iowa actually introduced the lottery (in 1985) only four short years before approving riverboat gambling (in 1989).
Regulated Gambling Options in Iowa
Iowa has become one of the states in the Midwest United States with some substantial gambling options. Iowa residents can engage in casinos, lottery, pari-mutuel wagering, charitable gambling, and state-licensed sports betting, including daily fantasy sports.
This is a broader selection than ever before, and it shows the value that gambling brings to the state. In 2022, Iowa collected $93.2M in gaming taxes, managed by the nonprofit Iowa Gaming Association, benefiting job creation and training for Iowans. The state also invested $42M of gaming taxes into Iowa's environment. And the state invested $250M in wages and benefits for casino workers to create a stronger and more stable industry.
Does Iowa Offer any Regulated Online Gambling?
The Iowa Racing and Gaming Commission regulates all pari-mutuel betting and a variety of gambling options for Iowans. This now also includes sportsbetting and DFS, for which the Iowa Racing and Gaming Commission accepts applications and issues licenses.
Born from the 1983 Pari-Mutuel Wagering Act, the Commission manages Iowa's gambling operators, serving as a central agency for coordination.
When Iowa legalizes online casino gaming and online poker, the Commission will mostly regulate that industry as well.
Famous Poker Players from Iowa
Iowa isn't exactly an ideal training ground for poker pros, but it has produced several millionaires. Many players in Iowa remain small-stakes to mid-stakes players, often on a casual or semi-pro level. However, some have gone on to have lucrative careers in poker.
Jeffrey Fielder may not be a household name among poker fans, but the Des Moines native has been playing poker around America since 2010. A casual love for the game garnered some early cashes in World Series of Poker and WSOP Circuit events, and he won his first Circuit event in 2012. Since then, he has won numerous WSOPC events, including the Choctaw Main Event in 2013 for $312K. As well as a WPTDeepStacks Main Event in 2016 and another in 2017, the latter worth $220K.
Not far behind on the list is William Reynolds, a longtime poker pro who had big early successes in his career. He made the final table of an EPT Main Event in Italy in 2009 and won an NAPT High Roller at the PCA in 2010 for his biggest payout to date.
Dustin Dirksen is in a close third on the early 2023 Iowa rankings, having been a known name in the game since 2006 and a respected online player for closer to two decades. Though a significant win has always eluded him, Dirksen's PCA Main Event final table in 2009 for $400K put him on the map. He still continues to grind wherever and whenever possible.
These are the top five players from Iowa, according to the Hendon Mob, as of March 2023:
Jeffrey Fielder $2,007,790
William Reynolds $1,985,197
Dustin Dirksen $1,918,600
Shiva Dudani $1,911,836
Darrell Dicken $1,836,413
All Poker and Gambling Laws by State
Iowa in the News
Not many people saw it coming. But by the time they realized it was happening, it was already a moot
The Powerball jackpot on Wednesday, February 22 will be the 10th-largest in the multistate lottery's history. The jackpot for the
British bookmakers have adjusted their betting odds on whether Donald Trump will win the Republican Party's nomination for president. In
Sources & Citations For This Article on Iowa Online Poker