North Carolina Power Laws – Legal Online Poker Sites in NC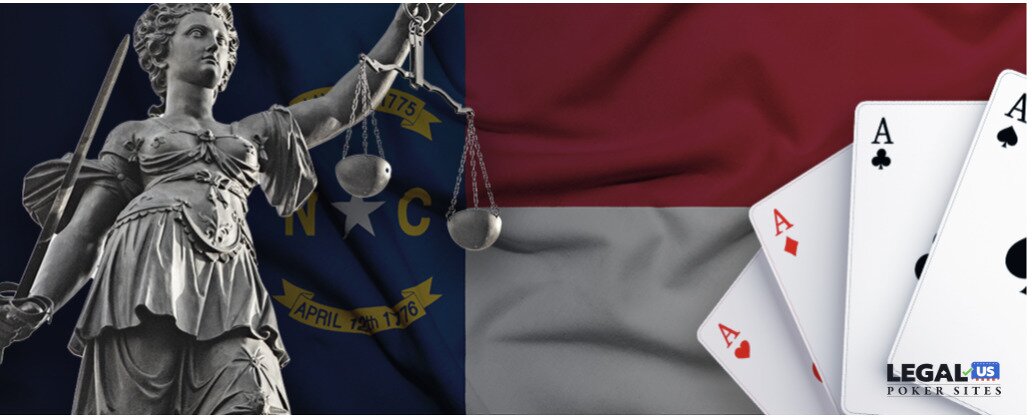 Poker is alive and well in North Carolina, despite the attempts by naysayers and politicians to suppress the game. With few real-money poker options available in the home state, poker players from NC have turned in record numbers to the next-best thing: poker online.
While hard numbers regarding participation in real-money online poker games in the state are hard to come by, we do know that several new players from North Carolina visit our page and sign up at poker sites every day. To simplify that task, here's a quick look at everything you need to know in one handy place with our North Carolina Online Poker Guide.
While you can play poker online, it's important to be aware that North Carolina's laws generally do not permit most forms of online gambling for real money, including online poker. Specifically, online poker is prohibited by Chapter 14-292 of the North Carolina General Statutes. However, residents of North Carolina do have options to participate in other forms of online gaming, such as buying lottery tickets online and playing daily fantasy sports, which are permitted under the state's regulations.
The Top Legal Poker Sites for North Carolina
Once you've decided to play online poker, the next step is choosing a site. But what sites best meet the needs of poker players from North Carolina? Based on our direct experience with dozens upon dozens of poker sites online, we've selected the following rooms as the best starting points for real money poker:
Top Sites for Online Poker in Your State
Recent Gambling Happenings in North Carolina
There is little gambling to be found in North Carolina. The one fully-functional casino in the state is Harrah's Cherokee, owned by the Eastern Band of Cherokee Indians on their land via a gambling compact with the state. Caesars Entertainment manages the property. Harrah's Cherokee has become the home of the annual WSOP Global Poker Championship and draws a sizeable poker crowd.
There is also Cherokee Tribal Bingo on the same land, but it does not have a poker room or the range of games available as does Harrah's Cherokee.
The year 2019 was a pivotal one for some expansion to North Carolina gambling. It started in May with legislative and gubernatorial approval of a long-debated bill to legalize charitable casino nights. This allows designated charitable organizations to host casino nights that offer table games like blackjack and roulette solely to raise funds for charity.
In July 2019, Governor Roy Cooper also signed legislation to legalize sports betting. North Carolina became the 17th state in America to do so. The Cherokee establishments permitted bets on professional and collegiate sports games starting in 2020.
There have been no attempts to tackle online poker or internet gambling of any kind in North Carolina.
North Carolina Gambling & Poker Laws Summarized
| Type/Code | Summary |
| --- | --- |
| State Code Section(s) | 14.37.289-309; 16.1-2; 18C |
| Definition of Gambling | Any person or organization that operates any game of chance or any person who plays at or bets on any game of chance at which any money, property or other thing of value is bet, whether the same be in stake or not, shall be guilty of a Class 2 misdemeanor. |
| Online Poker/Gambling | There have been no efforts to legalize and regulate any type of online gambling in North Carolina. |
| Live Poker | Poker is offered in the one fully-functional tribal casino in the state, with both cash games and tournaments available there. |
| Casinos | One tribe in North Carolina secured a gambling compact with the state to operate gambling establishments on its land, and of those, only one is a casino operated with Harrah's to offer everything from slots to poker. |
| Sports Betting | There have been no proposals via the legislature to legalize any type of sports betting. |
| DFS | A bill introduced in 2017 to legalize paid-entry fantasy sports games did not make it to the legislature floor for a vote. There was no follow-up bill put forward in 2018. |
| Other Forms of Gambling | Bingo and raffles for charitable organizations, lottery. |
Is Online Poker Legal in North Carolina?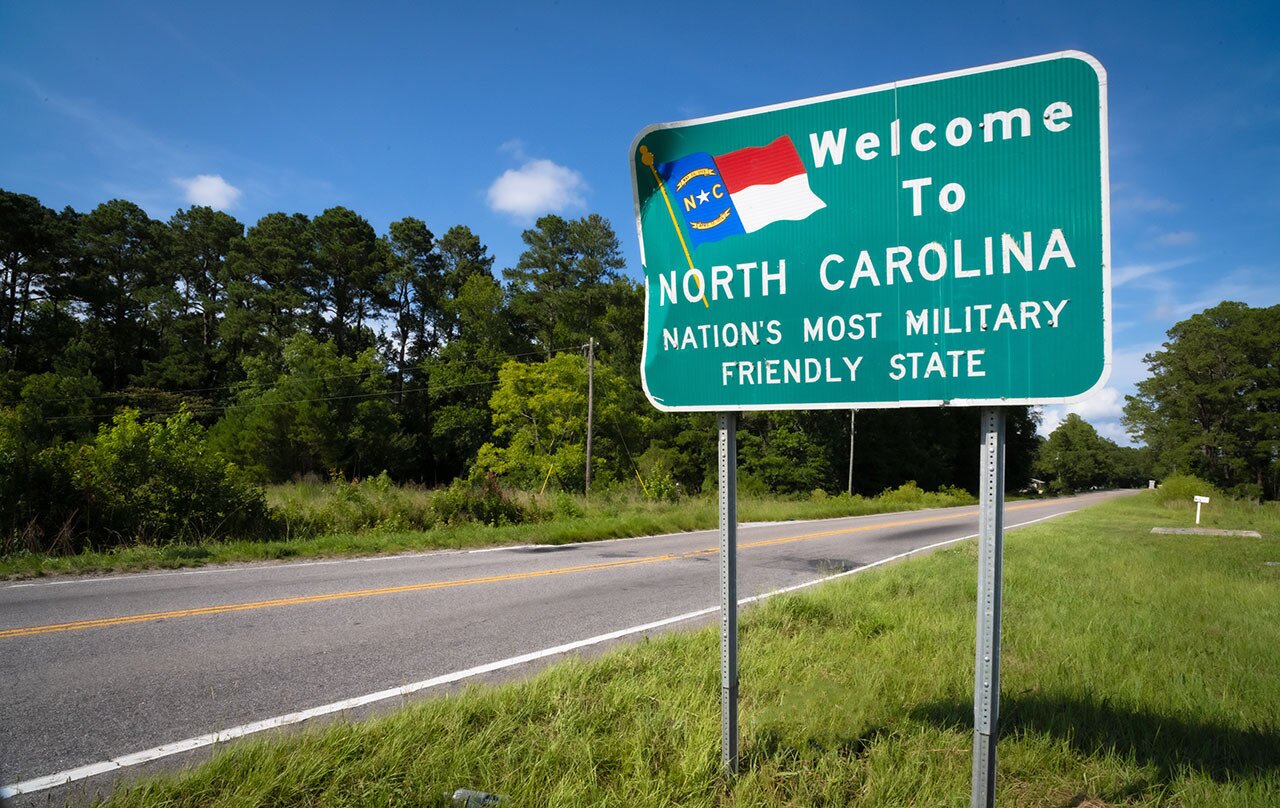 Gambling law is a tricky area, and any poker site that promises to give you authoritative advice regarding the legality of online poker or gambling is probably not telling you the whole truth.
What exactly is the whole truth? Well, gambling online for real money may be in conflict with the laws of US states. The problem is, very few directly mention online poker or other forms of Internet gambling, so the question of legality becomes one more of opinion than fact. As a result, you should consult a lawyer with experience in state gaming law before taking any answer as definitive.
Being educated on the basics of the law makes having such a conversation easier. To that end, here are some of the fundamental aspects of North Carolina gambling law:
Here's how the state defines gambling:
"Except as provided in Chapter 18C of the General Statutes or in Part 2 of this Article, any person or organization that operates any game of chance or any person who plays at or bets on any game of chance at which any money, property or other thing of value is bet, whether the same be in stake or not, shall be guilty of a Class 2 misdemeanor" (Section 14-292).
If you're wondering about those exceptions, they refer to the state lottery and charitable gambling that is overseen by the state.
Unfortunately, there is no further definition of "game of chance" found in North Carolina law. Based on case law involving gambling charges in the state, it appears that poker would qualify as a game of chance.
There is no obvious exemption for private or "social" gambling in North Carolina. While games played in public (or public establishments) may bring additional charges, a social game between friends in the home does not technically comport with North Carolina law.
North Carolina law allows for the seizure of all items employed in illegal gambling – including the money used in a game of poker (Section 14.299).
There is no specific mention of gambling that occurs online in North Carolina law.
To learn more about gambling law in North Carolina, visit this link below and review the state statutes directly.
Could North Carolina Potentially Regulate Online Poker?
Anything could happen, but there's precious little to indicate that such a thing is probable in North Carolina. While over a dozen US states have taken some public action in the general direction of regulation following the Department of Justice's 2011 rethinking of the Wire Act, North Carolina has yet to even take the most basic of steps toward the goal of regulating online poker sites in NC. As we'll discuss below, there are a number of types of gambling likely ahead of online poker in line, making the chances of North Carolina-regulated poker games online even dimmer still.
North Carolina Gambling Facts
North Carolina has essentially fought gambling expansion at nearly every turn. The state was very late to the lottery, selling their first ticket in 2006. The state also battled fiercely (albeit unsuccessfully) against the tribes who sought to open casinos within North Carolina's borders. As a result, North Carolina has one of the briefest and most limited histories with gambling of any state in the US.
Famous North Carolina Poker Players
Since the poker room in North Carolina at Harrah's Cherokee is fairly new, most professional poker players who hail from the Tar Heel State found their passion for the game through home games and via online poker.
Greg Raymer was one of those players to hone his poker skills online and at poker rooms around the US. He spent many years playing poker as a hobby while working as a patent attorney for major companies like Pfizer. However, when he won the 2004 World Series of Poker Main Event for $5 million, he put his law career on hold. Raymer became a sponsored poker pro for PokerStars and went on to be a skilled mixed game player. His earnings through November 2019 in live poker tournaments only add up to more than $7.8 million.
Chris Hunichen is another skilled poker pro from North Carolina, earning more than $7 million in live tournaments to date. But he, like Mike Sowers, garnered the majority of his poker abilities and earnings playing online poker for many years.
Mark Newhouse is a longtime poker pro, famous for final tabling the WSOP Main Event and finishing ninth in 2013 and 2014. He has more than $3.5 million in earnings.
As of 2023, the top-ranked poker pros from North Carolina (in the live tournament arena) are:
1. Greg Raymer ($7.8 million)
2. Chris Hunichen ($7 million)
3. Mark Newhouse ($3.5 million)
4. Mike Sowers ($3.4 million)
5. Anthony Spinella ($3.4 million)
6. Chris Bell ($3.2 million)
7. Mike Gracz ($3.1 million)
8. Carter Phillips ($2.7 million)
9. Randal Flowers ($2.2 million)
10. Nicholas Maimone ($2.1 million)
All Poker and Gambling Laws by State
North Carolina News
Ross Gerber, the CEO of Gerber Kawasaki, wrote an opinion piece in Forbes Magazine recently which suggested legalized sports betting
The Nevada Gaming Control Board approved NFL Draft proposition bets this year, so gamblers have a chance to wager on
The NCAA has lifted its ban on North Carolina sporting events it had imposed last year due to the Tarheel
Sources & Citations For This Article on North Carolina Online Poker