Alaska Poker & Gambling Laws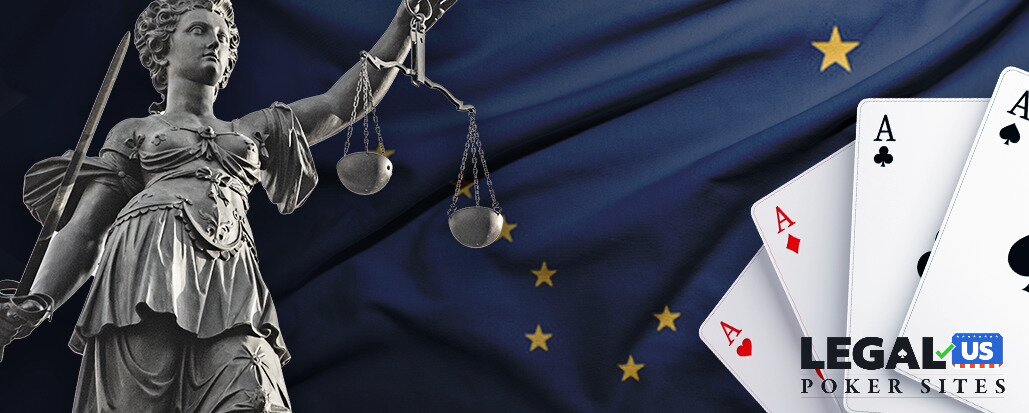 People have been gambling on striking it rich from things like gold or oil in Alaska for decades, but when it comes to more traditional forms of casino gambling (and online gambling), Alaska actually offers fewer options than the typical state in the union.
Let's learn all there is to learn about gambling in The Last Frontier with this detailed guide to the law, the history and the future of online betting and land-based wagering in Alaska.
Update as of 2023
This section is an updated version of the original article. While the the information on this page is correct, some new legislation might be in effect since this page was originally written. We've left the original article in tact below the new information.
In Alaska, if you're wondering whether you can play poker online, the answer is affirmative – you can indeed play poker online in the state. However, when it comes to playing poker for real money, there's a bit of a distinction. Poker for real money is legally allowed in Alaska, but this is limited to land-based casinos within the state. Despite this, it's worth noting that many poker enthusiasts in Alaska choose to engage in online poker for real money, even though it may technically exist in a legal gray area.
Top Sites for Online Poker in Alaska
Is Gambling Legal in Alaska?
| Type/Code | Summary |
| --- | --- |
| State Code Section(s) | 11.66.200-280; 05.15.690; 43.35.200-220 |
| Definition of Gambling | Gambling: A person stakes or risks something of value upon the outcome of a contest of chance or a future contingent event not under the person's control or influence, upon an agreement or understanding that that person or someone else will receive something of value in the event of a certain outcome. |
| Definition of Contest of Chance | Contest of chance: A contest, game, gaming scheme, or gaming device in which the outcome depends in a material degree upon an element of chance, notwithstanding that the skill of the contestants may also be a factor. (Poker is specified as a contest of chance.) |
| Online Poker/Gambling | Alaska has not regulated online poker, casinos or betting. No bills have been brought forth, and it is unlikely the state will so do anytime soon. |
| Live Poker | There are no live poker rooms in the state of Alaska. Home poker games are permitted in a social setting, but no rake is allowed. |
| Casinos | All gambling devices are banned except for those on reservations. Alaska has 10 casinos with 92 slot machines. |
| Sports Betting | Alaska has not considered any laws related to sports betting. |
| DFS | There is no law specifying DFS as legal, though most popular DFS sites allow Alaskans to play. |
| Other Forms of Gambling | Horse racing and betting on racing is illegal. By permit only, the following contests are allowed: Salmon classics, dog musher contests, snow classics, snow machine classics, fish derbies, animal classics, cabbage classics, Calcutta pools, moose derbies, and contests of skill. |
Alaska Gaming Reform Act of 2016
On May 26, 2016, the state of Alaska passed The Alaska Gaming Reform Act, which governs the Charitable Gaming Program and can be found at Title 5 Chapter 15 of the Alaska Statutes. The Alaska Gaming Reform Act involves the dispensing of raffle tickets from vending machines. It also defines who may conduct such gaming activities.
Under the new law, permissible charitable gaming involves raffles, Bingo, and pull-tabs. The Alaskan Tax Division also is given permission to issue permits and licenses to vendors. The Division collects taxes and fees, while it also is tasked with reviewing gaming activities periodically for compliance.
Katrina Mitchell of the Department of Revenue Tax Division said that one reason for the Gaming Reform Act was to assure that charitable gaming would "go green". Using a service called "Revenue Online", the sale of bingo, lottery, and pull-tabs would become more of an online operation, with the elimination of paper records.
Senate Bill 157
SB 157 was signed into law by Governor Bill Walker on May 17, 2016. This bill "clarifies that restaurants and other venues featuring arcade-style amusement games may lawfully operate". The popular arcade-style restaurant chain, Dave & Buster's, wanted to expand into Juneau, but it was concerned whether its games would be considered gambling. SB 157 clarified that such gaming is not gambling, thus clearing the way for Dave & Buster's to open a restaurant which would create 200 construction jobs and 160 permanent jobs in the arcade.
Online Poker in Alaska
Poker players from across the United States have developed a strong interest in online poker, and Alaskans are no different. In fact, legal online poker is an especially appealing option for poker players from Alaska, who lack access to commercial casinos or other convenient ways to play real-money poker games.
Alaskans face few restrictions when it comes to choosing a poker site online. Our picks for the top poker site accepting players from Alaska offer the biggest bonuses and the most valuable VIP programs:
Can Alaskan Poker Players Play Online?
If you live in Alaska and want to play legal and regulated online poker, you shouldn't have a problem. All sites that take US players also welcome poker players who hail from Alaska. While players from some states in the US (such as Maryland) do have limited choices, Alaska doesn't face any such restrictions. This means that Alaskan poker players can choose from the complete range of real money online poker sites operating legally in their jurisdiction.
Gambling and Alaska Law
The general focus of gambling law in Alaska is to punish the people who run the game, not the people who take part in it. It's important to note, however, the the law regarding gambling in Alaska is very broad and could be interpreted a number of ways.
Here a a few relevant aspects of Alaska code that could pertain to online gambling:
It is a crime (Section 11.66.200) to engage in "unlawful gambling," which is defined as any gambling not explicitly made legal by act of law. Your first offense is a violation, subsequent offenses are class B misdemeanor.
"Gambling" is defined in Section 11.66.280 as
"a person stakes or risks something of value upon the outcome of a contest of chance or a future contingent event not under the person's control or influence, upon an agreement or understanding that that person or someone else will receive something of value in the event of a certain outcome."
By most accounts, poker would fall under this definition if played for real money.
Social gambling is exempt from the otherwise strict gambling laws in Alaska. The state also employs a somewhat specific definition of what can be considered a "social game." Section 11.66.280(9) defines it as:
"gambling in a home where no house player, house bank, or house odds exist and where there is no house income from the operation of the game".
Nothing in the Alaska code at the time of this article makes specific reference to online gambling or online poker sites.
Whenever you talk about gambling, you're immediately talking about an issue that could potentially have legal repercussions. For that reason, it's imperative that poker players from Alaska review Alaska gambling law personally and seek qualified legal advice before engaging in any behavior that could bring consequences.
Will Alaska Regulate Online Poker?
Around a dozen states have been part of national discussions on online gambling regulation. Alaska does not appear on that list. There have been no serious public discussions regarding online gambling, so (barring some major change of events) it appears quite unlikely that poker players from Alaska will be able to play state-regulated online poker.
Alaska Gambling Facts
Alaska has long been a stalwart opponent of nearly all forms of gambling. The one notable exception: A number of annual contests surrounding a variety of outdoors activities such as dog-mushing and fishing. Those few outliers aside, Alaska has a consistent history of opposing attempts to expand regulated gambling in the state.
For example, in 2008 voters rejected a proposal to introduce regulated gambling facilities by a nearly 2-1 margin. Native groups' long-running attempt to establish gambling in the state has seen minimal progress so far.
Regulated Gambling Options in Alaska
You'll be quite short on options if you're looking to participate in gambling specifically sanctioned by the state in Alaska. There's no state lottery – Alaska is one of only 7 US states that has resisted the wave of state-run lotto games. There aren't any commercial casinos, and tribal operations appear limited to a handful of bingo halls. As you may have guess, there are also no regulated ways to bet on horses or sports in the state of Alaska.
The state permits various forms of charitable gambling, offering gamblers the avenue of participation in Alaska.
Does Alaska Offer any Regulated Online Gambling?
It's no surprise that Alaska offers no state-run online gambling options for residents or visitors. As mentioned earlier, there appears to be no interest from the state or voters to regulate online gambling in Alaska. Therefore, the status quo is likely to persist unabated.
Recent Alaska Gambling Headlines
Alaska was the source of some curious gambling news in October of 2012, when police arrested 5 individuals in connection with a so-called "paycheck poker" operation. Paycheck poker is effectively a raffle and bears no connection to the actual game of poker.
Alaska Gambling Resources
Alaska Gambling Law (FindLaw). This pocket guide to Alaska gambling law is a handy bookmark for players who want a quick reference to the basic laws in Alaska regarding gambling and online poker.
Alaska Department of Revenue Tax Division. Resource for forms and permits required to operate regulated gambling activities in the state of Alaska. Also contains basic tax information regarding such activities.
Alaska and Poker
Though not the first state associated with poker, Alaska maintains regular connections with the game. Perry Green (a three-time WSOP bracelet winner and two-time Main Event finalist) is arguably the most famous poker player from Alaska, although native son Greg Hobson has been in the news more recently thanks to his win in the 2012 WSOP ante-only event.
Interestingly enough, one player who isn't from Alaska even though many he assume he is: Paul "Eskimo" Clark, who actually hails from the far more temperate climate of Louisiana.
All Poker and Gambling Laws by State
Alaska in the News
In confirmation hearings on Tuesday, Alabama Sen. Jeff Sessions said he was "shocked" when he learned that the Department of
The Alabama State Senate passed a lottery bill last week, setting up a vote in the Alabama House of Representatives
The Alabama Senate failed to pass a bill this week which would clarify the law on slot machines in non-tribal
Alaska Resources & Citations