By
May 3rd, 2018 | Last updated on December 17th, 2018
Online Poker in Vermont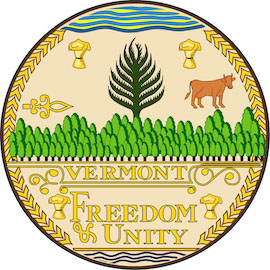 Online Poker in Vermont
Last Updated December 17, 2018
From Mount Mansfield to the Trapp Family Lodge, Vermont is a state filled with seemingly endless natural beauty. What Vermont does not have an abundant supply of, however, is land-based regulated gambling, leaving many of the state's residents to choose between a long haul to a neighboring state or a quick click of the mouse to an online poker room. When the choice is put in those terms, it's not hard to understand why more and more players from Vermont are choosing online poker sites for their poker fix, a choice that's even easier to make after you review our Guide to Playing Online Poker in Vermont.
Online Poker Sites in Vermont
So how do we go about putting together a list of the best poker rooms for players from Vermont? We reason that players from the state want more or less the same attributes that other American players are seeking. Our top Vermont online poker rooms feature easy deposits, quick payouts and juicy games – all with a minimum amount of hassle and a maximum amount of reliability. Check back often, as we update this list of poker sites frequently:
Poker Sites Open to Players From Your State

| | | | |
| --- | --- | --- | --- |
| Bovada | $500 Bonus | 3-4 Day Payouts | Accepts Visa, Bitcoin, Wires |
| Ignition | $2000 Bonus | 3-4 Day Payouts | Accepts Visa, Bitcoin, Wires |
| Intertops | $600 Bonus | 5 Day Payouts | Accepts Visa, Wires |
| BetOnline | $2500 Bonus | 5-7 Day Payouts | Accepts Visa, Bitcoin, Litecoin, Wires |
| Sportsbetting | $2500 Bonus | 5-7 Day Payouts | Accepts Visa, Bitcoin, Litecoin, Wires |
How Do I Play Poker Online in Vermont?
Simple as simple gets: pick a room from the list above. Create an account – all you're going to need for that is a valid email address. Then it's on to funding your account, which can be accomplished via credit card or funds transfer. If those options don't work for you, most of the rooms on our Best Poker Sites for Vermont list will work with you to develop a personalized solution to depositing funds into your online poker account.
Vermont Gambling & Poker Laws Summarized

| Type/Code | Summary |
| --- | --- |
| State Code Section(s) | 13.51; 31.13-14; 31.23 |
| Definition of Gambling Prohibitions | A person who plays at cards, dice, tables or other game for money or other valuable in a common gaming or gambling house that is maintained for lucre and gain; a person who has or keeps on premises owned or occupied by him or her implements or other things used in gambling and permits persons resorting to such premises to use such implements or things for the purpose of gambling; a person who wins or loses money or other valuable thing by play or hazard at any game, or by betting on such play or hazard, or sharing in a stake wagered by others on such play or hazard. |
| Online Poker/Gambling | There have been no efforts by lawmakers to legalize online poker or internet gambling of any kind. |
| Live Poker | No live poker or even social poker games are allowed in Vermont. |
| Casinos | There has been little interest in legalizing casinos of any kind. |
| Sports Betting | Vermont lawmakers have indicated no proposals are in the works to examine or legalize sports betting. |
| DFS | Daily fantasy sports contests were approved by the state legislature and the law was enacted in 2017. |
| Other Forms of Gambling | Horse racing, on-track pari-mutuel wagering, charitable gambling for fundraising, lottery. |
Is it Legal to Play Poker in Vermont?
Questions like this often require experience and insight that is simply beyond the scope of an online poker portal such as ours. That's why we're not going to pretend to offer you a definitive answer – such a job is one that should be reserved for a lawyer or legal professional.
So how can we help the average poker player from Vermont better understand their state law? Two ways. First, we've broken down the most important components of Vermont gambling law into an easy-to-read list that you can review below. Second, we've included links after the list that will let you review state law for yourself, aided by our cheat-sheet.
Vermont gambling law is rendered murkier than average by the lack of a clear definition of gambling (or definition of a similar term like "bet" or "wager").
It's possible to piece together a working definition of gambling by referring to the various gambling-related charges found in Vermont code. Let's start with Section 2133, which criminalizes the act of playing
"at cards, dice, tables or other game for money or other valuable in a common gaming or gambling house that is maintained for lucre and gain."
Unfortunately, there's no definition of what qualifies as a "gaming or gambling" house to be found in the Vermont statutes.
We can then turn to Section 2141, which assigns a fine (no charge mentioned) to those who win or lose anything of value "by play or hazard at any game" or by betting or sharing in the betting on same. This suggests the act of betting is the problem under Vermont law, regardless of what activity is the focus of the betting.
It's also illegal to keep a "gambling instrument" (Section 2134) and to sell, lease or rent "gambling machines" (Section 2135).
Engaging in "bookmaking" and "pool selling" (both left undefined) carry harsher penalties than other forms of illegal gambling in Vermont.
Continue your research by reviewing the online version of Vermont's state code.
All Poker and Gambling Laws by State
Vermont in the News
December 23rd, 2014

Though opponents of casino gambling in New Hampshire were able to defeat gaming legislation in 2014, those opponents expect to face a new challenge to the status quo in 2015. After opponents of brick-and-mortar gambling in New Hampshire were able to squelch legislation during the summer months of 2014, the

Read Full
Is Vermont Planning to Regulate Online Poker?
Any state that is looking into trying lottery sales online (more on that below) has a better-than-average chance of bringing poker online. While Vermont may have a positive outlook in that sense, there are still a variety of hurdles that would need to be cleared before poker players in Vermont could play in state-backed cash games or tournaments online.
Vermont Gambling Facts
Vermont has one of the shallowest regulated gambling pools in the United State. You won't find any Vegas-style casinos, commercial or tribal. Racing was once a part of the state's regulated gambling landscape, but such wagers aren't available in modern Vermont.
Your choices come down to the Vermont Lottery and charitable gambling. The latter is where poker players find a bit of luck in Vermont; poker, along with bingo and a selection of other gambling games, is allowed under charitable gambling law in Vermont.
Vermont-Licensed Online Gambling
The state of Vermont does not regulate, license or in any way oversee any form of online gambling. You could certainly devise a form of legal online betting that would be in compliance with Vermont state law, but the state does not offer licenses of any sort to online betting operations – regardless of their legality.
Learn More About Gambling in Vermont
Vermont Attorney General. Gambling resource page from the Attorney General of Vermont. Summary of state law, links to relevant statutes and recent gambling-related developments in the state.
BallotPedia – Vermont. Track gambling-related ballot initiatives and referendums in Vermont from a single page, and access information about historical initiatives as well.
Vermont Lottery . Everything there is to know about Vermont's largest regulated gambling offering is available at the home page for the Vermont Lottery.
Sources & Citations For This Article on Vermont Online Poker