Online Poker Florida 2023 | Laws and Regulations for Poker in Florida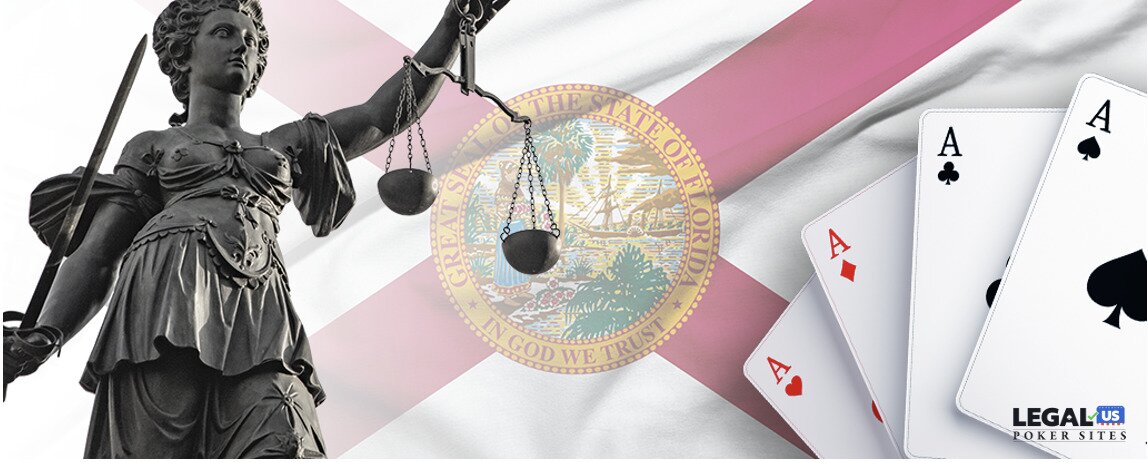 Whether players honed their skills in the live poker rooms across the state or at the online poker tables from the late 1990s through today, Florida is the birthplace of many of the game's greatest.
Floridians continue to seek online poker options and live poker tables. There are options for those players, including online poker sites that welcome players from the US.
The complex Florida gambling laws mean that fully legalized and state-regulated online poker is not in the foreseeable future. Although there were some positive signs back in 2019 of a potential bill, there hasn't even been talk of it in years, and lawmakers have never brought the issue of online poker to the table in the form of a bill. However, you can still play online poker for real money, in Florida at any regulated offshore poker rooms.
Since some of the most prominent casinos and poker rooms in Florida emerge from tribal compacts – the largest from the Seminole Tribe of Florida – iGaming must be embraced by Native American tribes. They must also be willing to fight for it via gaming compact updates. This has not happened yet, with only a peep of it in compact negotiations in 2019 but nothing further.
However, it will likely be a long road to state-regulated online poker. Thus, our options for Floridians remain the best in the business.
Top Sites for Online Poker in Florida
Most Recent Online Poker Happenings in Florida
Online poker in the sunshine state is a complex issue. But, for players looking for online poker and live tables, there are options. The fact of the matter is this: fully legalized and state-regulated online poker is not something that is likely to happen in the near future. A bill was put on the table back in 2019, but there's been total radio silence on the matter ever since.
The Seminoles broached the subject of internet gaming and sports betting during negotiations in April and May 2019. There were many ideas on the table; a 24-hour cardroom availability, a reduction on slot machine taxes by 10%, and the ability to add craps and roulette to the table games in their casinos.
There was talk of online poker and internet casino games as a part of a new compact, but the Seminoles wanted exclusivity in the industry. Further, Governor Ron DeSantis stood firmly against igaming and was not going to entertain any of those discussions.
"It should be noted that in 2018, lawmakers put Amendment 3 – the Casino Gambling Initiative– on the ballot for voters in November. It would have given voters the exclusive right to authorize non-tribal casinos moving forward."
At that time, the Poker Alliance – the second iteration of the Poker Players Alliance and funded by PokerCentral (now PokerGO) – stood staunchly against the proposal and lobbied against it. Poker players even took to social media to support the Poker Alliance's "FoldOn3" campaign. The argument was that live and online poker would have a better chance of expansion through legislators and not voters.
Amendment 3 passed by a wide margin of 71% yes votes to 29% no votes.
That seemed to pave the way for the Florida to put the new Florida Casino Gambling Expansion Initiative on the 2022 ballot. It would have allowed cardrooms to offer more casino games if they're located a particular distance from Seminole properties. That initiative didn't get the proper number of signatures to find a place on the ballot, though.
Florida's laws remain convoluted and constantly face challenges in the state and federal court system. The Magic City Casino and Bonita Springs Poker Room have challenged the 2021 Florida compact between DeSantis and the Seminole Tribe. Afterwards, The compact appeared to grant tribes exclusive sports betting rights (live and online). And sports betting supporters have even filed a lawsuit against United States Interior Secretary Debra Haaland to challenge the 2021 compact.
Gambling in Florida
Since Europeans first settled in Florida, gambling has been a part of the culture. Florida legalized gambling in the 1900s, sparking debates that have persisted for a century and continue to shape gambling laws today.
Lawmakers have successfully respected the wishes of many Floridians by not allowing for new land-based casinos around the state. Restricting them to Seminole lands and tribal management has limited the number of casinos and maintains a status quo against which few want to push.
There was a strong push in 1958 to authorize commercial casino gambling, but then-Governor LeRoy Collins intervened to stop it. There have been smaller movements since then, but the people have yet to express widespread support for more casinos. Regardless, the Seminole compact does not allow it.
The laws of Florida do include a definition of gambling and skill games for the record.
Poker is legal at racinos (racetracks with casino games) and Seminole-run land-based casinos throughout the state. The state allows pari-mutuel betting on horse and dog racing and jai alai. It also permits small social games, charitable gambling, and the state-regulated lottery.
What Forms of Gambling Are Legal in Florida?
| Type/Code | Summary |
| --- | --- |
| State Code Section(s) | XLVI.849; XXXIII.550-551 |
| Definition of Gambling | Gambling: Whoever plays or engages in any game at cards, keno, roulette, faro or other game of chance, at any place, by any device whatever, for money or other thing of value, shall be guilty. |
| Definition of Game of Skill | Game of skill: A game in which the player does not control the outcome of the game through skill or a game where the outcome is determined by factors not visible, known, or predictable to the player. |
| Online Poker/Gambling | There is no regulated online poker or gaming in Florida. The National Council of Legislators from Gaming States tried to push legislation for online poker in 2012 and beyond, but lawmakers were uninterested in stretching gambling beyond the land-based racinos and Indian casinos. |
| Live Poker | Live poker is allowed at the racinos and the casinos on Indian lands, complete with cash games and tournaments. |
| Casinos | Two federally-recognized tribes operate a number of fully-functional casinos throughout the state per IGRA. Many race tracks also operate casino games like poker and slot machines, making them racinos. |
| Sports Betting | Florida has not yet considered a sports betting bill. |
| DFS | Several bills were introduced in 2018 to legalize and regulate daily fantasy sports, but none passed. |
| Other Forms of Gambling | Lottery, pari-mutuel wagering for horse and dog racing, jai alai, penny-ante games with winnings not exceeding $10 (including poker), bingo, charitable gaming. |
Playing Online Poker in Florida
Florida doesn't regulate any state-sanctioned online poker or online gambling within its borders.
There have been few and far attempts to legalize online poker in Florida. The most notable was in 2012 when the National Council of Legislators from the Gaming States encouraged it. Lawmakers' efforts to legalize online lottery ticket sales faced a short-lived outcome due to disagreements.
The issue of internet gaming came up again in 2019 when the Seminole Tribe of Florida was negotiating its latest compact. Everything from sports betting to online poker was on the table, but the Seminoles wanted exclusive gaming rights. However, negotiations with Governor Ron DeSantis fell apart, and they gave no gaming rights.
The question remains: Can you play online poker while in Florida? The answer is yes.
Players have access to several online poker sites regulated in the Caribbean and Central and South America. The operators are very reputable and have been in the online poker business for many years, many of them nearing two decades in operation.
The recommended sites not only accept most US-based players but specifically note that Florida is a safe state. As a result, there are no problems signing up for a new online account and depositing to play real-money online poker.
Important: This page does not constitute legal advice. Please consult a gambling attorney with severe and specific concerns about online poker.
Poker Variants
Texas Hold'em: Players are dealt two hole cards, and the game begins with the person to the left of the big blind and then runs clockwise. Three cards are placed face-up; these are the first three community cards. After the betting round, the dealer deals another community card, followed by one more bet and one more community card. At this point, the player determines their best hand by using the two hole cards and five community cards. At that point, the combination of the two hole cards and five community cards determines the best hand.
3 Card Poker: Players are dealt three cards face down – in this game, players are playing against the dealer, not other players. Once a bet is placed, cards are revealed, and the best hand is determined.
5 Card Draw: Players are dealt five cards, and the person to the left of the big blind will start. Players can keep their original hand or trade between 1 and 5 cards. Any remaining players will show their hands, and the best one wins.
Stud Poker: Depending on which stud poker variant you are playing, players will be dealt cards face up, face down, or a combination of both. In this game, betting rounds are known as "streets". Following the final round of betting, the player with the best hand will win.
The stud poker variants are as follows:
5 Card Stud: In this variant of Stud, players will receive one card face up and one face down. A third, fourth, and fifth card are dealt face up, and the winning hand is determined.
7 Card Stud: Similar to 5 card stud, however, there are two more betting rounds in this stud poker variant. Players will receive seven cards as opposed to five.
Mississippi Stud: Each player will get two cards face down, and three community cards are placed in the center. After each round of betting, the dealer will flip one community card. Once the dealer turns the final community card, players have a showdown, and the best hand wins.
Caribbean Stud: Each player and the dealer will get five cards, face down. The dealer will turn over one of his cards, and then players may look at their cards. The dealer will then reveal the four face-down cards. Next, the dealer and players will compare their hands. The players must beat the dealer's hand to win the pot.
HORSE Poker: HORSE poker includes multiple variants: Texas hold 'em, Omaha, Razz, 7 card stud, and 7 card stud hi-lo split-eight or better. Please note that for this variant, the pot limits are fixed. Players will play the games in order, and as always, the best hands win.
Omaha: Like hold 'em, players will be given four hole cards instead of two. It also has a cap on their raises and their bets.
Omaha Hi-Lo: Played just like Omaha poker, but with a slight twist, the final winnings are split between the player with the best hand and the worst hand.
Famous Florida Poker Players
Live poker rooms in Florida have been the launching pad for quite a few poker players, with notables like Michael Mizrachi and Jason Mercier coming up through the stakes in Florida.
Online poker has always been popular there as well, though more so prior to Black Friday. Florida is larger than outsiders think, as the state spans about 65,757 square miles. That means live poker is not readily available to most residents. After Black Friday, poker players found their way to offshore sites like Americas Cardroom and have been playing there – as well as on Ignition and BetOnline – in larger numbers every year in the past decade.
Live poker remains the primary metric to rank poker players, though, and the Hendon Mob database tracks all of the data. Per that information, there have been some changes in the past several years.
In 2019, Mercier remained at the top of the Florida rankings with more than $19M in lifetime live poker earnings, with Mizrachi in second with $17M. Sean Winter was far behind in third with $13M, and Sam Soverel was at $11.5M. Everything changed, though, when Mercier took time off from the game to spend time with his growing family, and Mizrachi found his way to other business ventures. At the same time, Winter and Soverel climbed the high-stakes poker ladder. The entire lineup of Florida top earners changed.
Just a couple of months into 2023, the rankings for Florida live poker players showed:
• 1. Sean Winter $23.6M
• 2. Jason Mercier $20.6M
• 3. Sam Soverel $20.2M
• 4. Michael Mizrachi $17.4M
• 5. Daniel "Jungleman" Cates $12.3M
• 6. John Racener $11M
• 7. Robert Mizrachi $8.8M
• 8. Jonathan Little $7.7M
• 9. Barry Hutter $7.5M
• 10. Noah Schwartz $6.2M
Other players in the multi-millions section of the rankings are still climbing and could break into the top 10 in the next year or so. This list includes James Calderaro, Michael Duek, Tony Miles, and Harrison Gimbel, not to mention Justin Zaki and David Jackson. The state is full of grinders at all levels of the game.
What Was Amendment 3?
The poker community actively involved itself in the fight over Amendment 3 during the November 2018 election in Florida. As the election approached, the then-functional Poker Alliance took a stand against the proposal and asked big names in poker like Daniel Negreanu, Phil Hellmuth, Maria Ho, and Mike Matusow to do the same.
Amendment 3 granted voters the exclusive right to approve or deny all decisions concerning casino gambling. First, it states,
"any of the types of games typically found in casinos and that are within the definition of Class III gaming in the Federal Indian Gaming Regulatory Act (IGRA)."
It then specified blackjack, roulette, craps, keno, slot machines, electronic and simulated games, video lottery machines, internet sweepstakes, and "any other form of electronic or electromechanical facsimiles of any game of chance, slot machine, or casino-style game."
Online poker – all internet gaming is included in Amendment 3.
The Poker Alliance asserted that the bill would "virtually eliminate" the expansion of live poker, make it impossible for poker rooms to add new games or update their rules, and make online poker and sports betting legislation a "huge longshot."
However, the voters of Florida passed Amendment 3 by a wide margin, as more than 71% of them voted in its support.
The Poker Alliance's motivation for its elaborate opposition to Amendment 3 remained unclear, as it was their sole community-driven campaign after PokerCentral's purchase. And not long after that failed campaign in Florida, Poker Alliance stopped doing anything for the poker community altogether.
Most Recent Developments
The unresolved issues between the Seminoles and the state over its gambling compact is a wild card.
One of the most recent developments that increased tension between the two factions was when a federal judge found that the card games offered by Florida pari-mutuels violated the exclusivity agreement between Florida and the Seminoles. Since the Seminoles have been paying $350 million per year for that exclusive right that they feel is no longer exclusive, they have to withhold the 2019 and future payments.
Meanwhile, lawmakers believe that the lack of payments by the Seminoles voids all exclusivity agreements regarding gaming. As of October 2019, several want to take advantage of that by increasing betting limits on table games at racetracks and authorizing them to offer sports betting and fantasy sports (DFS) contests.
Online Poker Status in Florida
Do poker players have online options from the state of Florida? Yes.
Do sports bettors have online options from the state of Florida? Yes.
Will Florida legalize and regulate online poker within its borders in 2019? No.
Is there a chance of new legislation in 2023? No. There is unlikely to be online poker legislation in Florida in the near future.
Is it legal to gamble online in Florida? Yes, players are able to gamble online in Florida.
All Poker and Gambling Laws by State
Florida in the News
What a year it's been for the RunGood Poker Series…and it's not even half over. The RunGood Poker Series –
The World Poker Tour took its action to Florida again, this time for the Seminole Hard Rock Poker Showdown. This
As has been the case for years, a handful of American states tossed around the idea of legalizing online poker
FAQs
Yes! The sites we've reviewed and suggested are not only safe, but offer both real money and free poker games.
Yes, you can. As long as the site accepts US players, you don't need a VPN, and Florida doesn't punish people for playing on offshore gambling sites, so you are entirely free to do so.
Unfortunately, no. The only way to play is to join offshore poker sites or play the game in brick-and-mortar casinos and poker rooms.
The legal age to gambling in live casinos and poker rooms in florida is 21. As for online poker operators, most of them allow players to be 18 and over.
Yes – there are multiple online poker rooms that offer poker games directly within a web-browser. These can be accessed by those living in Florida simply by registering an account and using a compatible browser.
There is no date at this point. The state legislature hasn't enacted a bill legalizing online gaming. There has been some talk of legalizing online and mobile sports betting, but that has yet to come to life.
Sources & Citations For This Article on Florida Online Poker