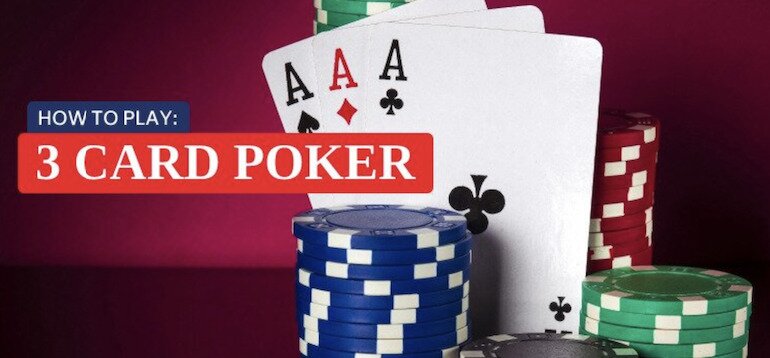 3 Card Poker is a fun fast-paced casino game that pits you against the dealer. The game is simple enough, you get three cards and so does the dealer. Whoever has the best three cards wins.
It gets a little more complicated when you break down the different bets and bonus options, but that's pretty much the gist of the game. If that sounds good to you, then keep on reading and we'll help you learn the finer details of the game and get you playing.
3 Card Poker Rules
The first thing that happens in any 3 card poker hand is the ante. This is a forced bet that every player has to place. The amount of the ante will depend on the casino or site you play on. Then there's a pair of optional bets. These are the Pair Plus Bet and some places also a Six Card Bonus.
So let's start with the ante, the bet you need to get the game going.
After you place your ante the dealer gives you three cards and they get three as well. Now you have the option to fold or keep playing. If you fold you lose your ante, but to keep playing you have to place another bet equal to your ante.
Then the dealer flips over all the cards. If the dealer doesn't have at least a Queen high, the dealer mucks and you get your wager bet back, but your ante pays 1:1. When the dealer does have a queen high or better they play. If their hand beats yours, you lose both your bets. And, If you beat theirs, then the wager and ante both get paid back at 1:1.
The optional bets play regardless of who wins the hand. The Pair Plus pays you if you have a pair or better even if the dealer beats you. The Six Card Bonus takes your hand and the dealer's hand into account. If those combined six cards make a three of a kind or better, you get paid. Both these bets offer different odds, which we'll break down for you right here.
3 Card Poker Payouts
All ante and wager bets pay 1:1, but if you decide to play the optional bets, the payouts can be much greater. This will vary depending on the casino or site you play on, but here's a rough guide to the odds you get in 3 Card Poker.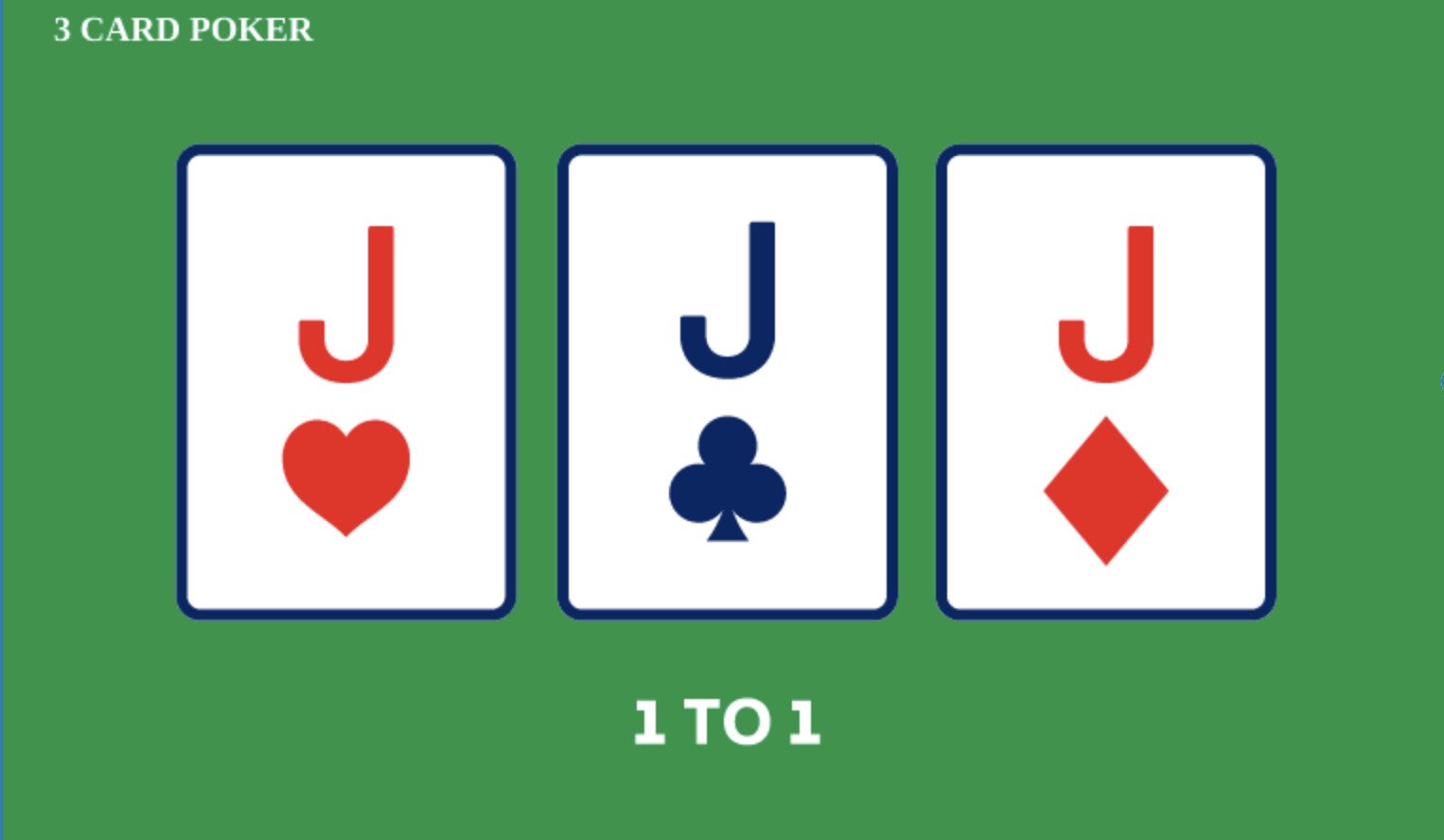 Ante Bonus Payouts
| Hand | Odds |
| --- | --- |
| Straight | 1:1 |
| Three of a Kind | 4:1 |
| Straight Flush | 5:1 |
Pair Plus Payouts
| Hand | Odds |
| --- | --- |
| Pair | 1:1 |
| Flush | 4:1 |
| Straight | 5:1 |
| Three of a Kind | 30:1 |
| Straight Flush | 40:1 |
Six Card Bonus Payouts
| Hand | Odds |
| --- | --- |
| Three of a Kind | 5:1 |
| Straight | 10:1 |
| Flush | 20:1 |
| Full House | 25:1 |
| Four of a Kind | 50:1 |
| Straight Flush | 200:1 |
| Royal Flush | 1000:1 |
Best 3 Card Poker Strategies
There's really only one strategy to play 3 Card Poker since it's a fairly straightforward casino game. Due to this, the house will always have the edge but you'll have the best chances if you only play hands that are Q-6-4 or better. This is the median hand and betting this or better will give you the best odds at winning.
The optional bets are also not statistically profitable over the long run, so if your goal is to play in a mathematically optimal way, it would be to just ante and then wager when you have a Q-6-4 or better. Of course, we play in a casino for fun and a shot at the jackpots. In that case, play the bonus to your heart's content.
Since there's no drawing, there's really not much else in terms of strategy when it comes to 3 Card Poker.
FAQs
There are tons of different places where you can play 3 Card Poker. If you prefer to make a full event out of it, there are tons of casinos around the United States that offer the game. They all have their own distinct set of rules, bonuses and payouts though, so be sure to double-check at each place.
There are also plenty of online casinos out there that offer 3 card poker.
Lucky for you we've amassed a comprehensive list of guides that cover nearly every form of poker out there. If you want to learn how to play Texas Hold'em, Omaha or Razz, we got you covered. Head on over to our poker games online page to learn more.