Poker Laws and Online Gambling in Washington State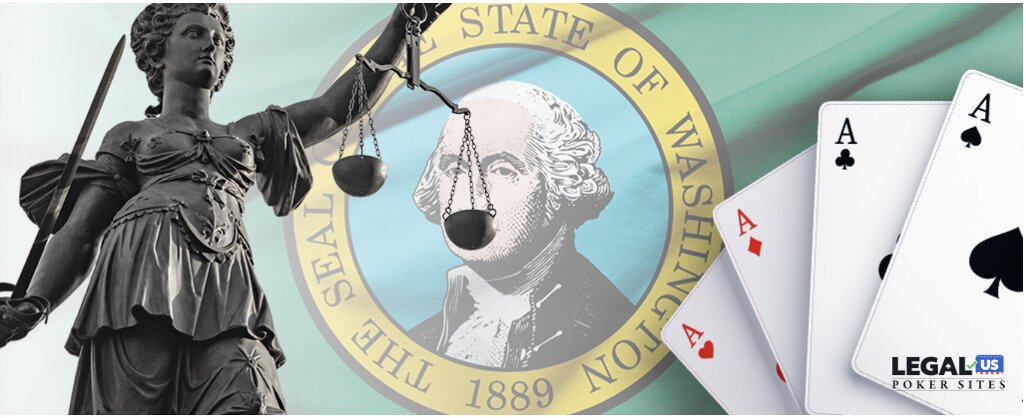 Washington State is something of a special case when it comes to online poker in the United States. Poker players in Washington have to contend with a legal state of affairs that is both quite restrictive and completely unique.
The love/hate relationship that Washington has with poker spans the breadth of gambling. Washington chose long ago to take a rare stance on internet poker, actually rendering it illegal and a potential felony. At the same time, the law permits live poker in dozens of tribal casinos and card rooms across the state. Sports betting is confined to tribal casinos only.
Washington also stands out as the only state to take on play-money gaming sites as problematic.
Let's take a closer look at the intricacies of Washington poker and gambling.
Top Sites for Online Poker in Your State
Key Washington Laws and Cases
Washington is one of the few states in America that explicitly calls out online poker as a crime. Worse, it designates the activity as a felony.
In 2006, then-State Senator Margarita Prentice sponsored a bill to make online poker a felony with a $10K fine or five-year prison sentence as the penalty. While most states threatened to penalize online gambling operators, Prentice wanted Washington to punish players. She got her wish that June when then-Governor Christine Gregoire signed the bill into law. As a result, online poker became a Class C felony.
A Seattle attorney named Lee Rousso sued the state in 2008 over the right to play poker online. Despite numerous appeals and support from the then-influential Poker Players Alliance, the Washington State Supreme Court rejected the case in 2010.
In the years that followed, there was talk of new bills to overturn the online poker law, but they never progressed through the legislature. There was little support to address the issue, especially after the State Supreme Court ruling.
Other court cases have put free-play online gaming in the spotlight, showing Washington's propensity for overreacting to online gambling. For example, Big Fish, an online casino game developer based in Seattle and operating since 2002, is fighting players in court who declare that the option to buy play-money chips in Big Fish's online games violates state laws.
Big Fish lost one of the cases in the Ninth Circuit Court of Appeals in 2016, essentially ruling that even free-play online games were illegal for players in that state. That decision even prompted PokerStars to withdraw its free online poker website from Washington players.
Washington lawmakers have not considered legal online poker bills, much less other forms of online gaming, in the past two decades. There is little likelihood that anything will change in the coming years unless the state's Native American tribes support it and require its inclusion in updated compacts.
Washington Gambling & Poker Laws Summarized
| Type/Code | Summary |
| --- | --- |
| State Code Section(s) | 9.46-47; 67.16-17; 67.70 |
| Definition of Gambling | Staking or risking something of value upon the outcome of a contest of chance or a future contingent event not under the person's control or influence, upon an agreement or understanding that the person or someone else will receive something of value in the event of a certain outcome. |
| Definition of Contest of Chance | Any contest, game, gaming scheme, or gaming device in which the outcome depends in a material degree upon an element of chance, notwithstanding that skill of the contestants may also be a factor. |
| Definition of Player | A natural person who engages, on equal terms with the other participants, and solely as a contestant or bettor, in any form of gambling in which no person may receive or become entitled to receive any profit therefrom other than personal gambling winnings, and without otherwise rendering any material assistance to the establishment, conduct or operation of a particular gambling activity. A natural person who gambles at a social game of chance on equal terms with the other participants shall not be considered as rendering material assistance to the establishment, conduct or operation of the social game merely by performing, without fee or remuneration, acts directed toward the arrangement or facilitation of the game, such as inviting persons to play, permitting the use of premises for the game, or supplying cards or other equipment to be used in the games. |
| Definition of Legal Social Card Game | A card game that constitutes gambling and is authorized by the commission under RCW 9.46.070. Authorized card games may include a house-banked or a player-funded banked card game. No one may participate in the card game or have an interest in the proceeds of the card game who is not a player or a person licensed by the commission to participate in social card games. |
| Online Poker/Gambling | Online poker is specifically prohibited by Washington state law and considered a felony. The Poker Players Alliance sued the state in the late 2000s alleging the law was unconstitutional, but the PPA lost. Lawmakers continue to push for legalized online poker nearly every year, but there is never sufficient support to pass the bills. |
| Live Poker | Live cardrooms have been legal in Washington for several decades, where poker is prevalent. There is also cash game and tournament poker offered in some of the Native American casinos like Tulalip Resort Casino. |
| Casinos | All of Washington's 29 tribes have gaming compacts with the state to offer casinos on their respective lands. The casinos offer slot machines and video gaming machines but only a few offer table games like poker. |
| Sports Betting | Sports wagering is legal only at tribal casinos with amended Class III compacts since March 2020. The law authorized it "on a very limited basis," and attempts to expand sports betting in the state have failed. |
| DFS | A Senate bill was introduced in 2018 to legalize paid-entry fantasy sports, but it did not pass. |
| Other Forms of Gambling | Lottery, bingo and charitable gambling, horse racing and pari-mutuel wagering, pull-tab games and punchboards. |
Is Online Poker Legal in Washington?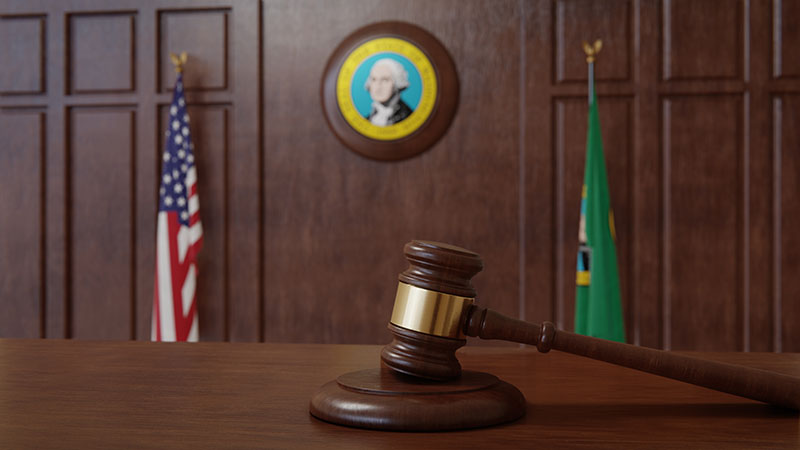 While all online poker players should be familiar with their state laws regarding gambling, Washington State online poker players are motivated to learn more about the law as Washington is one of the few states that explicitly singles out online gambling.
Even the best offshore poker sites have approached Washington with caution. Some players in the state do compete online, but many sites have decided to ban players from Washington altogether due to the perceived severity of the law.
Let's talk more about that aspect of, and a handful of other essential points from, Washington State gambling law:
Let's start off by exploring how Washington State defines the act of gambling. There are a few components to the definition, the first of which is found in Section 9.46.0237:
""Gambling," as used in this chapter, means staking or risking something of value upon the outcome of a contest of chance or a future contingent event not under the person's control or influence, upon an agreement or understanding that the person or someone else will receive something of value in the event of a certain outcome."
That's a boilerplate definition of gambling and is supported through Washington's "contest of chance" definition found in Section 9.46.0237. If chance plays a "material" role in the outcome of an event, then that event is a contest of chance regardless of whether there is a skill component.
Several activities are given a pass from Washington State gambling laws. For example, regulated forms of gambling are exempt, as are various forms of charitable gambling.
Social gambling is legal in the state of Washington (Section 9.46.0265).
You'll see repeated references to "professional gambling" in Washington State law. However, despite what the term might suggest, under Washington law, it refers to involvement in the business or operational side of illegal gambling – not gambling professionally.
You've probably heard a good deal about Washington State's law that makes playing online poker for real money illegal. When people reference that, they're generally talking about Section 9.46.240, which makes it a felony for anyone who
"knowingly transmits or receives gambling information by telephone, telegraph, radio, semaphore, the Internet, a telecommunications transmission system, or similar means."
Unique Sports Betting Law in Washington
In 2018, the United States Supreme Court took up a case that originated in New Jersey. Then-Governor Chris Christie of New Jersey and the National Collegiate Athletic Association (NCAA) took their legal battle to the top court in America for a decision about sports betting. New Jersey wanted to offer it just as Nevada did, but the 1992 Professional and Amateur Sports Protection Act (PASPA) stood in the way.
In 2018, the US Supreme Court found PASPA to be unconstitutional. The win for New Jersey was a victory for states around the country, as they were then able to legalize sports betting for people in their state. A wave of sports betting laws follows, with dozens legalizing state-regulated sports betting in the next few years.
The state of Washington was certainly not prepared to tackle the topic at the state level at that time, but the Native American tribes that operated other forms of gambling wanted to add sportsbooks. They did so with HB2638. Governor Jay Inslee signed it in March 2020. The new law read, in part: "Tribal casinos can operate sports wagering pursuant to these tribal gaming compacts, offering the benefits of the same highly regulated environment to sports wagering." This referred to the tribes' 20 years of experience operating gaming facilities across the state.
By the end of 2022, there were 15 tribal casinos that offered sports betting through partners like Caesars, BetMGM, DraftKings, and FanDuel.
Meanwhile, Maverick Gaming, which owns 18 cardrooms in Washington, challenged that sports betting law. The antitrust challenge submitted that the tribes had an unfair monopoly on sportsbooks in the state. The US District Court dismissed that lawsuit, but Maverick CEO Eric Persson is determined to appeal.
At this time, the tribal exclusivity for sports betting stands. The state has yet to make any other laws to negate this.
Land-Based Casinos in Washington
While the restriction of online gambling in Washington State remains, there are several land-based casinos that are operational and legally run. They are owned and operated by indigenous Americans and are known as tribal casinos. These Washington tribes are federally recognized and have permission to offer Washington residents a place to engage in casino games, sports betting, and poker.
There are 29 federally-recognized tribes in Washington, all of which have current Class III gaming compacts but only 22 of which operate casinos.
The games that these casinos and gambling halls can offer include table games like blackjack, roulette, and baccarat; keno, lottery terminals (slot machines), bingo, pull-tabs, off-track betting, and traditional poker.
There are also other cardrooms around the state, with the current count at 36-38 throughout the state. Therefore, most of them offer tournament poker and cash games.
The most popular casinos and cardrooms for poker in Washington are:
Tulalip Casino in Marysville
Black Pearl Casino
Roxbury Lanes Casino
Hollywood Cardroom
Lilac Lanes & Casino
Casino Caribbean Kirkland
Buzz Inn Steakhouse in Eastmont
All Star Lanes & Casino
Jamestown Saloon
Slo Pitch Sports Grill & Casino
While the largest casinos do not offer live poker, they do however offer various forms of casino poker that include games such as:
Three Card Poker
Ultimate Texas Hold'em
Pai Gow, and more
Famous Washington State Poker Players
Cardrooms in Washington have been a great launching pad for many a poker player. They can easily start at low to mid stakes, play in occasional small poker tournaments, and play cash games. Many of them also hone their skills online at offshore poker rooms that offer their services to Washington players.
Scott Clements has been the person with the most live tournament earnings for many years. Though he doesn't appear to play at the frequency he once did, he continues to maintain the spot as the top live poker player from Washington – by quite a significant margin.
Poker fans will recognize many other names with their roots in Washington, from Lee Markholt to Lee Watkinson, from Ralph Porter to Matt Affleck, and from Jordan Westmorland to Chris Hinchcliffe.
As of March 2023, the top 10 live players from Washington were:
Scott Clements $8.2M
Brandon Cantu $4.6M
Lee Markholt $4.5M
Lee Watkinson $4.3M
Ralph Porter $4M
Dylan Wilkerson $3.7M
Matt Affleck $3.6M
Tyler Patterson $3M
Darren Rabinowitz $2.8M
Quinn Do $2.5M
Will Washington Regulate Online Poker?
Regulation remains a highly complex question that depends mainly on how regulated online gambling rolls out in the rest of the United States. Specifically, a scenario that gives tribal interests sufficient motivation to embrace online poker and gambling is the most positive for those who want to see such games regulated in Washington.
Until some of the major stakeholders in Washington's gaming industry develop a greater interest in regulated online poker, it seems as if the state will continue to hold its title as one of the least hospitable places for online poker players.
How Can I Play Online Poker From Washington State?
As previously mentioned, playing online poker in Washington can potentially be problematic for WA players. Several sites, including Black Chip Poker, do not accept players from Washington State. For another, players could risk criminal action by participating in some forms of online poker.
The solution is either to play poker for play chips only or to try one of the WA online poker sites that offer a unique format – such as subscription poker – that allows them to conduct business in compliance with the law of Washington State.
Top Online Poker Sites for Washington
Because of the legal situation in Washington State, residents must be very selective about the online poker for money sites they use. It's perfectly legal to access sites for play-money play or to patronize sites structured in a way that comports with Washington law. If that's the sort of WA online poker room you're looking for, here are our picks for the top poker sites.
Washington Gambling Facts
The State of Washington has one of the most varied and complex regulated gambling menus of any state in America. It starts with the state-backed lottery and extends into tribal casinos. Those options share the space with Washington's commercial casinos, card rooms, and race tracks.
When you start looking into charitable gambling in Washington State, things get more confusing. Multiple forms are permitted, some of which require a license and others do not. Depending on your ability to obtain a license, your organization could offer games ranging from bingo to poker to full-blown casino nights.
Things are quite a bit simpler for WA online poker. Washington State does not directly regulate online gambling. So no online poker, no online casino – no matter how hard you look, you won't find an online gambling site with a license issued by Washington State.
Some were surprised that the Tennessee legislature approved mobile sports betting in 2019, but it came with a threat from the governor to veto any other attempts to expand gambling in the state. So that will likely be the last we hear from Tennessee in a while.
Famous Washington State Poker Players
Many poker players hail from Washington, as they have learned the game and honed their skills at live card rooms around the state. And before 2006, thousands of them also played online poker.
Scott Clements was one of the players who started online and built his bankroll on poker sites. He is now the all-time money winner in live tournaments, abandoning his online poker activities long ago to continue residing in Washington. Clements continues to accumulate winnings with a record dating back to 2005 and including several WSOP and WPT titles.
Longtime Washington-born poker players like Lee Watkinson, Lee Markholt, and Ralph Porter also hold solid places on the all-time money list.
As of 2023, these were the top players in that category for live tournament earnings:
1. Scott Clements ($8.2 million)
2. Brandon Cantu ($4.4 million)
3. Lee Watkinson ($4.3 million)
4. Lee Markholt ($4.2 million)
5. Ralph Porter ($4 million)
6. Dylan Wilkerson ($3.3 million)
7. Matt Affleck ($3 million)
8. Tyler Patterson ($2.5 million)
9. Quinn Do ($2.5 million)
10. Darren Rabinowitz ($2.2 million)
All Poker and Gambling Laws by State
Washington in the News
The state of Washington has not exactly minced words with regard to internet gambling. It is one of few states
The American Gaming Association released estimates today stating Americans would wager $10.4 billion on the NCAA's March Madness in the
Nevada Governor Brian Sandoval recently signed an electronic sports bill that legalizes eSports betting events in the state. The bill
Sources & Citations For This Article on Washington Online Poker