Washington Poker Laws & Online Gambling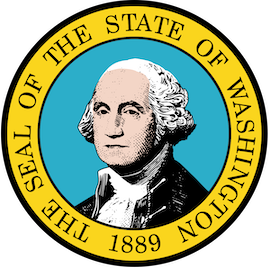 Washington Poker Laws & Online Gambling
Last Updated December 17, 2018
Washington State is something of a special case when it comes to online poker in the United States. Poker players in Washington have to contend with a legal state of affairs that is both quite restrictive and completely unique.
We'll discuss that state of affairs, along with the likely future of online poker in Washington, in this Guide to Online Poker in Washington State.
Is Online Poker Legal in Washington?
While all online poker players should be familiar with their state laws with regards to gambling, Washington State online poker players have a special motivation for learning more about the law as Washington is one of the few states that specifically singles out online gambling.
Let's talk more about that aspect of, and a handful of other important points from, Washington State gambling law:
Washington Gambling & Poker Laws Summarized

| Type/Code | Summary |
| --- | --- |
| State Code Section(s) | 9.46-47; 67.16-17; 67.70 |
| Definition of Gambling | Staking or risking something of value upon the outcome of a contest of chance or a future contingent event not under the person's control or influence, upon an agreement or understanding that the person or someone else will receive something of value in the event of a certain outcome. |
| Definition of Contest of Chance | Any contest, game, gaming scheme, or gaming device in which the outcome depends in a material degree upon an element of chance, notwithstanding that skill of the contestants may also be a factor. |
| Definition of Player | A natural person who engages, on equal terms with the other participants, and solely as a contestant or bettor, in any form of gambling in which no person may receive or become entitled to receive any profit therefrom other than personal gambling winnings, and without otherwise rendering any material assistance to the establishment, conduct or operation of a particular gambling activity. A natural person who gambles at a social game of chance on equal terms with the other participants shall not be considered as rendering material assistance to the establishment, conduct or operation of the social game merely by performing, without fee or remuneration, acts directed toward the arrangement or facilitation of the game, such as inviting persons to play, permitting the use of premises for the game, or supplying cards or other equipment to be used in the games. |
| Definition of Legal Social Card Game | A card game that constitutes gambling and is authorized by the commission under RCW 9.46.070. Authorized card games may include a house-banked or a player-funded banked card game. No one may participate in the card game or have an interest in the proceeds of the card game who is not a player or a person licensed by the commission to participate in social card games. |
| Online Poker/Gambling | Online poker is specifically prohibited by Washington state law and considered a felony. The Poker Players Alliance sued the state in the late 2000s alleging the law was unconstitutional, but the PPA lost. Lawmakers continue to push for legalized online poker nearly every year, but there is never sufficient support to pass the bills. |
| Live Poker | Cardrooms have been legal in Washington for several decades, where poker is prevalent. There is also cash game and tournament poker offered in some of the Native American casinos like Tulalip Resort Casino. |
| Casinos | All of Washington's 29 tribes have gaming compacts with the state to offer casinos on their respective lands. The casinos offer slot machines and video gaming machines but only a few offer table games like poker. |
| Sports Betting | Washington lawmakers have not considered any bills to legalize sports betting. |
| DFS | A Senate bill was introduced in 2018 to legalize paid-entry fantasy sports, but it did not pass. |
| Other Forms of Gambling | Lottery, bingo and charitable gambling, horse racing and pari-mutuel wagering, pull-tab games and punchboards. |
Let's start off by exploring how Washington State defines the act of gambling. There are a few components to the definition, the first of which is found in Section 9.46.0237:
""Gambling," as used in this chapter, means staking or risking something of value upon the outcome of a contest of chance or a future contingent event not under the person's control or influence, upon an agreement or understanding that the person or someone else will receive something of value in the event of a certain outcome."
That's basically a boilerplate definition of gambling, and it's extended by Washington's definition of "contest of chance" found in Section 9.46.0237. Basically, if chance plays a "material" role in the outcome of an event, then that event is a contest of chance regardless of whether or not there is also a skill component.
A number of activities are given a pass from Washington State gambling laws. Regulated forms of gambling are exempt, as are various forms of charitable gambling.
Social gambling is legal in the state of Washington (Section 9.46.0265).
You'll see repeated references to "professional gambling" in Washington State law. Despite what the term might suggest to you, under Washington law it refers to involvement in the business or operational side of illegal gambling – not gambling professionally.
You've probably heard a good deal about Washington State having a law that makes playing online poker illegal. When people reference that, they're generally talking about Section 9.46.240, which makes it a felony for anyone who
"knowingly transmits or receives gambling information by telephone, telegraph, radio, semaphore, the Internet, a telecommunications transmission system, or similar means."
Access the full text of Washington gambling law below .
Will Washington Regulate Online Poker?
This remains a very complicated question that is largely dependent on how regulated online gambling rolls out in the rest of the United States. Specifically, a scenario that gives tribal interests sufficient motivation to embrace online poker and online gambling is the most positive one for those who want to see such games regulated in Washington.
Until some of the major stakeholders in Washington's gaming industry develop a greater interested in regulated online poker, it seems as if the state will continue to hold its title as one of the least hospitable places for online poker players.
How Can I Play Online Poker From Washington State?
As previously mentioned, playing online poker in Washington can be potentially problematic for WA poker players. For one thing, very few sites accept players from Washington State . For another, players could be risking criminal action by participating in some forms of online poker.
The solution is either to play poker for play chips only, or to try one of the WA online poker sites that offer a unique format – such as subscription poker – that allow them to conduct business in compliance with the law of Washington State.
Top Online Poker Sites for Washington
Because of the legal situation in Washington State, residents must be very selective about the online poker sites that they use. It's perfectly legal to access sites for play-money play, or to patronize sites that are structured in a way that comports with Washington law. If that's the sort of WA online poker room you're looking for, here are our picks for the top poker sites .
All Poker and Gambling Laws by State
Washington in the News
Washington Gambling Facts
Washington State has one of the most varied and complex regulated gambling menus of any state in America. It starts with the state-backed lottery and extends into tribal casinos. Those options share the space with Washington's commercial casinos, card rooms and race tracks.
Things get more confusing when you start looking into charitable gambling in Washington State. Multiple forms are permitted, some of which require a license and some of which do not. Depending on your ability to obtain a license, your organization could offer games ranging from bingo to poker to full-blown casino nights.
Things are quite a bit simpler for WA online poker. Washington State does not directly regulate online gambling. No online poker, no online casino – no matter how hard you look, you won't find an online gambling site that holds a license issued by Washington State.
Washington State Gambling: Additional Research Resources
Washington State Gambling Commission . Updated news, events, information regarding Commission meetings and other resources for learning more about the WSGC and regulated gambling in Washington State.
MRSC Guide to Washington State Gambling. Resource hub for the regulated gambling industry in Washington from the Municipal Research and Services Center. News, legal analysis and in-depth research lead the list of available information at the MRSC guide.
List of Casinos in Washington . There are quite a few casinos in Washington, although most aren't casinos in the Las Vegas sense of the term. This list from Wikipedia is a helpful table of all licensed operators in Washington State.
Washington's Poker Connections
Washington State has been something of a breeding ground for young poker players that have seen tremendous success on both the online and live poker circuits. We don't have the space to recognize them all, but two of the best-known names are Scott Clements and Matt Affleck.
Let's start with Clements . He's got over $5 million in live tournament winnings, putting him in the top 100 of all-time earners. He's also a feared online presence, racking up a litany of wins at a variety of major sites.
As for Matt Affleck, he may be forever remembered as the guy who came close at the WSOP. He's had two heartbreaking exits near the bubble of the final table, including one of the nastiest beats with aces in history in the 2010 Main Event. But don't worry – with over $1m in live winnings, and several million more online, Matt has plenty of money to comfort him.
Sources & Citations For This Article on Washington Online Poker