WSOP Female Participation Lowest in Six Years
By
July 25th, 2018 | Last updated on October 15th, 2019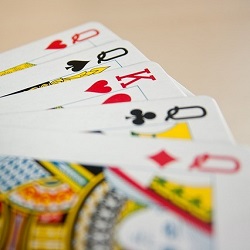 The World Series of Poker released their final statistics for the 2018 summer series in Las Vegas this week. There were some ups (second largest Main Event in history and most prize money awarded) and downs (entries down on average per event).
Several important milestones were recorded in 2018, such as Phil Hellmuth winning his 15th bracelet, Chris Ferguson setting a new record for 18 cashes in one series, and players like Barry Greenstein eclipsing the 100-cashes mark for lifetime WSOP career.
All in all, it was a great summer for the WSOP and poker.
There was one big exception, though. Female participation throughout the series was lower than it has been in at least six years.
First, however, let's take a quick look at the average age of WSOP players.
Age Demographics
The bright light for those of us not included in the millennial or younger generations was a slight uptick in the average age of players. For the first time in six years, the average age of the WSOP player was higher than 41.
–2018 average age (42.27)

–2017 average age (41.42)

–2016 average age (41.12)

–2015 average age (41.04)

–2014 average age (38.93)

–2013 average age (37)
(Note: The 2013 number did not come from official WSOP documentation, as there was no average age listed for the entire series that year or in prior years. The number shown is from a PartyPoker calculation.)
While there is no data to show the average age through the years, it is fair to assume that it started at 40 or above when the WSOP began and dipped into the 30s during the poker boom in the early 2000s. The recent rise seems to have happened after Black Friday, when a career in online poker was less plausible for players in many countries around the world, especially in the United States.
Numbers Speak Volumes Regarding Women
People have been writing about women in poker for years. Women have long been underrepresented in live tournaments. Those in online poker and even cash games have been more prevalent, though no statistics are available. And with regard to tournaments, most organizers do not track gender. However, the WSOP began doing it in 2013 and 2014 by popular demand.
In fact, the first time it was mentioned in a post-WSOP summary was in 2013, when the WSOP wrote, "The WSOP recognizes that player characteristics such as gender, race, etc., do not typically warrant special mention. However, since many members of the media and public wish to know details about female participation, this information is made available." With that, they noted the highest female finishers in the WSOP Main Event only since its inception. But in 2014, total female participation was tracked and noted each year since.
For the second but most significant time since that tracking began, the number decreased in 2018.
–2018 female participation = 4.86% (5,717 entries)

–2017 female participation = 5.4% (6,516 entries)

–2016 female participation = 5.12% (5,522 entries)

–2015 female participation = 5.43% (5,625 entries)

–2014 female participation = 5.28% (4,351 entries)

–2013 female participation = 5.1% (as tracked by PartyPoker)
But Why?
The decrease may surprise some poker fans. As many have noticed more women in their local poker rooms and in smaller, daily tournaments, it seems contrary that fewer would participate in a series like the World Series of Poker.
There are other reasons that one may have anticipated an increase. More women serve as sponsored players and ambassadors than ever before, and an increasing number of them have a presence on platforms like Twitch.
More importantly, a greater number of poker room managers, tournament staff, and male players have become aware of sexism at the tables. Some have stopped the overt sexism that used to plague the tables, and women are slowly feeling supported enough to call the floor on harassing behavior (or report it online). The level of consciousness has risen due to social media and outspoken players – both male and female – who shine light on words and actions that constitute harassment.
Those are all great strides. And they are noticeable. But they are not enough.
.@PakmanMMA @efropoker
WSOP: "Why aren't there more women in poker?"
Female pro: "Well, maybe becau–"
Male pro: "STFU, no one asked"

— Cate Hall (@catehall) September 23, 2016
First, there is still widespread sexism in cash games and tournaments around the world. It is less prevalent than it once was, in some cases, but the problem is far from solved. While it may not be the focus of articles in the poker world as much as in the past, someone occasionally writes about it. Tournament Director Matt Savage did just that on the World Poker Tour blog just last week. He spoke of a recent situation at the L.A. Poker Classic at which he insisted a security guard remove a male player from the entire casino for yelling at a female player. "The poker room is NOT a locker room!" he wrote.
"The poker room is NOT a locker room," says @SavagePoker in a new blog for https://t.co/zvkOqhzYBA. https://t.co/fKIbV3SApl pic.twitter.com/Paw4ISpjQ0

— World Poker Tour (@WPT) July 21, 2018
Further, Savage wrote:
"We need players, floor men, tournament directors, and card room managers to not only encourage women to play in their casinos and poker rooms but to be strong and monitor the behavior of people in the games where abuse can and does take place.

"Men, imagine your mother or your daughter is the dealer or another player at the table. Would you allow people to be inappropriate in front of them or would you speak up? I must admit, despite the efforts I have made, I need to be much better as an industry leader.

"Until we can make the poker environment more player friendly, and women made to feel comfortable and unintimidated, we are doing an extreme disservice to women and our game."
An Author's Opinion
Bravo! Savage's words ring very true, and I hope his influence in the industry has a positive impact on others going forward.
Even so, it should be pointed out that Savage wrote about "floor men" and imply that staff is comprised of males. Most often, it is. And that in itself is a problem. If more women were in positions of power in poker rooms – and casinos in general – it would do more to promote inclusiveness and equality. This applies to the poker media as well. While women are most often employed as video interviewers by poker media outlets, there are few paid to write, especially in live reporting situations. And there are few (if any) in editorial positions, where they would be able to assign articles about women and cover issues pertinent to women and gender equality, as well as edit articles that often use male pronouns instead of gender-neutral ones, as just one example.
There is the Poker Women News website and social media feeds, which do a great job of tracking women in poker tournaments around the world. However, it is not promoted or linked on any mainstream poker media sites.
Hoping to see the first woman making the final table since @love2bluff finished in 5th place of the ME in 1995. Go @The_Illest. Go Kelly! https://t.co/GXVoLsLF6v

— PokerWomenNews (@pokerwomennews) July 9, 2018
In the dozen-plus years I've been involved in poker, there have been no mass marketing campaigns aimed at women, at drawing them into the game. Since the prevailing demographic has always been young and male, advertising dollars continue to be focused on those potential customers.
There have been some efforts by online poker sites to cater to women. PokerStars created women-only tournaments, hired a dedicated employee, and devoted a section of its blog to female players via PokerStars Women, though that since fizzled. PartyPoker has made somewhat of an effort recently to focus on women-only events, and 888poker has a refreshingly gender-diverse lineup of sponsored pros and ambassadors. But with the exception of 888poker's roster, other efforts are short-lived and seem underfunded and underpromoted.
The upcoming World Poker Tour Women's Poker Summit is a start, though the little has been written about it, and the topic(s) and format are unclear.
The World Poker Tour will be holding a dedicated Women's Poker Summit on August 26 at the @BicycleCasino in Southern California. https://t.co/f4YYXhEXGC pic.twitter.com/Ls6V0HqHET

— World Poker Tour (@WPT) July 24, 2018
Meanwhile, the World Poker Tour continues to use the Royal Flush Girls to promote their live tournaments in a stereotypically embarrassing way. The vast majority of poker commentators for all televised or webcasted tournaments are male, with only all-too-rare exceptions for people like Maria Ho, Kara Scott, and Jamie Kerstetter.
Until significant and industry-wide changes in personnel and marketing are put into motion, there will be no noticeable increase in the number of women in the game overall.
Related Articles