Louisiana Poker Laws & Gambling Bills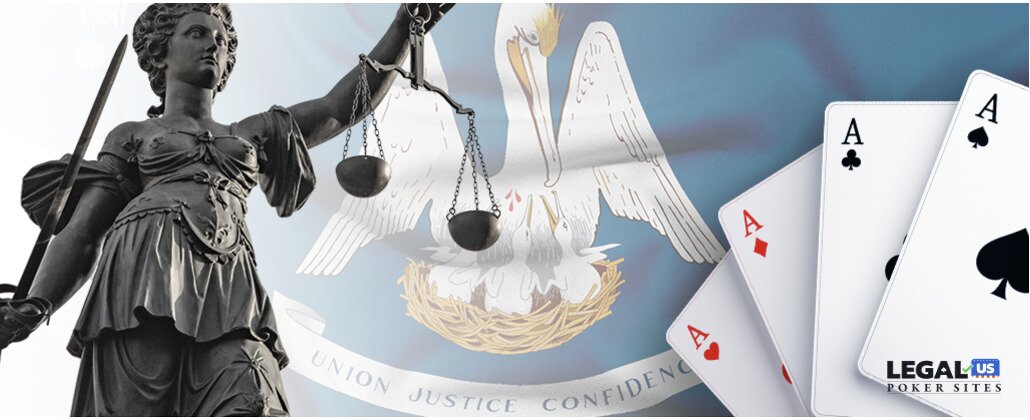 Down in Louisiana, poker is a part of everyday life. Over the last decade, online poker has become a way of life for some Louisiana residents. But while poker is a pretty simple game, moving that simple game online has complicated things for some players. Is it legal? Who regulates the sites that offer poker in Louisiana? What is the general attitude of the state toward gambling, and how might that impact online poker players? That and more are to follow in this article covering Online Poker in Louisiana.
Yes, you can play poker online in Louisiana. However, it's important to note that Louisiana's legal stance on poker, especially online poker, is somewhat ambiguous. While poker is often considered a game of skill rather than pure chance, Louisiana's laws don't firmly classify it as gambling due to this skill-based aspect. Nevertheless, online gaming that involves valuable risk is covered by the state's laws. This can create a grey area for online poker.
Despite this ambiguity, many players in Louisiana still engage in online poker for real money on offshore poker sites that hold valid licenses from qualified jurisdictions. Select trustworthy offshore sites for a secure online poker experience, considering the intricate legal context, to ensure safety and enjoyment.
Top Sites for Online Poker in Louisiana
Playing Poker Online in Louisiana
Nearly all online poker sites allowing US players accept new sign ups from the state of Louisiana. The few that don't aren't worth your time anyway. If a room didn't allow real money play due to Louisiana residency, you might wrongly assume all sites bar Louisianans. The reality is that most of the major US-facing poker networks have no problems letting players from Louisiana make an account, deposit and play poker online for money.
Louisiana Gambling & Poker Laws Summarized
| Type/Code | Summary |
| --- | --- |
| State Code Section(s) | 4.141-278; 4.501-739; 14.90; 27 |
| Definition of Gambling & Player | Gambling: The intentional conducting, or directly assisting in the conducting, as a business, of any game, contest, lottery, or contrivance whereby a person risks the loss of anything of value in order to realize a profit. Gambling has long been recognized as a crime in the state of Louisiana and despite the enactment of many legalized gaming activities remains a crime.Gambling by computer: The intentional conducting, or directly assisting in the conducting as a business of any game, contest, lottery, or contrivance whereby a person risks the loss of anything of value in order to realize a profit when accessing the Internet, World Wide Web, or any part thereof by way of any computer, computer system, computer network, computer software, or any server. Gambling which occurs via the Internet embodies the very activity that the legislature seeks to prevent. |
| Online Poker/Gambling | A bill was introduced in the Louisiana legislature in 2018 to address the legalization of online poker and casino games. It would have allowed each parish in the state to vote on legalizing online gaming. The bill did not pass but will likely be discussed again in 2019. |
| Live Poker | There are poker rooms offering cash games and tournaments in most of the major riverboat and Native American casinos, as well as some of the racinos (race tracks with casino games). |
| Casinos | There are Indian-run casinos per the Indian Gaming Regulatory Act of 1988, riverboat-type casinos, and horse tracks converted into racinos. There are more than two dozen open in 2018. |
| Sports Betting | There is a bill under consideration in 2018 to legalize sports betting per the US Supreme Court decision to overturn PASPA. |
| DFS | A bill to legalize daily fantasy sports was bundled with other type of online gaming in 2018 and did not pass. |
| Other Forms of Gambling | Horse and dog racing, pari-mutuel betting, charitable gambling, lottery, bingo and keno, social gambling, slot machines at racetracks. |
If you're ready to play online poker, it's time to start focusing on what separates one room from another. Our top Louisiana online poker rooms are selected based on reliability, security, legality and value. For Louisiana players, we recommend starting your search with the rooms listed below, though personal preference.
Latest Updates from Louisiana's Online Poker Efforts
The first time that the Louisiana legislature considered an online gambling bill was in 2018. The state had been progressive in other forms of gambling, but it wasn't until 2018 that many casinos made their voices heard to the legislature. Also, they wanted Louisiana to have both online poker and casino games.
In that year, lawmakers proposed multiple bills, covering online poker, casino games, daily fantasy sports, and sports betting. Notably, lawmakers drafted the online gambling bill to incorporate the possibility of a "public referendum." Consequently, this approach allowed any parish to initiate a referendum for its voters during an upcoming election. If the referendum passed, it would place the decision in the hands of the public and regulation under the purview of the Louisiana Gaming Control Board.
The sports betting bill was the only one that made it to the Senate Judiciary Committee in the spring of 2018, and that did not pass. All of the bills died later in 2018.
It seemed that most lawmakers in Louisiana were not familiar enough with internet gaming and online poker to properly advocate for the bill. There was also opposition from groups like the Louisiana Video Gaming Association, and their influence was too strong.
Lawmakers did not introduce any online gambling bills, including sports betting bills, in 2019. The future is unclear.
Is Online Poker Legal in Louisiana?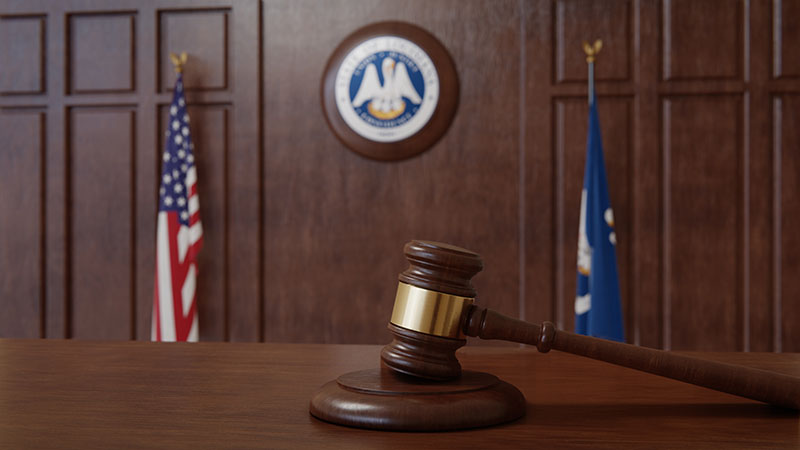 Louisiana law has much to say about gambling. That doesn't mean what it has to say is necessarily clear or obvious.
The law in Louisiana does not seem concerned with individual gamblers. The law potentially targets all individuals engaged in the business of illegal gambling. In other words, those involved in running, promoting, and profiting from the games in non-player roles.
A few sections could apply to individual gamblers. For example, Section 14:90.5 makes underage gambling a crime. It's also a crime (Section 14:90.2) to gamble in public. However, these offenses are secondary – the illegality is not in the gambling itself but in its conduct.
Louisiana law does directly address online poker. Section 14:90.3, Gambling by Computer, forbids
"the intentional conducting, or directly assisting in the conducting as a business of any game, contest, lottery, or contrivance whereby a person risks the loss of anything of value in order to realize a profit when accessing the Internet."
However, when it comes to online gambling, like other aspects of Louisiana's gambling laws, there is little information about individual gamblers. Our reading of the statute reveals no references to individual players in the section directly covering online gambling (Section 14:90.3).
For a more complete picture of online poker in Louisiana and legislature, review the complete Louisiana statutes using the links at the bottom of this page . We urge readers not to treat this guide as legal advice. Due to limited online poker post-Black Friday, he turned to live poker and occasionally participates in live tournaments.
Will Louisiana Legalize Online Poker?
The bills proposed in 2018 provided reason for optimism. However, the lack of follow-up from lawmakers in 2019 suggests that the state is unprepared to bring their land-based casino options online. Additionally, Louisiana is not yet prepared to introduce sports betting in their casinos.
While online poker would enhance the state's revenues, bring more players to their land-based casinos, and put Louisiana in line with other states using technology to improve gambling revenue, Louisiana seems content to stick with its current offerings.
LA Gambling Facts
It wasn't long after LA became a state that regulated gambling was established within its boundaries. A mere ten years after achieving statehood, the state issued licenses to what were called "temples of chance " – forerunners of the modern casino. Horse racing followed soon after, with the history of tracks in Louisiana stretching back all the way to the 1830s. Believe it or not, gambling was so common in the state that, for a time, people actually named a street in New Orleans "Craps" after the dice game. Burgundy Street has been the street's name since then. The rest of the Louisiana gambling landscape has shifted similarly over the years. Although much, at least in spirit, remains the same.
Like Iowa, Louisiana offers all of the five major forms of regulated gambling to those in the state. You can choose from the state lottery, commercial and tribal casinos, licensed charitable gambling, and pari-mutuel wagering options. That means poker players in Louisiana have plenty of legal, regulated choices for games right at home.
Famous Poker Players from Louisiana
The most famous poker player from Louisiana – and the one that ranks first in the state for live tournament earnings – is Brandon Adams. He got his start in the game via online poker before Black Friday and improved his game over time. He eventually played more live poker because of the diminished online poker options after Black Friday and still plays live tournaments occasionally.
Kevin Eyster and Keith Lehr are also well-known poker players, known for their successful poker accomplishments in the past decade.
As of 2023, these were the top-ranked poker players from Louisiana, according to the Hendon Mob database:
1. Brandon Adams ($5.2 million)
2. Kevin Eyster ($4.9 million)
3. Charles Keith Lehr ($3.6 million)
4. Fred Berger ($1.3 million)
5. Ryan Lenaghan ($1.1 million)
6. Caufman Talley III ($1.1 million)
7. Joshua Mancuso ($1 million)
8. Walter Chambers ($989K)
9. Corrie Wunstel ($926K)
10. Jared Ingles ($849K)
All Poker and Gambling Laws by State
Louisiana in the News
It was a memorable day. Record turnout in most states and nail-biting races at all levels of the US government
It was surprising last month when news broke of an internet gambling bill under consideration in Louisiana. Most experts had
U.S. District Judge Donald Walter sentenced Khang Nguyen Le to 30 months in prison for one count of wire fraud
Sources & Citations For This Article on Louisiana Online Poker