Online Poker Massachusetts – Top Legal MA Poker Sites in 2023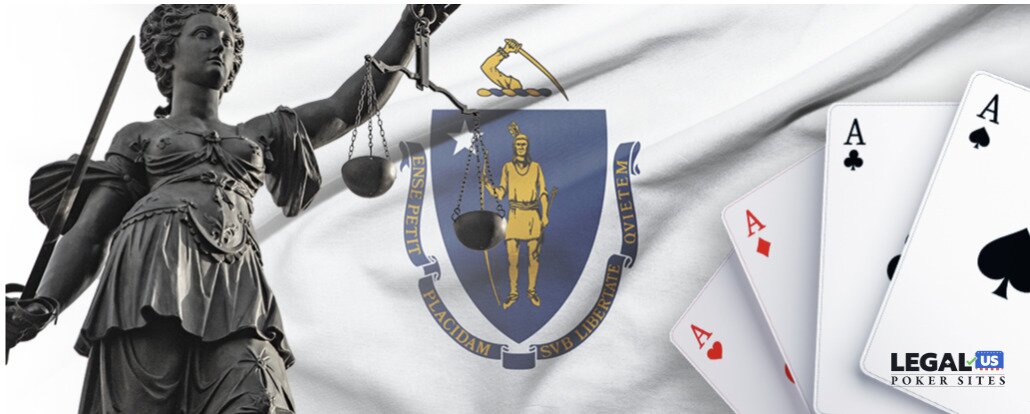 Massachusetts has played host to some of the world's biggest poker tournaments and cash games – some legal, some probably a little less so, given the state's colorful history. Some of the biggest games, however, almost certainly took place in a bedroom, possibly a living room or home office – thanks to the innovation of online poker.
All of the major US-friendly poker sites accept players from the state of Massachusetts. If you want to play real poker online in Massachusetts, we suggest you read the reviews on the linked page to find out which poker site is the right one for you.
The rest of this page discusses how people in Massachusetts play online poker, what Massachusetts law has to say about playing poker online, and where it fits in with the state's approach to gambling at large.
Yes, you can play poker online in Massachusetts. Nevertheless, it's important to be aware that online poker for real money is currently illegal within the state of Massachusetts. However, many players in Massachusetts still choose to engage in real-money online poker through offshore casinos and poker sites.
Top Sites for Online Poker in Massachusetts
Most Recent Online Poker Massachusetts Happenings
Going into 2019, Massachusetts remained one of the most likely states to legalize online gambling, but it did not happen. There was a bill proposed by Massachusetts Rep. Bradford Hill in January 2019 to regulate online gaming, daily fantasy sports, and sports betting, but it made no progress.
Massachusetts Gaming Commission researches gambling expansion projects for the state extensively over recent years. Everything from economic and social impact to risks for specific groups of people, like military veterans. The eventual result of these studies could be comprehensive online gambling legislation.
Meanwhile, Massachusetts struggles with its land-based properties. MGM Springfield has underperformed since its opening in August 2018, and Encore Boston Harbor has suffered under the Wynn name and continuing legal troubles with the former CEO.
While online poker and casino games could provide additional revenue for the land-based casinos in the state – as has been proven helpful in New Jersey – lawmakers are awaiting the results of more studies before pursuing serious proposals to legalize those games.
The state is giving the same serious consideration to sports betting. Massachusetts Gaming Commission expands gambling for state's benefit, ensuring responsible growth and minimal negative impact.
It is like that Massachusetts is a likely state to consider online gambling again in 2023.
Massachusetts Gambling & Online Poker Laws Summarized
| Type/Code | Summary |
| --- | --- |
| State Code Section(s) | II.10.37-40; II.23K; XX.137; IV.271 |
| Definitions | Gambling: The playing of a game by a patron of a gaming establishment.Game: A banking or percentage game played with cards, dice, tiles, dominoes or an electronic, electrical or mechanical device or machine played for money, property, checks, credit or any other representative of value which has been approved by the commission.Gaming: Dealing, operating, carrying on, conducting, maintaining or exposing any game for pay.Gaming device: An electronic, electrical or mechanical contrivance or machine used in connection with gaming or a game. |
| Online Poker/Gambling | Several lawmakers and members of the Massachusetts Gaming Commission support online poker and casino games. Bills in the past have not seen votes, but a 2018 omnibus gambling expansion bill may be considered this year or in 2019. |
| Live Poker | There are no live poker rooms but will be once the casinos are opened. |
| Casinos | There are no casinos in Massachusetts, but Native American tribes have been battling in court over their rights to open casinos. The Expanded Gaming Act of 2011 authorized three full-fledged casinos and one slot parlor, all of which are in process. |
| Sports Betting | A bill is under consideration in Massachusetts to legalize sports betting, and it is currently combined with online poker and casino games in a comprehensive bill to expand gambling. |
| DFS | A 2017 law legalized daily fantasy sports, but the legislature must pass a new bill to extend regulations beyond the trial period that ends in 2018. |
| Other Forms of Gambling | Horse and dog racing, on-track pari-mutuel betting, charitable gambling, lottery. |
Is Online Poker Legal in Massachusetts?
How does the law in Massachusetts treat poker players? Are players in violation of state law? Is it illegal to play online poker in Massachusetts? Unfortunately, some of the laws on the books in Massachusetts that pertain to gambling were authored well before the Internet was even a concept, so applying those laws to new technology can be a tricky endeavor.
The full text of Massachusetts law is linked below. In addition, we've excerpted and summarized some of the key points for online poker players in Massachusetts:
The term "lottery" means something different in Massachusetts law than in common usage. Basically, "lottery" resembles what other state laws call "gambling."
Massachusetts law uses the term "gaming" and not "gambling" in much (although not all) of the law. The definition of "gaming" is found in Chapter 4, Section 7: ""Gaming," "illegal gaming," or "unlawful gaming" shall include every act punishable under any law relative to lotteries, policy lotteries or policy, the buying and selling of pools or registering of bets." Note that the definition essentially treats "gaming" and "illegal gaming" as the same thing. Therefore, all gaming is illegal unless otherwise specified.
The law of Massachusetts doesn't address online poker directly, but using a telephone "for gaming purposes" is illegal.
"Whoever uses a telephone […] for the purpose of accepting wagers or bets, or buying or selling of pools, or for placing all or any portion of a wager with another, upon the result of a trial or contest of skill, speed, or endurance of man, beast, bird, or machine, or upon the result of an athletic game or contest … shall be punished by a fine of not more than two thousand dollars or by imprisonment for not more than one year" (Chapter 271, Section 17A)
There are substantial penalties in store for individuals who operate an illegal gambling business of a certain size in Massachusetts. The charge of "organizing or promoting gambling facilities or services" (Chapter 271, Section 16A) can bring up to 15 years in state prison.
With stakes so high, players must seek out a qualified legal opinion before engaging in unregulated gambling activity. This page is not a substitute for such an opinion. It is only intended to help you gain a basic understanding of Massachusetts gambling law.
Will Online Poker in Massachusetts be Regulated in 2023?
Eventually, Massachusetts will regulate online poker and casino games.
Massachusetts is very close to other East Coast states offering online gambling or preparing to launch sites. The topic has lingered in legislators' minds for years, leading to numerous closed-door discussions on the matter.
With studies likely showing the benefits of online gaming and the need to supplement land-based casino revenue, the next session or two in the Massachusetts legislature may finally show the results. A solid bill is likely in the coming years for online poker in Massachusetts.
Massachusetts Gambling Facts
While gambling played a role in many of the early colonies, perhaps nowhere was the influence of bets and wagers more pronounced than in Massachusetts. According to Gov. Deval Patrick, his dorm at Harvard was paid for by a lottery, as was local landmark Faneuil Hall. While the gambling roots run deep, there have also been long periods during which no regulated gambling was available to residents. Today, gambling has resumed its place of prominence in the state, contributing hundreds of millions in revenue, wages, and economic activity.
Famous Massachusetts Poker Players
As with many poker players, many of Massachusetts' finest cut their teeth in the game by playing online poker. But easy access to casinos on the East Coast also allowed many to play against a variety of opponents.
Daniel Colman is the Massachusetts native with the most live poker winnings to date, as he holds steady at $28.9 million. However, he is best known for taking most of the poker world by surprise when he won the 2014 WSOP Big One for One Drop, a $1 million buy-in tournament that awarded $15.3 million to the winner. After that, he continued to play but remained a mystery to many fans, only to drop off the poker radar after 2017.
Dan Harrington is one of the most prolific poker pros in the business, garnering $6.6 million in live winnings and writing some notable books about poker. Harrington on Hold 'em is a classic.
Even players who aren't listed in the top ten owe much of their successes to online poker, like Ben Sulsky and Ronnie Bardah.
As of 2023, the star-studded list of top Massachusetts money earners in poker was:
1. Daniel Colman ($28.9 million)
2. Nick Petrangelo ($17.3 million)
3. Anthony Zinno ($9.7 million)
4. Jesse James Sylvia ($7.4 million)
5. Dan Harrington ($6.6 million)
6. Brian Altman ($3.7 million)
7. Curt Kohlberg ($3.3 million)
8. Jonathan Jaffe ($3.3 million)
9. Jesse Martin ($3.2 million)
10. David Paredes ($2.5 million)
Regulated Gambling Options in MA
Regulated gambling activities in MA run the gamut, from the state lottery to the multiple casinos (both commercial and tribal) that are spread across the state's map. On top of those options, you also can engage in charitable gambling (when properly licensed) and pari-mutuel wagering year-round in Massachusetts.
What About Online Gambling?
Not yet, but all signs point to the state introducing some legally regulated online gambling options shortly. We believe the lottery will likely come online first, but online poker could follow close behind. That is, for the moment, all hypothetical – as of this article, Massachusetts doesn't have any online gambling regulated or licensed directly by the state.
All Poker and Gambling Laws by State
Massachusetts in the News
Every four years in the United States, its citizens vote for a president. One might think that citizens would then
One of the few states that has seemed certain to legalize online gaming for several years is Massachusetts. Some lawmakers
Last year, the attempt to predict which states might join the ranks of those with legalized online poker was not
FAQs
The state does not have any regulated sites, however, there is nothing stopping players from gambling on the poker sites we've reviewed and suggested.
Yes, home poker games are legal. Legislation forbids illegal commercial gambling operations. However, home poker games do not fall under this category.
Players must be 18 years or older for online poker MA.
Sources & Citations For This Article on Massachusetts Online Poker