New York Gambling Laws & Online Poker in New York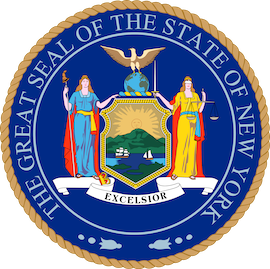 New York Gambling Laws & Online Poker in New York
Last Updated July 8, 2019
Just like massive slices of pizza and talking far more loudly than appropriate, poker is a part of New York culture.  Many know New York more for its legendary underground poker rooms than its online poker scene, but a sizeable chunk of online poker's best talent hails from the poker proving ground of New York state.  For players looking to join that elite class – or maybe just hoping to try their luck with a few hands of poker played online – we present this complete Guide to Playing Online Poker From New York.
New York and Legal Online Poker
The best New York online poker sites share a few qualities.  First of all, we only list sites that hold a legal and current license to operate.  Second, we only list rooms that have long-standing reputations for treating players fairly.  Finally, we only consider rooms for inclusion on our list of the top New York poker rooms that attract casual players – meaning you can profit at the games.  The rooms that best meet those thresholds make up our suggested online poker sites for players from New York:
Poker Sites Open to Players From Your State

| | | | |
| --- | --- | --- | --- |
| BetOnline | $2500 Bonus | 5-7 Day Payouts | Accepts Visa, Bitcoin, Litecoin, Wires |
| Sportsbetting | $2500 Bonus | 5-7 Day Payouts | Accepts Visa, Bitcoin, Litecoin, Wires |
Latest Updates Through 2019
In 2016, New York took a major step forward as by State Senator John Bonacic in the Senate and Assemblyman J. Gary Pretlow in the House of Representatives sponsored an online poker bill. The bill sought legal and regulated online poker only, without online casino games like in New Jersey. The bill died in the Assembly when Pretlow expressed doubts about the safety of the games due to concerns from fellow legislators.
However, the same two lawmakers introduced bills in 2017 as well. The Senate passed the bill in June by the margin of 54-8. A companion bill in the House failed to progress, again, as happened the previous year. Pretlow initially expressed optimism for widespread support of the bill that year, but the bad actor clause caused division in the ranks. The bad actor clause held back the California online poker debate for years, and it seemed to have caused concern in New York this year as well.
The clause punishes online poker operators who continued to serve US customers after the 2006 Unlawful Internet Gambling Enforcement Act (UIGEA) passed and became law, and the company that will want to enter the US market under this status is PokerStars. PokerStars operates in New Jersey under full compliance and heavy scrutiny, but it dominates the market, so some want to bar it from their state.
In April 2018, Assemblyman Clyde Vanel emerged as a new champion for the online poker legislation. Vanel claimed he could garner 60-70 co-sponsors for the bill and planned to put it up for a vote in June. He cited the dozens of legislators who supported putting online poker in the budget. Within weeks, Vanel had secured nearly 50 co-sponsors for the Assembly's online poker bill, and the process was continuing into May. As the Chairman of the Internet and New Technology Subcommittee, he was in prime position to push the legislation.
In early June, Bonacic moved his Senate bill forward. S.3898 passed the Finance Committee, though the companion proposal in the Assembly had to move quickly to get through several committees before the session ended on June 21. Even with Vanel's help, however, Pretlow had not been able to advance A.5250 whatsoever.
By the end of session on June 21, both online poker bills died. Sports betting was among those that did not advance, along with online poker. Online poker appeared to face an uphill battle in 2019, as Bonacic retired. During the first week of January 2019, though, a new champion for online poker in New York emerged as Senator Joe Addabbo introduced S.00018, a bill to legalize online poker only by classifying it as a game of skill. Nearly one month later, Pretlow proposed A.04924, which was a carbon copy of Addabbo's bill.
Two months later, however, there has been no further movement on either bill. It is likely that Addabbo will be the one to make progress if there is any in 2019.
New York Gambling & Poker Laws Summarized

| Type/Code | Summary |
| --- | --- |
| State Code Section(s) | PEN.225; PEN.470; RPMW.100-1401; GML.9A; GML186-195; |
| Definition of Gambling | A person engages in gambling when he stakes or risks something of value upon the outcome of a contest of chance or a future contingent event not under his control or influence, upon an agreement or understanding that he will receive something of value in the event of a certain outcome. |
| Definition of Contest of Chance | Any contest, game, gaming scheme or gaming device in which the outcome depends in a material degree upon an element of chance, notwithstanding that skill of the contestants may also be a factor therein. |
| Definition of Player | A person who engages in any form of gambling solely as a contestant or bettor, without receiving or becoming entitled to receive any profit therefrom other than personal gambling winnings, and without otherwise rendering any material assistance to the establishment, conduct or operation of the particular gambling activity. |
| | |
| Online Poker/Gambling | Legislators have been working to pass bills to legalize online poker in New York for several years. Bills have twice passed the Senate but not the Assembly, and the current bills in 2018 did not pass either house. There will likely be another effort in 2019 for online gaming. |
| Live Poker | There are poker rooms in many of the state's casinos that offer cash games and tournament poker. |
| Casinos | There are a number of Native American casinos and racetracks with casino games (racinos) operating in the state, and several commercial casinos are opening in 2018 and 2019 as full-blown casino resorts. |
| Sports Betting | New York voted to legalize sports betting long before the 2018 US Supreme Court decision overturning PASPA, but new laws must be passed to regulate the activity. Bills are pending in both houses of the legislature and had not passed in the first half of 2018. |
| DFS | The legislature passed a law to regulate daily fantasy sports in 2016. |
| Other Forms of Gambling | Horse and harness racing, off-track pari-mutuel wagering, bingo, lottery, charitable gambling, social gambling in private settings. |
Making Online Poker Accounts From New York
Due to New York City banks' role in online poker's Black Friday, there are some online poker sites that restrict new signups from the state.  The prohibition is not absolute, so most sites on our real-money page accept play from New York.
New York State Law and Online Poker
New York law defines gambling as risking "something of value" on a future outcome beyond one's "control or influence" with the understanding that they might receive "something of value" if a "certain outcome" occurs (Section 225.00(2)).
The state law of New York also offers a definition of a contest of chance: "Any contest, game, gaming scheme or gaming device in which the outcome depends in a material degree upon an element of chance, notwithstanding that skill of the contestants may also be a factor therein" (Section 225.00(1)).
There are no criminal penalties for persons who act only as players in illegal gambling activities.  There may be other crimes stemming from the activity (tax avoidance, for example), but the criminal penalties in New York state gambling law are directed squarely at those who run and profit from the business of illegal gambling.
The size of the illegal gambling operation matters under New York law.  Once your operation hits either five bets totaling over $5,000 in one day related to bookmaking, or more than $500 in a single day for operations involving a "lottery or policy scheme or enterprise," the charge bumps up from a misdemeanor to a felony (Section 225.10).
To review the rest of New York gambling law, click here for the online version of the state's statutes.
Will New York Regulate Online Poker?
Most likely in 2019 or 2020 at the latest. Sen. Joseph Addabbo, chairman of the New York Senate's Racing, Gaming, and Wagering Committee, introduced a bill to regulate online poker in New York state. Like the sports betting bill, that online poker bill has significant support.
NY Poker & Gambling Facts
That's a topic worthy more of a book than a quick section in our guide to NY online poker sites.  Suffice it to say, unregulated gambling has been a part of the makeup of the state since there was a state to be made up.  As other US states moved full-steam ahead to expand regulated gambling in the mid-twentieth century with pari-mutuel betting, lotteries and even casinos, New York followed.  The lottery opened in 1967, horse racing came in 1970, tribal casinos in the 1990s, and racinos emerged in the early 2000s.
Regulated Gambling Activity in New York
Every major form of land-based gambling is available in New York. New Yorkers now enjoy casino gambling, the state lottery, pari-mutuel wagering on racing, a variety of electronic games at the state's racinos, and tribal gambling facilities like the Seneca Allegany Casino. With the increase of revenue and tourism in neighboring states like Pennsylvania due to gambling expansion, New York has followed suit and grown its own industry.
As of now, there are no state-regulated internet gambling options in New York.  That doesn't mean there aren't legal online poker sites in New York; it only means that the state does not issue any sort of licenses for online gambling operators.
New York Poker & Gambling: Useful Sites
New York Gaming Association.  Website for the primary trade group representing the racinos of New York state.  Offers wealth of statistical information regarding gambling at New York's racetracks.
NY Times Local Coverage .  Arguably the best source for following the arc of commercial gambling expansion in the Empire State.
New York Gambling Industry Snapshot.  Timeline, basic facts and figures and an overview of the financial contours of regulated online poker in New York from the UNLV Center for Gambling Research.
New York's Role in Poker History & Culture
Poker and New York have intersected at interesting points in history.  For example, one of the most famous gamblers in American history, Arnold Rothstein, was shot to death in New York's Park Central Hotel during a game of poker.  New York's card clubs have been the breeding grounds for such well-known poker pros as Dan Harrington and Erik Seidel.
The city's poker underworld provided a compelling and credible backdrop for the greatest poker movie of all time: Rounders.  More recently, it was a New York-centered poker case that led Judge Jack Weinstein to rule that, for the purposes of federal law, poker should be considered a game of skill .