New Hampshire Online Poker & Gambling Laws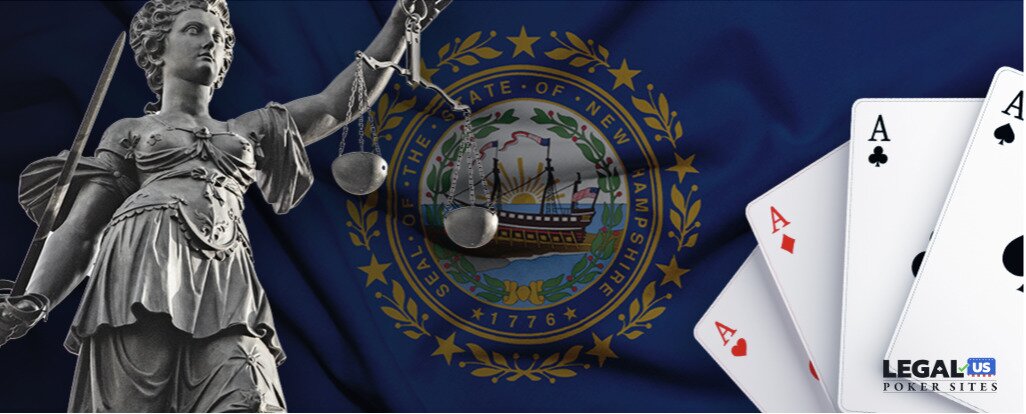 As New Hampshire lacks the sort of full-service poker options a state like California provides, poker fans from the state are left with two choices: Make the long drive across the border to a casino with a poker room in a neighboring state, or fire up the home computer and take their pick from the tens of thousands of games running around the clock online.
Playing online poker for real money is not currently legal in New Hampshire. However, there are numerous online poker sites that are willing to accept players from New Hampshire. These sites operate with full licenses and are considered legal, providing an option for residents of New Hampshire to enjoy online poker games while adhering to the law.
While some people do choose the former, it's the latter option – online poker – that has truly been embraced by players from New Hampshire.
We're going to take a closer look at the state's relationship with online poker for real money (and gambling) from a few perspectives, including legal, cultural and historical, in our Guide to Online Poker in New Hampshire.
We don't just pull these names from a hat; all of the sites on here hold valid, legal operating licenses, have a history of handling player funds responsibly and have earned reputations for running fair, safe games:
Top Sites for Online Poker in Your State
New Hampshire Gambling & Poker Laws Summarized
| | |
| --- | --- |
| Type/Code | Summary |
| State Code Section(s) | XXIV.284-287; LXII.647.1-2 |
| Definition of Gambling | To risk something of value upon a future contingent event not under one's control or influence, upon an agreement or understanding that something of value will be received in the event of a certain outcome. |
| Definition of Gambling Machine | Any device or equipment which is capable of being used to play sweepstakes or games of chance and which discharges money, or anything that may be exchanged for money, cash equivalent, debit card, merchandise credit card, or opportunities to enter sweepstakes or play games of chance, or displays any symbol entitling a person to receive such a prize. |
| Definition of Game of Chance | Any game involving gambling or any lottery but shall not include any game involving the use of a slot machine or any other device in the nature of a slot machine, 50/50 raffles, or ice-out contests. |
| Online Poker/Gambling | The most recent serious attempt to legalize online poker and casino games was in 2017, and some discussions continued into 2018 but not serious enough to put a bill on the floor of the legislature. |
| Live Poker | The lack of casinos means there are no live poker rooms in the state. |
| Casinos | No casinos are operational or legal in New Hampshire in 2018, though some lawmakers seek to change that with the passage of a broad gambling expansion bill in the coming years. |
| Sports Betting | Sports betting is not currently legal in New Hampshire, and there are no proposals pending. |
| DFS | New Hampshire legalized daily fantasy sports in 2017. |
| Other Forms of Gambling | Charitable gambling, lottery, bingo, raffles, horse and dog racing, on-track pari-mutuel betting. |
Latest Updates on New Hampshire Online Poker
The people of New Hampshire have been noticing neighboring states offer more gambling options. Massachusetts has several casinos sprouting up, and the Canadian province of Quebec, has more gambling than New Hampshire. Lawmakers, too, have seen the benefits that other states have reaped, especially in the New England area. Not only do those states benefit from boosted tourism, they take in more revenue.
Within the past decade, there were several attempts to increase gambling opportunities. In 2013, Governor Maggie Hassan seriously lobbied for casinos after learning about the efforts of neighboring Massachusetts. At that time, she said the state could lose approximately $75 million per year to casinos across the state border.
It took studies and two years, but Hassan worked with several lawmakers in 2015 to push a bill that would have allowed the construction of two land-based casinos in New Hampshire. The Senate bill did well and passed, but the House side rejected it by a fairly wide margin.
2017
In 2017, three Republican legislators introduced an online gambling bill to decriminalize and legalize online poker and casino games. They saw the success of the games in New Jersey and wanted to do something similar in New Hampshire. The bill didn't receive much attention until a House executive session in October of that year, at which time the committee voted unanimously to declare the bill "inexpedient to legislate," meaning dead.
Since then, New Hampshire hasn't been keen to introduce new bills pertaining to casinos or online gaming. However, it has been in the news with regard to gambling.
2018
In late 2018, the United States DOJ Office of Legal Counsel wrote a memo to overturn the 2011 Wire Act decision. That 2011 decision was what made states believe that they could offer online lotteries, casino games, and internet poker. The DOJ under the Trump Administration overturned that to restore the original meaning of the Wire Act. Many states with online gambling threatened lawsuits, but it was the New Hampshire threat that turned into an actual case. The New Hampshire Lottery Commission sued the US Justice Department and US Attorney General William Barr.
The announcement from New Hampshire Governor Chris Sununu, Attorney General Gordon MacDonald, and Lottery Executive Director Charlie McIntyre came in February 2019 in the US District Court. The state's lottery offered online lottery sales based on the 2011 opinion, and those sales helped support educational initiatives in New Hampshire. In 2018 alone, the lottery generated $87.5 million for education. The new ruling from the DOJ put that line of revenue in jeopardy.
NeoPollard, the company that provides the software platform for the New Hampshire Lottery, joined the Commission in the case. They received support from online lotteries and online gambling states across the country. And they actually won their case in the US District Court.
The Justice Department was not pleased, however, and filed an appeal. That appeal is currently accepting its briefs and should hear the case sometime in in the future.
The Basics of Online Poker in New Hampshire
It can be a challenge to separate one online poker room from the next. Many appear quite generic, or even share confusingly similar names. That's where a site like ours comes into play. We're intimately familiar with just about every poker room online, so it's a simple task for us to list the top poker sites in New Hampshire.
Can Poker Players From New Hampshire Play Poker Online?
Not all online poker sites are open to players from the United States. But at the poker rooms online that do accept American customers, NH online poker players are welcome across the board. That takes the only real hurdle between you and the virtual tables out of the way, as signing up and making a real-money deposit at an online poker room in New Hampshire is a dead-simple affair that will only take a few minutes of your time. That sure beats trekking it out to Foxwoods, right?
Is it legal to operate an online poker room in New Hampshire? What about playing for real money at an online poker site from New Hampshire? As is the unfortunate case with nearly all US states, New Hampshire gambling laws are less than totally clear on the issue of online gambling.
Players with any concern about the legality of their activity should immediately consult an attorney, and should not rely on this website (or others) for legal advice.
Summary of New Hampshire Gambling Codes
To start, here's where you can find the complete state code below . For a bit of help with what can be some admittedly dense reading, here is a brief list of some core components of New Hampshire gambling laws:
New Hampshire has one of the most limited definitions of gambling that you'll find on the books in any US state. Gambling is:
"to risk something of value upon a future contingent event not under one's control or influence, upon an agreement or understanding that something of value will be received in the event of a certain outcome" (Section 647:2(II(d))).
While the definition may be a bit vague, the law is quite clear when it comes to engaging in gambling: Doing so is illegal (a misdemeanor) unless the activity is specifically exempted from the law. Section 647:1(I(a)) makes it a crime if someone:
"Gambles, or loans money or any thing of value for the purpose of aiding another to gamble."
When it comes to illegal gambling operations in NH, size matters. It's a misdemeanor if someone
"conducts, finances, manages, supervises, directs, or owns all or part of a business and such person knowingly and unlawfully permits gambling on the premises of the business" (Section 647:2(I-a)).
However, if that gambling generates more than $2,000 in a day, operates for more than 10 days or takes in over $5,000 in wagers over a 30 day period, the charge is bumped up to a felony.
Poker is not referenced as being illegal in New Hampshire's gambling law. Online gambling and online poker are not specifically mentioned in the New Hampshire state code.
When Will New Hampshire Regulate Online Poker?
The rise of online gambling in New England will likely spur New Hampshire to action in the coming years. Not only do New Jersey and Delaware offer online poker and casino games, Pennsylvania just launched their new industry in 2019 and West Virginia was rumored to join in 2022, but no online operators went live.
It is not likely that New Hampshire will pursue new legislation to legalize online gambling until the Wire Act case is settled. This may require another year or two if the case goes to the US Supreme Court, which some judges and analysts have predicted. Should New Hampshire win the case, however, there is a high likelihood that its lawmakers will consider expanding gambling once again.
New Hampshire Gambling Facts
Two aspects of New Hampshire's history with gambling merit particular mention. The first is the state's historic race tracks, one of which – Rockingham Park – has been in operation for over a century. While live racing is no longer a part of New Hampshire gambling, the state nonetheless played a critical role in the nationwide spread of pari-mutuel wagering on racing events.
Gamblers also have New Hampshire to thank for what is arguably the most prevalent form of regulated betting in the United States – the lottery. While New Hampshire certainly didn't invent the lottery, they were the first to bring legal, state-administered lottery games back within the law back in 1964.
New Hampshire's Famous Poker Players
Most players who claim New Hampshire as their home state today are not as famous or infamous. Even so, several of them got their start playing online poker and transitioned to live poker after Black Friday. None of them have exceeded $1 million in earnings in that realm, and some of them on this list (James Guinther, Jeff Cohen, etc.) haven't played in years. The others are players to watch, though.
As of 2023, these were the top-ranked live poker players from New Hampshire, according to the Hendon Mob database:
1. Dan Chalifour ($739K)
2. Michael Drummond ($735K)
3. James Guinther ($644K)
4. Cylus Watson ($593K)
5. Jeff Cohen ($560K)
6. Daniel Dipasquale ($526K)
7. Robert Brown ($510K)
8. Peter Gilmore ($486K)
9. Rodney Legendre ($308K)
10. Paul Freedman ($300K)
Poker and Gambling Laws by State
New Hampshire News
Another state in 2023 fails to legalize online casino games and poker. This case involves New Hampshire. While it is
Hello again, New Hampshire. It's been a while since we've seen you in discussions about igaming. The state is back,
This week's closure of the Wire Act case was years in the making and a relief for states across America.
Sources & Citations for this Article