Kansas Gambling & Poker Laws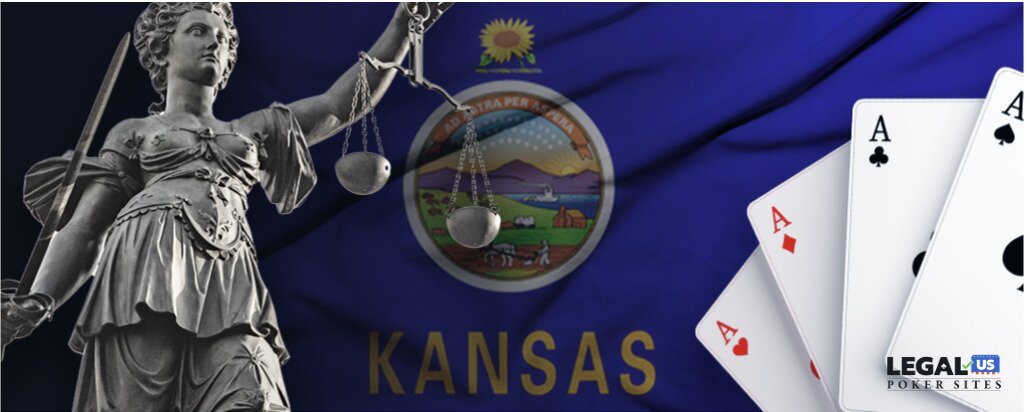 Kansas will never be mistaken for the first state of poker, but that doesn't mean there aren't a good amount of poker players residing in the state. While most poker in Kansas used to be played around kitchen tables, in clubs and in basements, it's a fair bet that the vast majority of poker hands played in the state of Kansas nowadays take place online. Whether you're playing on your laptop, your tablet, or even your phone, you're sure to find useful information in our guide to Playing Online Poker in Kansas.
Not every state in the US is the same when it comes to online poker. Poker in Kansas falls squarely into the "no problem" category. There are definitely US states – Washington being the first that comes to mind – where playing online poker is difficult thanks to the lack of rooms taking players from that state, but you won't face any trouble when trying to find an online poker site in Kansas. Read our reviews for the best online poker sites for players in Kansas.
Yes, you can play poker online in Kansas. Kansas has authorized online sportsbooks, but online casinos and poker remain unregulated.
When you talk about playing at a legal online poker site in Kansas, you're talking about playing on a site that holds a valid license from a qualified jurisdiction. Unlicensed sites don't have to answer to any law, making them risky endeavors. That's why our list of top Kansas online poker sites consists only of properly and legally regulated online poker rooms:
Top Sites for Online Poker in Kansas
Kansas Gambling & Poker Laws Summarized
| Type/Code | Summary |
| --- | --- |
| State Code Section(s) | 21.64.03-09; 74.87-88; 74.98 |
| Definition of Gambling & Player | Bet: A bargain in which the parties agree that, dependent upon chance, one stands to win or lose something of value specified in the agreement.Gambling: Making a bet; or entering or remaining in a gambling place with intent to make a bet, to participate in a lottery or to play a gambling device. |
| Online Poker/Gambling | There is little appetite for legalized online gambling in Kansas. Native American casinos are not supportive of it, and newer casinos have not yet addressed online poker and casino games with legislators. It is unlikely that Kansas will legalize online poker in the coming years. |
| Live Poker | There are poker rooms in most of the casinos in Kansas. |
| Casinos | There are several casinos operated on Indian reservations per the 1988 Indian Gaming Regulatory Act. There are also a few newer casinos under state regulation, all of which permit table games like poker. |
| Sports Betting | Bills were introduced on both sides of the legislature in 2018 to legalize sports betting at racinos, but the bills did not have enough support to pass. |
| DFS | Kansas lawmakers legalized daily fantasy sports in 2015 with overwhelming support, which exempted DFS from illegal gambling laws. |
| Other Forms of Gambling | Horse and off-track betting, lottery, bingo, charitable gambling. |
Is Online Poker Legal in Kansas?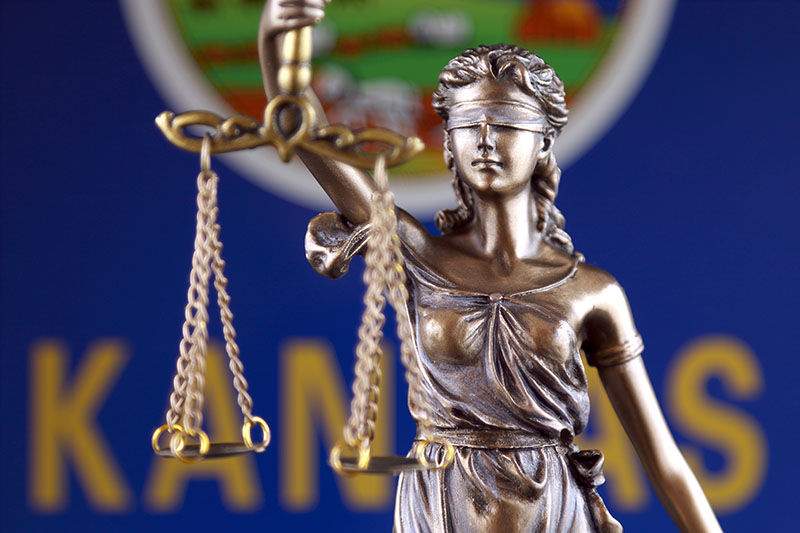 How does the law treat online poker in Kansas? Like most states, KS doesn't have an "online poker law". This meas individuals are left with uncertainty regarding whether or not online poker is legal in Kansas. Questions about legal activity are best answered by professionals – not poker websites. However, if you're interested in Kansas poker law for research purposes, we can help. You can review the KS state code below. We've highlighted some aspects of Kansas law that might apply to online poker players:
Under Kansas law, making any sort of "bet" is illegal. This is unless the bet takes place in a specified, regulated environment (Section 21-4303).
What is a bet? Obviously everyone has different ideas about what the word means, but it's only the legal definition that matters in this discussion. Under Kansas law, to bet is to enter into a "bargain in which the parties agree that, dependent upon chance, one stands to win or lose something of value" (Section 21-4302).
"Commercial gambling" is also illegal in Kansas, although the term refers to what other states often call "professional gambling". Basically, it's running an illegal gambling activity for profit (Section 21-4304).
A wide variety of activities could fall under the scope of "commercial gambling" in Kansas. The law identifies anyone who sets up devices, handles bets, receivings any or all of the earnings or collects the earnings as potentially liable (Section 21-4304).
The state of Kansas also has a very broad definition of what constitutes a "gambling device," a definition that goes so far as to include chips, parts of gambling devices and "electronic devices" (21-4302(d)).
As you can already see, hobbyists aren't suited for untangling Kansas gambling law. If you have any concerns about playing real poker online, your best bet is to consult a lawyer who is familiar with Kansas gambling law.
Will Kansas Legalize Online Poker?
If you want to play poker in KS, waiting for the government to provide a regulated poker room online, you could be holding your breath for quite some time. The Kansas Statehouse hasn't shown any indication of considering online gambling regulation in the foreseeable future. Given the situation, Kansan poker players should prioritize poker sites with valid licenses from reputable regulators.
Kansas Gambling Facts
Just like neighboring states Oklahoma and Texas, Kansas was a hub for 19th-century gambling. Ranchers, cowboys, miners, and fortune seekers found opportunities in clubs and saloons.
Kansas, especially Dodge City, earned a gambling destination reputation for fortune seekers heading west. This was primarily involving cards, dice, and advanced devices.
Regulated Gambling Options in Kansas
The bulk of regulated gambling in Kansas comes via the state lottery and pari-mutuel wagering options. Nevertheless, Kansas law also allows for certain forms of charitable gambling. Additionally, the state lacks tribal gambling or commercial casinos. This positions it mid-range among US states in available regulated gambling options.
Does Kansas Offer any Regulated Online Gambling?
Like most US states, Kansas has yet to venture into the terra incognita of online gambling regulation. Additionally, while state government can obviously turn on a dime if the pressure is substantial enough, it seems quite unlikely that residents will be able to play poker at a Kansas-regulated online poker site in the near future.
Kansas Gambling & Poker Resources
Brief History of Gaming in Kansas. A report prepared by the Kansas Legislative Research Department, this concise read covers the complete topography of gambling in the state, including the history, evolution and current landscape.
Kansas Lottery. The details on current lottery happenings, statistics regarding revenue and a complete breakdown of the history of the lottery in the state of Kansas.
Kansas Historical Society: Gambling Timeline. An online exhibit that places the history of gambling in the broader context of Kansas attitudes toward morals and vice.
Kansas's Place in the History of Poker
While obviously a big part of poker's early days on the frontier, Kansas has also made a few modern contributions to the game of poker. It's not every state, for example, that has a game bearing its name, but Kansas can lay claim to that honor thanks to Kansas City Lowball, a draw game. Additionally, In 2008, two Kansas natives made a different kind of poker history when brothers Blair and Grant Hinkle became the very first pair of siblings to win bracelets at the same World Series of Poker. Furthermore, these achievements showcase Kansas's ongoing significance in the world of poker.
All Poker and Gambling Laws by State
Kansas in the News
The American Gaming Association released estimates today stating Americans would wager $10.4 billion on the NCAA's March Madness in the
Down in Broward County, Florida, attorney Mason Kerns filed a class-action lawsuit against DraftKings, one of the giants of the
Representatives for Castle Rock Casino Resort lobbied the Kansas legislature this week to license a $130 million casino development in
Sources & Citations For This Article on Kansas Online Poker