Montana Poker Laws & Legal Gambling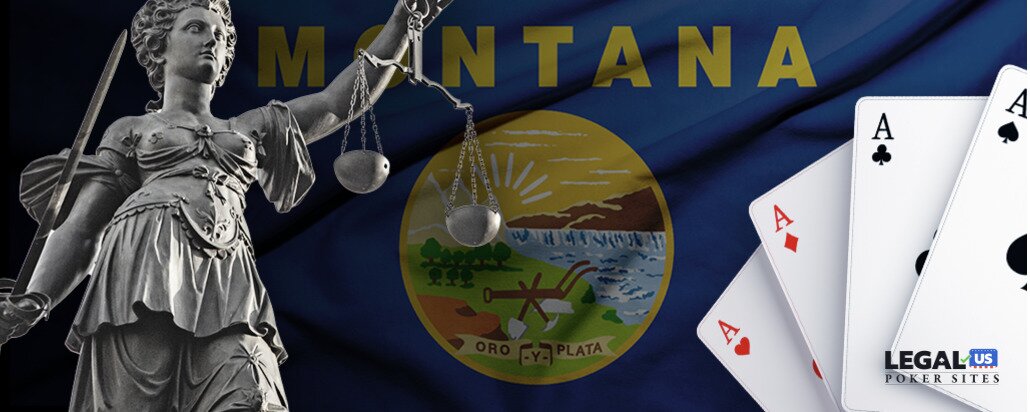 Poker seems like a great cultural fit for the state of Montana, and online poker for money perhaps even more so. Poker is a game of individuals pitted against one another, where success relies on personal skill and effort.
Though live poker venues exist in various locations, online poker's allure in Montana stems from its accessibility from anywhere. How to play it, what Montana law says about poker played online and where gambling sits in the larger picture of the state are all topics we'll cover in this Guide to Montana Online Poker.
You can play poker online in Montana. However, it's important to note that Montana does not have specific regulations for online poker and casino gambling within the state. To participate in online poker, you can choose to join one of the reputable offshore poker sites that are available to players in Montana, ensuring a secure and enjoyable online poker experience.
Top Sites for Online Poker in Montana
What Forms of Gambling Are Legal in Montana?
| Type/Code | Summary |
| --- | --- |
| State Code Section(s) | 23.4; 23.5; 23.7 |
| Definition of Gambling | Risking any money, credit, deposit, check, property, or other thing of value for a gain that is contingent in whole or in part upon lot, chance, or the operation of a gambling device or gambling enterprise. |
| Definition of Illegal Gambling Enterprise | A gambling enterprise that violates or is not specifically authorized by a statute or a rule of the department. The term includes internet gambling. |
| Definition of Internet Gambling | Conduct of any legal or illegal gambling enterprise through the use of communications technology that allows a person using money, paper checks, electronic checks, electronic transfers of money, credit cards, debit cards, or any other instrumentality to transmit to a computer information to assist in the placing of a bet or wager and corresponding information related to the display of the game, game outcomes, or other similar information. |
| Definition of Promotional Game of Chance | A scheme, by whatever name known, for the disposal or distribution of property among persons who have not paid or are not expected to pay any valuable consideration or who have not purchased or are not expected to purchase any goods or services for a chance to obtain the property, a portion of it, or a share in it. |
| Legal Online Poker / Internet Gambling | Montana legislators have not yet considered any proposals to legalize online poker or any type of online gambling. In fact, state laws were updated in 2005 to specifically prohibit internet gambling. |
| Live Poker | Poker is legal in licensed card rooms throughout the state. |
| Casinos | Native American tribes have compacts under IGRA to operate casinos with slot games and various gaming machines, but there are no table games allowed. There are card rooms and poker parlors open throughout Montana, though, which offer non-house-banked games. |
| Sports Betting | There have been no efforts to legalize and regulate sports betting. |
| DFS | The Montana Lottery offers a restricted type of fantasy football betting, but broad daily fantasy sports legislation is not under consideration. |
| Other Forms of Gambling | Lottery, bingo, on-track pari-mutuel wagering on horse racing, charitable gambling, keno and raffles, keno and video poker machines. |
There's a trifecta of qualities that poker players from Montana should look for when choosing an online poker room: Legal, soft and stable. Legal refers to the site holding a proper operating license. Soft refers to the weakness of a typical opponent. Stable refers to the general reputation of the site and the quality of their software. Based primarily on those three concerns, here are our top Montana online poker sites:
Is Online Poker Legal in Montana?
If you're from Montana you should find few obstacles in your path to playing real-money poker online. In addition to our top picks for Montana poker players above, a wide roster of US-friendly poker sites in Montana. Account creation and funding should only take five minutes, and you'll be ready to start playing immediately.
What Does the Law Say About Gambling & Poker in Montana?
How do Montana law and online poker intersect? This page is not a substitute for qualified legal advice, but we can provide you with a short list of some of the critical parts of Montana law regarding gambling.
The Montana Constitution forbids every form of gambling, unless a form is specifically approved by the state or by voters.
That brings us to the definition of "gambling" under Montana law. Section 23-5-112 defines gambling as "risking any money, credit, deposit, check, property, or other thing of value for a gain that is contingent in whole or in part upon lot, chance, or the operation of a gambling device or gambling enterprise."
This leads us to the "gambling device" definition, which containing references possibly relevant to online gambling.
"a mechanical, electromechanical, or electronic device, machine, slot machine, instrument, apparatus, contrivance, scheme, or system used or intended for use in any gambling activity" (Section 23-5-112(13)).
Montana law does specifically identify "internet gambling" as a form of gambling that can qualify as an "illegal gambling enterprise" (Section 23-5-112(19)).
It's also against the law in Montana to "advertise for or solicit" participation in illegal gambling (Section 23-5-154). Obviously that phrase could cover a very wide range of potential activity.
For additional information, refer to the official online version of the Montana code. Please note: law can change quickly, rely on official state code for the latest information.
Will Montana Regulate Online Poker?
Montana will probably not be among the first tier of US states to regulate online poker. We also can't see the state holding out very long once a few other states are on board. In that way, Montana's fate on the issue of regulated online poker is essentially out of the state's hands. If federal regulation progresses, we would expect Montana to opt-in rather quickly. If the process ends up being state-by-state, it could be some time before Montana gets into the game.
Montana Gambling Facts
Gambling itself almost certainly traces back to the earliest days of the state, but the Montana government didn't get into the gambling game until 1889. That's when the new constitution for Montana proclaimed each and every type of gambling illegal. The law's effect on gamblers' enthusiasm was minimal, and the activity persisted underground in the following decades.
Montana diverged from the majority of states in the US by wading into regulated gambling very early on (relative to the rest of the nation). In 1937, licensed gambling brought a small boom, but a 1950 state Supreme Court decision made all forms illegal again. The status quo remained until the 1970s when a wave of bills and public votes favored regulated gambling.
Regulated Gambling Options in Montana
Virtually all of the major types of regulated gambling are available in Montana. While no commercial casinos of the traditional sort operate in the state, casino-style gambling is still readily available at tribal facilities (Class II and Class III). Montana also operates a state lottery and permits pari-mutuel wagering on racing events.
Montana currently lacks licensing or regulation for online poker sites, online casino games, and other forms of online gambling. While not all forms may be illegal, playing poker online at a Montana-regulated site is currently unavailable.
Montana Gambling Resources
The Montana Department of Justice. The Gambling Control Division of the Montana Department of Justice oversees all regulated gambling in the state. Their official website offers definitive answers regarding the law, regulation and other aspects of Montana's regulated gambling industry.
Montana Council on Problem Gambling. The MCPG provides workshops, literature and other resources for dealing with problem gambling.
Montana Gaming Group. A non-profit corporation that serves as a trade group for a spectrum of business interests related to regulated gambling. You'll find Montana gambling news, research and links to additional resources at the Montana Gaming Group website.
Montana's Famous Poker Players
Big Sky Country has produced far more than its fair share of famous poker players. While the total population of Montana isn't that impressive, the state's roster of well-known poker pros certainly is. You've got Huck Seed, main event winner, multiple WSOP bracelet holder, prop bet legend and the champion of NBC's heads up tournament. There's also Annie Duke, former lead pro for Ultimate Bet Poker and sister of Howard Lederer, who called Montana home during the 90s. Todd Brunson, son of Doyle Brunson, resides in the state and hosts an annual poker tournament at Marina City Lodge.
All Poker and Gambling Laws by State
Montana in the News
Now that the 2014 gaming statistics have been tabulate, it's clear that video gambling revenues continue to decline in the
Sources & Citations For This Article on Montana Online Poker