Online Poker Needs Diversity to Survive
UK Gambling Commission Chief Executive Sarah Harrison recently gave her final speech at the World Regulatory Briefing and International Casino Conference, as she is stepping down from the position after 2.5 years. The entirety of her speech focused on the gambling industry as a whole, current and future priorities, consumer issues, and the importance of responsible gaming practices.
Harrison had much to say on a range of issues, and one of them was gender diversity. Not only should gambling companies work harder to diversify their employee base, according to Harrison, they must also address gender pay equity.
It was an uncomfortable topic for a male-dominated room at a male-dominated conference about the male-dominated activity of gaming, but she made a point to do it. Harrison had the podium from which to speak, and her message was important for the entirety of the gambling industry.
GC CEO: An industry that has diversity in all respects and at all levels, will better understand its consumers and the wider public, and will be more inclusive and open to different and new ideas. #icetotallygaming #ICEVOX #icegaming #ICE2018 pic.twitter.com/CQuohEIV7B

— Gambling Commission (@GamRegGB) February 5, 2018
It was also important for poker. The only female-led poker-related businesses at the present time are Card Player Cruises, run by Linda Johnson and Jan Fisher, and Poker Women News, a site created by women to support women in poker. The rest of the poker industry – from media companies to online poker websites – are still overwhelmingly owned and managed by men.
The Long Poker Road Continues
For years, women have been portrayed as an anomaly in poker, an interesting side note, a fun distraction from the game. The thoughts about women primarily consisted of: if she poses on the table, looks sexy holding cards, parades around a tournament in a tight dress, more men will be likely to play poker. At one time during the poker boom, a company even showcased its online poker brand with women in lingerie offering pillow fights with convention attendees – at a convention hosted by the largest poker series in Las Vegas each year. And another well-known poker brand continues to parade women through live tournaments for small talk while offering opportunities to play volleyball with those same women in bikinis.
The Royal Flush Girls hosted a beach volleyball tournament for players and fans this afternoon. Here's a teaser photo: pic.twitter.com/Gf5ZSAUw

— WPT Live Updates (@WPTlive) April 19, 2012
The situation has improved somewhat. After numerous complaints, the aforementioned summer convention toned down the antics but eventually simply cancelled the convention altogether. Complaints also forced tournament organizers to keep men out of women's bathrooms, tournament directors to refrain from sexist comments when on the microphone at women-only tournaments, and male poker writers to stop penning "hottest girls" columns. And even so, some of these situations continue, though in more subtle ways and usually out of the mainstream of the game.
The fight for equality in poker is far from over.
Women face daily comments in cash games from male players that range from overtly sexist to low-key misogynistic. The aforementioned company that parades women through tournaments still refers to them as "girls" instead of women. Some poker forums still allow offensively sexist avatars. Some online poker companies still feature pictures of women in seductive poses, sometimes still draped across poker tables, to promote their sites.
Moreover, most stories of women's negative experiences in poker will never be told. From women writers and reporters to sponsored players, they hold tightly their stories of sexual harassment, abuse, and even rape. They fear being disbelieved, shamed, embarrassed, shamed, humiliated, dismissed, fired from current jobs, prevented from future jobs, or being shunned from the game altogether.
Throughout the past several decades, the number of women in poker has grown, primarily in cash games and in online poker. In any given live tournament, however, women still comprise only about five percent of the field. With the perpetual sexism still coursing through the industry's veins and past situations rarely discussed, it is not difficult to determine why more women do not play live poker.
Global Online Gambling Improves
When Harrison addressed the issue of gender diversity and equal pay, she referred to the entirety of the gambling industry.
Some companies have begun efforts to improve gender equality. NetEnt, for example, launched a diversity program on International Women's Day in 2017. As a part of that undertaking, they set a corporate goal of achieving "50/50 in all teams throughout the entire organization by 2020." And the actions they've begun several initiatives, including launching a diversity group to meet quarterly, focusing on the equal opportunities policy, monitoring progress through statistics, creating awareness through training of all employees, recruiting new employees with an eye on diversity, and becoming a role model for the industry.
As Harrison pointed out, however, there are many concerns throughout much of the gambling world.
"Last year at ICE (conference), I felt that I had missed an opportunity. An opportunity to highlight and challenge what is a significant stain on this industry's reputation. This is an industry where we have a number of talented, powerful and successful women. Indeed, a woman from the gambling industry is Britain's highest paid boss – not highest paid female CEO but highest paid CEO. Yet from walking around the exhibition you wouldn't know this. Instead you saw men representing their companies wearing expensive tailored suits whilst their female colleagues were expected to wear nothing more than swimsuits. I say bring this to an end now! It is far from reflective of the modern society and economy of which this industry is a part. And to go further, any future participation by the Gambling Commission in events like this will depend on there being change.

"A push for a more diverse industry – not just on the basis of gender – is not about a desire for political correctness. An industry that has diversity in all respects and at all levels, will better understand its consumers and the wider public, and will be more inclusive and open to different and new ideas. Armed with this, business can better meet the needs of their customers, respond to the worries of society and be more innovative in the way it meets challenges and seizes its opportunities.

"This is, and must, also be a challenge for the Commission. The regulator too must reflect the consumers and market we serve and create the conditions for greater diversity and the opportunities this brings. That is why I am particularly pleased that further action on diversity & inclusion will be part of the organizations' plans to deliver our new strategy.

"So look across the exhibition hall, look across your businesses, look across your industry and ask is this really the image, and the business model that will enable you to meet the needs of your customers, your investors, and the expectations of society both now and in the future?"
Steps to Be Taken
Harrison lacked specifics in her direction to the UKGC and the industry in general, to push for more diversity, but she and others have put some standards into place to raise awareness.
The UK's Advertising Standards Authority, for one, monitors its regulated market for sexist advertisements. The ASA is not a government-funded organization and cannot enforce legislation, but it does have power and influence over the gambling industry. Just recently, in December 2017, the ASA reprimanded Fruity King Casino, which is owned by Progress Play, for a Twitter post that degraded the women of Loose Women. The women of the long-running British panel television show posed for the photos to show that a positive body image comes in all forms and sizes.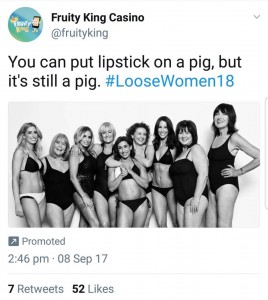 The company behind the Fruity King Casino Twitter account says the tweet was meant to call the television show one of low quality. But the ASA ruled otherwise, stating that Progress Play breached a code, causing harm and offense.
In most parts of the world, however, there is no equivalent of the ASA to crack down on sexist advertising or social media posts by gambling companies. And in most cases, the misogynistic references aren't always as blatant as in the Fruity King ad, so they rarely garner much attention, and the male-dominated companies that authorize the ads are unlikely to respond to any complaints in any serious way.
This is why Harrison is on point with her assertion that the regulators and gambling operators must be diverse in order to reflect and understand the market and their consumers. When women make advertising decisions, there is much less of a chance the result will include women sprawled across poker tables or headlines that include the words "hot girls."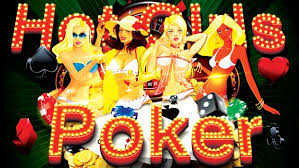 Poker is going to require the same management changes and openness to diversity in order to make changes that deliver more welcoming messages. Operators would only benefit by putting women in charge of marketing and advertising, as the female demographic remains the most underserved and ill-treated in the game.
https://twitter.com/catehall/status/779187530734284800
The bottom line, however, is that when the poker industry is asked to respond to sexism and consider solutions, the majority of the responses come from men. And when women weigh in with serious and sometimes radical ideas for change, men often shut down the conversation in one way or another.
Real change with regards to sexism and misogyny in poker will only happen when women collectively take a seat at the table and send the strongest of messages. Time's up.