Online Poker in Tennessee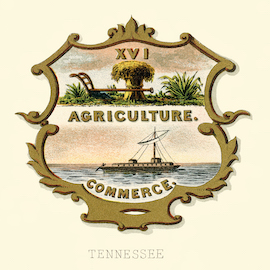 Online Poker in Tennessee
Last Updated December 17, 2018
There's an old joke that the busiest poker room in Tennessee is in Tunica. The joke, of course, is that Tennessee has no poker rooms – Tunica is right across the border in Mississippi. That fact hasn't stopped Tennesseans from developing a healthy appetite for poker, both in live rooms and at online poker sites.
With the reach of poker in Tennessee growing as each day passes, we decided to construct this central resource to serve as a Guide to Playing Online Poker in Tennessee.
Top Online Poker Sites in Tennessee
Here's the deal with Tennessee online poker sites: There are dozens – possibly even hundreds – of poker rooms that welcome players from Tennessee. Telling them apart is basically impossible until you've played at each, but playing at each would take a whole lot of time.
Enter our list of the top online poker sites for Tennessee, all of which are legally regulated and licensed online poker operators:
Poker Sites Open to Players From Your State

| | | | |
| --- | --- | --- | --- |
| Bovada | $500 Bonus | 3-4 Day Payouts | Accepts Visa, Bitcoin, Wires |
| Ignition | $2000 Bonus | 3-4 Day Payouts | Accepts Visa, Bitcoin, Wires |
| Intertops | $600 Bonus | 5 Day Payouts | Accepts Visa, Wires |
| BetOnline | $2500 Bonus | 5-7 Day Payouts | Accepts Visa, Bitcoin, Litecoin, Wires |
| Sportsbetting | $2500 Bonus | 5-7 Day Payouts | Accepts Visa, Bitcoin, Litecoin, Wires |
Do Poker Rooms Take Players From Tennessee?
We said it already – there are more than enough online poker sites that accept players from Tennessee. You can't say the same thing for Kentucky, their neighbor to the north, who has taken a more aggressive position on the online gambling issue. But crossing the border between the two means all the difference for online poker players, who have far more options to choose from in Tennessee.
Tennessee Gambling & Poker Laws Summarized

| Type/Code | Summary |
| --- | --- |
| State Code Section(s) | 3.17; 4.36; 39.17.5-6 |
| Definition of Gambling | Risking anything of value for a profit whose return is to any degree contingent on chance, or any games of chance associated with casinos, including, but not limited to, slot machines, roulette wheels, etc. |
| Definition of Gambling Bet | Anything of value risked in gambling. |
| | |
| | |
| Online Poker/Gambling | It is highly unlikely that legislators will consider any type of online poker or casino games in the foreseeable future. |
| Live Poker | Since there are no casinos and racetracks are not allowed to offer table games like poker, players cannot legally play cash games or tournaments in Tennessee. |
| Casinos | There are no casinos in Tennessee, and there seems to be no desire to consider legalizing any gambling facilities outside of racetracks. |
| Sports Betting | Tennessee has not yet considered a sports betting bill as of mid-2018. |
| DFS | Lawmakers legalized daily fantasy sports contests via the Fantasy Sports Act in 2016. |
| Other Forms of Gambling | Horse racing, limited pari-mutuel wagering, raffles and limited charitable gambling, lottery. |
Is Online Poker Legal in Tennessee?
Answering the question of whether or not it's legal to play online poker from Tennessee begins with answering some more fundamental questions about how Tennessee law defines and handles gambling.  Let's focus on those by walking through the basics of Tennessee gambling law.
Tennessee takes what amounts to an "any-chance" approach to defining gambling, which is to say that betting anything of value on anything that involves any element of chance qualifies as gambling.
Here's the verbatim definition: "risking anything of value for a profit whose return is to any degree contingent on chance, or any games of chance associated with casinos, including, but not limited to, slot machines, roulette wheels and the like" (Section 39-17-501).
It is a misdemeanor to participate in illegal gambling, although the law says you must "knowingly" do so (Section 39-17-502).
The broad definition of "gambling device or record" (Section (39-17-501(3)) likely allows law enforcement to confiscate not only the equipment used for gambling, but also the money involved.
One charge of special note: Aggravated gambling promotion (Section 39-17-504). Most states assign a misdemeanor charge for participating in the business of an illegal gambling business, with felony charges reserved for larger operations or for the owners. In Tennessee, anyone who "knowingly invests in, finances, owns, controls, supervises, manages or participates in a gambling enterprise" risks a felony charge.
Special penalties are invoked when you're involved in the operation of "lotteries, chain letters and pyramid letters. As the amount of money involved in the lottery escalates, so do the severity of the criminal charges you could face (Section 39-17-506).
That should provide you with enough of an overview to tackle the remainder of the law yourself.  Click here for the searchable online copy of Tennessee state code.
All Poker and Gambling Laws by State
Tennessee in the News
What are the Chances that Tennessee Regulates Online Poker?
Somewhere between slim and none, and I'm pretty sure slim has a ticket booked on the next flight out. Gambling expansion just isn't on the radar for Tennessee, and Internet-based gambling – considered by many to be a riskier form of the activity – stands an even narrower chance of being addressed by the state legislature.
Tennessee Gambling Facts
A pretty thin list, all things considered. The state has a complete lack of any casino-style facilities – nothing commercial, tribal or in a hybrid racino form. There are no racinos because there are no race tracks; pari-mutuel bets are not permitted under the law of Tennessee. There is also no direct exception for "social gambling."
So what can you do legally? Your options come down to the state lottery, charitable raffles conducted by licensed organizations, or leaving the state (several neighboring states do offer more regulated gambling than Tennessee).
It comes as no surprise that a state with such a restrictive attitude toward gambling would choose not to regulate or license online gambling activity. While regulated land-based gambling options are simply meager, online poker in Tennessee will likely remain non-existent.
Tennessee Gambling Resources
Tennessee Attorney General Poker Tournament Opinion. A concise explanation from the State AG regarding why poker tournaments that charge an entry fee are in violation of Tennessee gambling law.
TN Problem Gambling Program . State-administered problem gambling resource center. Includes access to 24-hour helpline.
Gambling on Lotteries and Casinos in Tennessee. In-depth study that explores various regulated gambling options for Tennessee and how each might impact the state on social, economic and cultural levels.
Tennessee's Place in Poker History
The story of two Tennesseans who have occupied the poker spotlight for very different reasons provides a nice microcosm of the state's complicated relationship with poker.
The first, Chris Moneymaker, is thought by many to be the spark that lit the fuse of the American poker boom in the early 2000s by coming from nowhere to win the World Series of Poker. The second, Senator Bill Frist, was the driving power behind the 2006 passage of the UIGEA, a law that is generally thought to have started the rapid decline of online poker in the United States.