Virginia Poker Laws & Legal Betting in VA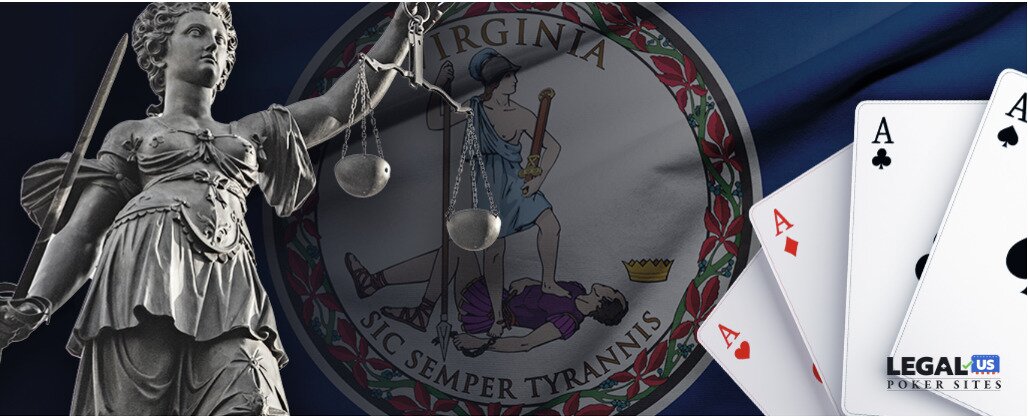 Virginia is for lovers, or so goes the old tourism slogan for the state. It's also for American presidents (eight have been born there), those seeking education (more advanced institutions per capita than nearly any other state) and – of course – poker players.
The population of the state is young, diverse and generally well-off, a demographic that generally enjoys high online poker participation rates. As the game's popularity continues to expand, more visitors contact us with questions about online poker in Virginia. These are questions that we'll cover in this always-updated Virginian's Guide to Playing Poker Online.
You can play poker online in Virginia, but it's important to note that playing online poker for real money has not been legalized in the state as of now. Virginia has yet to pass legislation specifically legalizing real-money online poker.
Top Sites for Online Poker in Your State
Online Poker Updates into 2023
The Virginia gambling industry is not new to struggles. An industry that had been relegated to little more than a state lottery and horse racing began to open up to new opportunities in the late 2010s. It had no choice if it wanted to keep its gamblers within the state. Neighboring Ohio kept expanding its gambling options, as did nearby West Virginia and Pennsylvania.
In the past decade, there were positive efforts put forth to inspire Virginia lawmakers to reconsider poker, live and online.
Live poker had been relegated to bars and pop-up card rooms for years. Some poker enthusiasts tried to open card rooms based on the state's charitable gambling laws, but court battles ensued. Finally, the state allowed voters in certain cities to vote on casino gambling. Portsmouth was one of them that authorized a casino in 2020. And the result was the opening of Rivers Casino Portsmouth in January 2023. The facility does have a 24-table poker room, which is still growing its customer base.
Online poker has only been given the briefest of considerations in the state legislature.
The law that authorized cities to vote for land-based casinos included a small provision that could open the window for igaming in the future. The clause was inserted because of the strength of a 2019 study commissioned by the Virginia Joint Legislative Audit and Review Commission (JLARC). That "Gaming in the Commonwealth" report by Innovation Group noted that online casino gaming – including online poker – could generate about $84M per year in the beginning. When the market reaches full maturity, it could generate $312M per year.
Lawmakers did not pursue discussions about said igaming potential. Instead, they focused on live casinos and eventually sports betting.
Virginia Gambling & Poker Laws Summarized
| Type/Code | Summary |
| --- | --- |
| State Code Section(s) | 18.2.8.325-340; 59.1.29.364-405; 59.1.51.556-570 |
| Definition of Illegal Gambling | The making, placing or receipt of any bet or wager in the Commonwealth of money or other thing of value, made in exchange for a chance to win a prize, stake or other consideration or thing of value, dependent upon the result of any game, contest or any other event the outcome of which is uncertain or a matter of chance, whether such game, contest or event occurs or is to occur inside or outside the limits of the Commonwealth. This includes the purchase of a product, Internet access, or other thing, which purchase credits the purchaser with free points or other measurable units that may be risked by the purchaser for an opportunity to win additional points or other measurable units that are redeemable by the purchaser for money or redeemed by the purchaser for money, and but for the free points or other measurable units, the purchase of the product, Internet access, or other thing would be of insufficient value in and of itself to justify the purchase or is merely incidental to the chance to win money. |
| Definition of Gambling Device | Any device, machine, paraphernalia, equipment, or other thing, including books, records and other papers, which are actually used in an illegal gambling operation or activity. |
| Definition of Bet | A bargain in which the parties agree that, dependent upon chance, even though accompanied by some skill, one stands to win or lose anything of value specified in the agreement. |
| Definition of Interstate Gambling | The conduct of an enterprise for profit which engages in the purchase or sale within the Commonwealth of any interest in a lottery of another state or country whether or not such interest is an actual lottery ticket, receipt, contingent promise to pay, order to purchase, or other record of such interest. |
| Online Poker/Gambling | Lawmakers have shown no interest in legalized online poker or gaming. |
| Live Poker | The first of several casinos opened in Virginia in 2023 in Portsmouth, with several more to follow as approved by voters. Rivers Casino Portsmouth does have an open poker room, and others plan to include poker in their offerings as well. |
| Casinos | Virginia lawmakers took up legislation in 2019 to allow voters of certain populated cities in Virginia to vote for or against their own casinos. Rivers Casino Portsmouth opened in January 2023, with Caesars Danville expected to open a temporary facility later in 2023. Headwaters Casino in Norfolk is scheduled to open in 2024. |
| Sports Betting | Sports betting became legal in Virginia in 2020, and the first online sports betting apps launched in 2021. There are currently 14 betting options for Virginia bettors, with several more licenses open for casinos and sports franchises. |
| DFS | Virginia became the first state to legalize daily fantasy sports contests. |
| Other Forms of Gambling | Horse racing, off-track pari-mutuel betting, bingo and charitable gambling like raffles, lottery, games of chance in private residences. |
Online Poker Sites in Virginia
Choosing a VA internet poker site doesn't sound like much of a task – until you set about doing it. That's when you realize how helpful it would be to have the perspective of other players who have already been in your situation, who have already compared all of the poker sites in Virginia and assembled the best picks in a handy list. Good news: you do. This real money poker page is continually updated and reflects operators with the top combination of promotional value, security and reliability:
How Do I Play Online Poker in Virginia?
There are certainly states in America – Washington comes to mind as one – where residents do face a real challenge finding an online poker site that will let them play real cash games. Virginia laws do not fall into that category, so playing VA online poker is just as easy as doing anything else online.
Once you choose one of the top poker sites and make an account, your only remaining hurdle will be depositing funds into that account. The most popular methods for doing so for players from the state of Virginia: credit cards such as VISA and cryptocurrencies like Bitcoin. Look for Bitcoin poker sites for a great poker experience.
Virginia Law and Online Poker Games
What view does Virginia betting laws take of playing online poker for money? Questions about gambling can be murky affairs, and questions about Virginia online gambling tend to be doubly so. We don't pretend to have the legal background to offer absolute answers to such questions. But, we can provide you with objective information about Virginia poker laws and leave it to you to decide.
Virginia law has a pretty standard definition of gambling provided via Section 18-2-325. Basically, betting anything of value on anything that is "uncertain or a matter of chance" qualifies as illegal gambling in Virginia.
If you participate in illegal gambling as a player, you could face a misdemeanor charge (Section 18-2-326).
If you're on the business side of illegal gambling activity, there are a number of charges you could potentially face under Virginia law. The primary charge for operators is "Conducting illegal gambling operation," which is a felony (Section 18-2-238).
Cheaters face an interesting punishment in Virginia. Get caught cheating at gambling and you could be forced to a pay a fine equal to five to ten times the amount won via the cheating (Section 18-2-327).
Private gambling – commonly referred to as social gambling – is permitted in Virginia per the conditions set forth in Section 18-2-334.
Virginia law allows individual counties to come up with their own laws regarding gambling restrictions. So, players should check with their local law in addition to becoming familiar with state gambling law.
Will Virginia Regulate Online Poker?
It's always tough to put a specific number on a state's chances of regulating online poker. But, with Virginia online poker laws, it is safe to say that regulated online poker in VA is, at best, an underdog. There simply isn't any indication that the state government intends to even look at the issue of legal online gambling. If regulation takes off in bordering states, then Virginia's chances improve. But, they will still likely remain below average for online poker for real money sites.
Virginia Sports Betting
The first months of 2020 saw lawmakers in Virginia debating various sports betting options for the state. They finally decided on a pair of bills – HB896 and SB384 – that passed through both houses of the legislature. Then-Governor Ralph Northam took issue with a few of the components of the bills. He submitted amendments, which the General Assembly passed as well.
After the Virginia Lottery developed a preliminary set of regulations for the new industry, a public comment period began. Adjustments were made, and the final regulatory framework and all of its details allowed the industry to prepare for launch.
The new law made it possible for the Virginia Lottery to issue 19 sports betting licenses, with five of them allocated to land-based casinos for retail sportsbooks and two to sports franchises. And only four licensees could obtain permission to operate as online sportsbooks only, with no attachment to a land-based racetrack or casino. All applicants had to pay $250K to apply for a license and another $250K if approved. Every subsequent three years, each applicant would have to pay $200K to renew its license.
FanDuel was the first to launch an online sportsbook in January 2021, with DraftKings following several days later. In all, Virginians now have more than a dozen sports betting apps available to them.
The aforementioned JLARC report had estimated a mature market revenue bar of $55M per year from sports betting. But the first four months of 2021 produced more than $61M in revenue alone. December 2022 showed more than $50M in revenue for just that month alone from nearly $511M in handle.
In little more than two years since the first sports betting apps launched in Virginia, companies have collected more than $911M in revenue from more than $9.5B in handle. And the state collected more than $90.5M in taxes from those numbers.
Does Virginia Offer any Regulated Online Gambling?
You won't find any Virginia licensed online poker sites or casinos because they don't exist. The state of Virginia does not regulate any forms of Internet-based gambling – and it doesn't look they'll be getting into the business of doing so any time soon.
Virginia Gambling Resources
Virginia Department of Agriculture and Consumer Services . The DACS is responsible for regulating charitable gambling in Virginia. Get all of the facts related to Virginia charitable gambling at the DACS homepage.
Casinos Near the DC Area . This guide from About.com will walk you through all of the casino options in the region surrounding Virginia. While there aren't any casinos in Virginia, there are a number of options that are barely an hour away from most parts of the state.
Virginia Gambling Laws . Complete text of the gambling and charitable gambling law on Virginia's books, along with text of all 50 state laws regarding gambling.
Poker Players from Virginia
The top poker player from Virginia just so happens to be the top-earning poker player in the entire world. Justin Bonomo sits atop the all-time live poker tournament money list with more than $60M in the spring of 2023. While the poker pro started his career decades ago in the online poker world – and still plays online quite a bit – he has made tens of millions of dollars in live poker.
His first WSOP Circuit ring came in 2009 with a Championship Event win for $227K, and he won his first high roller title at EPT Monte Carlo in 2012. Bonomo's first WSOP gold bracelet came in 2014 in a NLHE 6-Handed event, with a second and third in 2018 in the WSOP Heads-Up Championship and the Big One for One Drop. That $1M buy-in WSOP tournament awarded Bonomo $10M for his victory, his largest single win to date. Other wins through the years include high rollers on the PokerGO Tour, European Poker Tour, World Poker Tour, Triton Poker Series, and PokerStars Caribbean Adventure.
No other poker player from Virginia comes close to Bonomo's spot atop the leaderboard, but there are many notables that claim Virginia as home.
These are the Virginia rankings per the Hendon Mob database as of May 2023:
1. Justin Bonomo $60,483,454
2. John Gabe Patgorski $7,832,693
3. John Myung $2,815,019
4. John Gorsuch $2,139,593
5. Leo Wolpert $1,768,647
6. Michael Jukich $1,603,198
7. Phong Than Vip Nguyen $1,491,798
8. Temperance Hutter $1,371,860
9. Adam White $1,186,634
10. Guoliang Chen $1,020,103
All Poker and Gambling Laws by State
Virginia in the News
Lawmakers in Virginia have been considering legalized gambling within its borders for years. Beyond the lottery and a horse racing
Virginia offers little legalized gambling outside of the lottery. There is one horse racing track, Colonial Downs, which is located
In a move that will undoubtedly disappoint many fans of poker in the state of Virginia, the Supreme Court in
Sources & Citations For This Article on Virginia Online Poker