Georgia Gambling & Poker Laws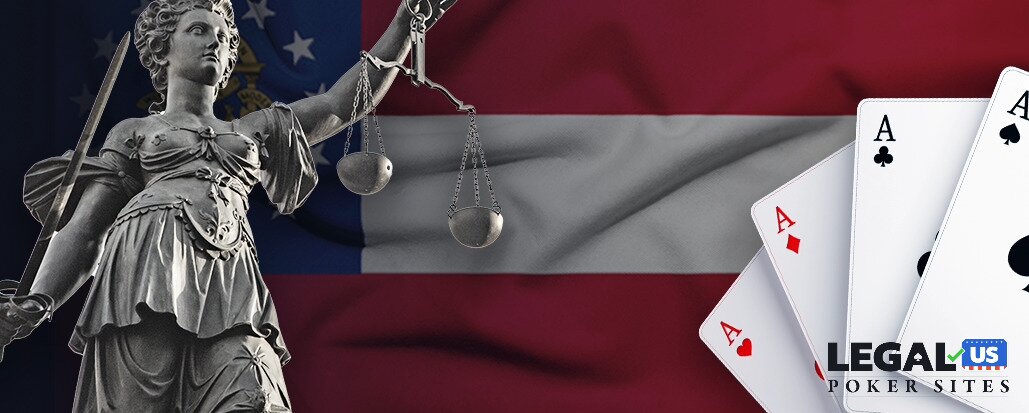 Georgia Online Poker
If you're in Georgia and interested in learning more about how to play online poker from the state, you've found what you're looking for. This comprehensive guide to Georgia and online poker will walk you through the basics of playing at poker sites in GA, provide some context and background regarding the state's general approach to gambling and survey what's ahead for online poker players from Georgia.
If you had to pick one word to describe gambling laws in GA, I would suggest something like "strict."
Without a law on the books that specifically deals with poker games played online, fully understanding Georgia law as it applies to online poker requires the skills of a trained legal professional.
However, if you're only looking for a quick summary of the important parts of Georgia poker law that could pertain to online games, we can help you there.
Yes, you can absolutely play poker online in Georgia. However, it's important to note that playing online poker for real money is currently not legalized in the state. You can have fun playing poker games online in Georgia. But if you want to play for real money, you can do so at the poker rooms listed below!
Top Sites for Online Poker in Georgia
Recent Gambling Happenings in Georgia
Despite Georgia opposing nearly every form of gambling in the last century, the changing times has convinced the state's lawmakers to consider sports betting.
It started in 2019 when members of the Georgia House agreed to consider a piece of legislation. This would have legalized sports betting if taxes would go to an educational fund. This is how the Georgia Lottery works, and lawmakers were willing to think about it. The public would have to end up voting on the proposal and giving their support before it could become legal.
As many predicted, the 2019 bill did not pass. In 2021, Republicans proposed a bill for online sportsbooks, boosting state revenue for things like education. That failed as well.
In 2023, Georgia lawmakers, well-informed about sports betting, saw its popularity, increasing chances of legislation passing. Neighboring states legalized sports betting, compelling Georgia to do the same to remain competitive.
In 2023, two bills sought to legalize sports betting, with regulation under the Georgia Lottery. Then, there were several bills proposing alternative oversight schemes and regulatory framework questions.
Hopes for 2023 legislation were crushed in March when multiple proposals failed to pass in Georgia's legislative session.
As for online poker, there were no attempts to pass legislation in 2023 or any other year.
The only hope for gambling expansion at all came from gubernatorial candidate Stacey Abrams. When she published her policy papers in 2022, she supported sports betting and land-based casinos for Georgia. She proposed that taxes from the gambling industry fund tuition-free education for some college students, need-based aid programs for others, pre-kindergarten and pre-college technology, and mental and behavioral help for gambling addictions.
Abrams lost the November election, though, as did her gambling proposals.
What Forms of Gambling Are Legal in Georgia?
| Type/Code | Summary |
| --- | --- |
| State Code Section(s) | 16.12.2 |
| Definition of Gambling | Gambling: A person commits the offense of gambling when he makes a bet upon the partial or final result of any game or contest or upon the performance of any participant in such game or contest; makes a bet upon the result of any political nomination, appointment, or election or upon the degree of success of any nominee, appointee, or candidate; or plays and bets for money or other thing of value at any game played with cards, dice, or balls. |
| Definition of Bet | Bet: An agreement that, dependent upon chance even though accompanied by some skill, one stands to win or lose something of value. |
| Online Poker/Gambling | With no legal casinos in the state, there has been no interest in attempting to legalize online poker or casino games. |
| Live Poker | There are no live poker rooms in Georgia due to the ban on casinos. |
| Casinos | The state of Georgia passed a law to ban casinos before the federal IGRA law gave Indian tribes the right to offer casino games on their reservations, so no gaming compacts were ever written. |
| Sports Betting | No sports betting proposals have been introduced to Georgia lawmakers. |
| DFS | A House bill to legalize and regulate daily fantasy sports was introduced in 2018 but did not pass. |
| Other Forms of Gambling | Lottery, bingo, charity raffles. |
What Gambling is Legal in Georgia?
There are few types of gambling legal in the state of Georgia, as specified by the state's laws. Those are limited, however, and the language regarding gambling in the Georgia code is sparse and outdated.
Is Online Poker Legal in Georgia?
While some poker sites have elected to leave the US market, there are still literally dozens of sites that will let you play real money poker from Georgia (or nearly any other US state).
Playing poker for money in Georgia is as easy as ordering a DVD from Amazon. Select a room from our list of the top Georgia poker sites. Create an account to play poker for real money on your computer within minutes.
To summarize;
Georgia has a very broad definition of gambling that draws from several distinct parts of the statute. The definition of "bet" and "gambling device" (Section 16-12-20), along with the charge of "gambling" (16-12-21) combine to create a definition of gambling that includes betting on just about any game or event you can imagine.
Poker appears to be included in the definition, as the offense of "gambling" includes betting anything of value on games played with "cards, dice or balls."
It is a misdemeanor to engage in unregulated gambling in Georgia (16-12-21).
Georgia law also prohibits transmitting information related to bets (16-12-28). Due to lack of relevant case law, it is unclear whether this aspect of Georgia law could apply to playing poker, which does potentially involve information related to bets (as defined under Georgia law)
Georgia anti-gambling law has a lot more to say about the penalties for operating an unregulated gambling business, but the above points are probably the most relevant to a typical poker player trying to get a handle on the basics of online poker and Georgia law.
Will Georgia Regulate Online Poker?
Of all the states in the union, Georgia is probably one of the least likely to regulate online poker (or any form of online gambling). Political and public resistance makes gambling expansion challenging, and online gambling may encounter even stronger opposition than land-based casinos.
The one avenue for regulated online poker in Georgia is if a majority of states adopt online poker under a federal regulatory regime.
In that scenario, online poker would become something similar to the lottery – generally tolerated by the public and viewed as a financial boon by the states.
However, even this scenario is unlikely, especially given the high legislative bar for gambling expansion in Georgia's constitution.
Gambling Facts
The state of Georgia has historically taken a conservative approach to gambling. To give you some idea of how the state approaches regulated gambling, consider the fact that the Georgia state lottery wasn't even created until 1992 – several decades after other US states had adopted the format.
Despite the popularity of the lotto and other forms of gambling – like online poker -in Georgia, the precedent set by state government has been to approach gambling expansion slowly, cautiously and warily.
Regulated Gambling Options in Georgia
That attitude on the part of both governments and residents has resulted in a pretty meager line up of regulated gambling outlets for those inside Georgia's borders.
Limited charitable gambling and the state lottery are the sole entrants on Georgia's list of choices for regulated gambling.
Does Georgia Offer any Online Gambling?
No – the state of Georgia does not regulate online gambling of any type. That means there aren't any online poker sites or online casinos that can claim to be regulated by Georgia – instead, their license will have been issued by some other government.
Georgia & The Game of Poker
For many years, Josh Arieh was the top money earner in Georgia's stable of tournament poker players. He has been in the poker world for decades, winning his first World Series of Poker gold bracelet in 1999. He earned his second in 2005, just one year after final tabling the WSOP Main Event and finishing third for $2.5M.
While Arieh took a break from serious competition for a number of years, he returned recently, earned two bracelets at the 2021 WSOP, when he won two bracelets and became the WSOP Player of the Year. This year, he earned his fifth career bracelet. All of his earnings through mid-June 2023 catapulted him closer to $11.5M in live tournament earnings to date.
Arieh held the top position on the Georgia all-time money list for years…until Georgian Cary Katz began racking up high roller tournament wins and final tables.
Katz is a familiar name to many in poker, as he was the original owner of Poker Central (which is now PokerGO). Katz originally played in medium buy-in tournaments from the poker boom forward, and he won a number of tournaments at festivals in Las Vegas, where he lived after Georgia. But when Poker Central began to rise in prominence in the poker world, focusing on high-stakes tournaments, Katz decided that he would play.
Eventually leaving his leadership role at what turned into PokerGO, Katz became a regular in high roller tournaments. He started winning them in 2014 and continued to improve in those fields through the years. He quickly surpassed everyone on the Georgia leaderboard, including Arieh, to take the top spot.
Per the Hendon Mob, these are the top ten live tournament earners from Georgia through mid-June 2023:
1. Cary Katz $38,403,347
2. Josh Arieh $11,276,739
3. Tony Lin $5,747,822
4. David Bach $4,363,216
5. George Holmes $4,3350,855
6. Daniel Weinman $3,756,348
7. Jason DeWitt $3,278,022
8. William Baxter $2,738,459
9. Jeff Williams $2,228,800
10. John Roveto Sr. $1,650,793
Poker and Gambling Laws by State
Georgia in the News
Most people did not have Georgia on their list of states that could legalize casino gambling and sports betting. Yet,
Las Vegas sportsbooks are split on whether to refund gamblers who bet on Dustin Johnson to win the 2017 Masters
The Powerball jackpot on Wednesday, February 22 will be the 10th-largest in the multistate lottery's history. The jackpot for the
Sources & Citations For This Article on Georgia Online Poker