PokerStars to Celebrate 13 Years of Sunday Millions
By
March 15th, 2019 | Last updated on March 15th, 2019
Home
»
Poker News
»
PokerStars to Celebrate 13 Years of Sunday Millions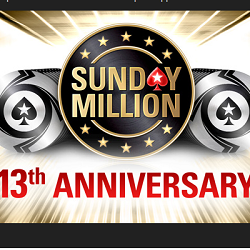 It is one of the longest running tournaments in the history of online poker, and it is arguably the most well-known of them all. The Sunday Million is the tournament that every player wants to win in their poker careers, one that holds prestige that few others do.
PokerStars celebrates each anniversary of its flagship tournament with a special guarantee and extra online satellites. This year is no different.
On April 14, PokerStars will hold its 13th anniversary edition of the Sunday Million, complete with a $10 million prize pool guarantee, out of which $1 million will be reserved for the winner.
Satellites are already running, so let's get to the details.
13th Anniversary Tournament
On Sunday, April 14, the special Sunday Million will get underway at 13:00ET. As mentioned, the prize pool will offer a $10 million guarantee, and at least $1 million of that will be going to the winner.
It is important to note that the buy-in for the 13th anniversary Sunday Million will be $215, despite the buy-in for the tournament having been reduced recently. As of January 27, the Sunday Million buy-in was cut in half to $109 on a permanent basis, but this special Sunday Million seems to be raising the price to its original level for this tournament only.
Featuring the (temporary?) return of the $215 buyin. https://t.co/4AmRtp7tRr

— Kevin Mathers (@Kevmath) March 15, 2019
When the very first Sunday Million was held on March 6, 2006, there were 5,893 players and a total prize pool of $1,178,600. The winner was "aaaaaaaa" from Canada, and that person won $173,843.50. Since then, more than 600 Sunday Millions have been held, and more than $750 million has been awarded as a result.
Every year, the Sunday Million has offered an anniversary special, and for many of those years, the guarantees increased. For example, there was an $8 million prize pool guarantee for the eighth anniversary, $9 million for the ninth, and $10 million for the tenth. Since then, the guarantee has stayed at $10 million and remains so for this 13th anniversary next month.
The Stars Group Director of Poker Innovation and Operations Severin Rasset commented, "We're thrilled to be a part of this poker milestone, but the credit goes to all of the poker lovers out there who have made the Sunday Million happen nearly every week for the past 13 years, so we hope to see them at the tables on April 14."
Next month the @PokerStars Sunday Million celebrates its 13th Anniversary ? with a $10 million guaranteed event. $1 million of that will go to the winner ?

Plus you can qualify for as little as $0.90. Check out the details…https://t.co/zG0KpZsuk7

— PokerStarsBlog (@PokerStarsBlog) March 15, 2019
Bargain Entries
Satellites are already available on PokerStars with buy-ins as low as $0.90. Starting on March 25, there will be daily satellites that cost $15 to enter but guarantee 100 seats.
Another way to win a seat requires less skill but does offer a shot at a Sunday Million seat. Starting next week, special Spin & Go tournaments cost will only $5 to enter but offer top prizes of $1 million. Each Spin & Go has a one in 10 million chance of offering a $1 million prize pool, but the chances of winning a $215 Sunday Million seat for the anniversary tournament are 100,000 in 10 million. There are even more chances of winning $15 or $22 Sunday Million satellite tickets.
Related Articles