Hawaii Poker & Gambling Laws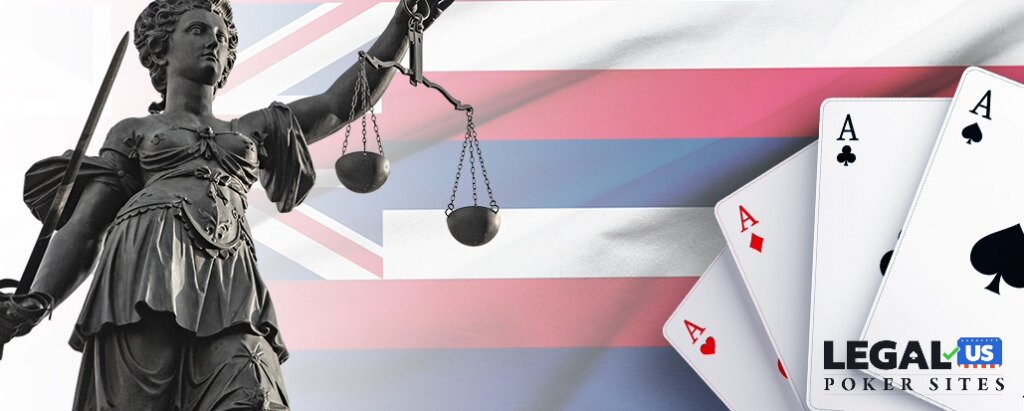 Hawaii may not have been swept up in the online poker boom like some states, but there are still tens of thousands of Hawaiians who have tried their luck at online poker in Hawaii. Even today, Hawaii and online poker continue to be a great match, with hundreds of new players signing on to play cash games and tournaments online.
If you have questions about how to join them, read on for more about online poker and the law in Hawaii. Learn how gambling is approached by the government in Hawaii. Plus, an index of credible resources that will help you learn all you ever wanted to know about Hawaii and where to play online poker.
In Hawaii, you can indeed play poker online. However, it's crucial to emphasize that the state hasn't legalized any gambling forms, online or land-based poker, or sports betting. Nevertheless, many players in Hawaii choose to engage in online poker on offshore poker sites. These are not regulated by the state but are accessible to residents.
Top Sites for Online Poker in Hawaii
Is Gambling / Poker Legal in Hawaii?
| Type/Code | Summary |
| --- | --- |
| State Code Section(s) | 5.37.712.1220-1231 |
| Definition of Gambling & Player | Gambling: A person engages in gambling if he stakes or risks something of value upon the outcome of a contest of chance or a future contingent event not under his control or influence, upon an agreement or understanding that he or someone else will receive something of value in the event of a certain outcome. Player: A person who engages in gambling solely as a contestant or bettor. |
| Definition of Contest of Chance | Any contest, game, gaming scheme, or gaming device in which the outcome depends in a material degree upon an element of chance, notwithstanding that skill of the contestants may also be a factor therein. |
| Online Poker/Gambling | There are no laws specifically referencing online poker, but the few lawmakers who have attempted to legalize it have been met with no support whatsoever. |
| Live Poker | There are no live poker rooms in Hawaii. |
| Casinos | Hawaiian legislators have discouraged all talk of casinos. |
| Sports Betting | A bill introduced to the House in January 2017 proposed a study of sports betting, but the bill never advanced. |
| DFS | A Senate bill in 2018 to legalize daily fantasy sports did not pass. |
| Other Forms of Gambling | Social gambling is legal if not in public or a business, no rake is taken, and no one receives anything other than winnings. |
Establishing a State Lottery
In 2016 alone, 15 gaming bills were proposed in the Hawaii State Legislature. Most of the bills pass their first reading and one is still being considered. Three of these bills (HB 1830, HB 2536, and SB 2626) involved legalization of a state lottery.
Fantasy Sports Bills
Three bills (HB 2111, SB 2429, and B2722) involve fantasy sports in Hawaii. Of these, two of the bill seek to make fantasy sports illegal in Hawaii. A third bill would regulate the DFS industry. Ironically, the same senator sponsored a bill to ban fantasy sports and regulate it: Democrat Gilbert Keith-Agaran.
Hawaii State Horse Racing Board
SB 1373 would establish a PILOT for horse racing in Hawaii, while establishing a State Horse Racing Board. The seven senators who sponsored the bill were Donovan Dela Cruz, Brickwood Galuteria, Kaiali'i Kahele, Michelle Kidani, Clarence Nishihara, Maile Shimabukuro, and Gilbert Keith-Agaran. In a 25-member senate, a bill sponsored by 7 members has a pretty good chance of passing.
Slot Machines in Airports
HR 71, sponsored by Cindy Evans, would legalize "amusement concessions" in airports. Essentially, slot machines would be placed in Hawaii's airports, which would target tourists and business travelers from out-of-state. Most gamblers know that airport slots have the worst odds of all. Terminals have such a high turnover of customers; you don't really need to build a loyal customer base.
If HR 71 passed, the revenues generated would go into the airport revenue fund. Representative Evans's bill was carried over from the 2015 legislative session, but it did not appear to have received enough support to go to the floor of the house.
Many bills focused on tax relief for out-of-state winnings and addressing gambling offenses through nuisance abatements. While lawmakers appeared active on gambling-related matters, few proposals neared passage. Hawaii remains, alongside Utah, one of only two states with a 100% ban on gambling.
Illegal Card Games, Sports Bets, and Cockfighting
Illegal gambling is another matter. Roman Kalinowski, the senior staff writers for the Ka Leo Hawai'i, the campus newspaper for the University of Hawai'i Manoa, wrote in 2015 that "cockfighting, sports betting, video gambling machines and backroom card games are available to locals and tourists willing to track them down."
Mr. Kalinowski's assertion was in an opinion piece, but a look through old stories on Legal US Poker Sites gives an indication the student writer is right. A number of illegal gambling rings have been busted in the past 3 years. Some of those rings have been for tens of millions of dollars of cash. Those gaming rings involved sophisticated online betting tools, as well.
Sumner LaCroix, an economics professor at University of Hawai'i at Manoa, said that the prohibition has led to a significant underground economy. Estimates range that underground gaming in Hawaii might involve $700 million to $7 billion of action per year, or between 1% and 10% of Hawaii's GDP.
As recently as 2014, the Director of Research for Gambling Compliance, Chris Krafcik, predicted Hawaii's legislature would consider legalizing online gambling. Nothing happened in 2014, but experts continue to believe Hawaii might one day legalize some forms of gambling. Hawaiian residents most often mention a state lottery as a starting place.
Playing Online Poker in Hawaii
When we say legal poker sites in HI, we're referring to sites with a proper license issued by a qualified regulatory body. If you play on other sites, you're risking your bankroll. That's why we only list legit poker rooms in our picks for Hawaiian poker sites. Then we dwindle that group to include just the top rooms with the best bonuses and promotions.
What Sites Take Poker Players From Hawaii Online?
You can play on almost all online poker rooms in Hawaii. This does not include rooms that don't accept any players from the US. But, all poker sites that let American players participate in real money games also take players from Hawaii. Players from states like New York and Washington aren't as fortunate. They face sign up restrictions at most sites, but poker players from Hawaii are welcome at rooms across the net.
Online Poker Laws in Hawaii
With no case law concerning online poker or any record of arrests related to playing online poker, it's difficult to reach a final conclusion on the legality of online poker in Hawaii. If you're playing online poker in Hawaii and want to understand how state law might impact you, we've developed this brief overview of the most important parts for online poker players.
Note: Players should always seek professional legal help for anything other than casual questions regarding the law.
Hawaiian law takes a simple and clear position on gambling: None is legal in the state. As a result, the definition of gambling employed in state becomes very important.
The definition of gambling (Section 712-1220(1)) is a pretty standard one and involves any bet of something of value upon what the law calls a "contest of chance."
Some might argue that poker is not a contest of chance, and that may well be true in the general sense. Hawaiian law, however, has a specific definition of contest of chance that appears to encompass poker:
"any contest, game, gaming scheme, or gaming device in which the outcome depends in a material degree upon an element of chance, notwithstanding that skill of the contestants may also be a factor therein" (Section 712-1220(3))
Engaging in gambling (as defined by Hawaiian law) is a misdemeanour offence (Section 712-1223).
Social gambling (and home poker games) are legal (Section 712-1231). But, only under very strict conditions that would seem to preclude online poker from finding shelter under the exemption.
Chances of Regulating Online Poker in Hawaii
As you probably have guessed by now, there's little in Hawaii's history that suggests the state is a likely candidate to regulate online poker. Due to the law's stringent stance against gambling, regulating online poker in Hawaii would encounter significant obstacles.
Unfortunately, local influence in regulation is crucial for developing trustworthy and enjoyable online poker rooms. The Hawaiian government lacks interest in providing residents with a locally licensed and legal online poker option, despite its advantages.
Quick Background for Hawaiian Gambling
Gambling seems popular in Hawaii.  Many of the news articles discussing Hawaii and gambling claim that Las Vegas is known as the "ninth island" of Hawaii.  We cannot confirm the claim's accuracy, but it doesn't appear far-fetched for a region with deep gambling traditions.
For example, horse racing was once the dominant form of entertainment among the Hawaiian elite. In fact, nearly a dozen race tracks called Hawaii home during the late 1800s and early 1900s. That trend died out in the 1950s, and with it went the last remnants of regulated gambling in Hawaii. Today, Hawaii is one of just two US states (along with Utah) that offer absolutely no regulated gambling.
Hawaii's Regulated Gambling Industry
As Hawaii does not have any regulated gambling, there's little to say on this score.
Hawaii's Regulated Online Gambling Industry
Online gambling is also not regulated in any way by the government of Hawaii.  The state did take some steps toward passing an online gambling bill in 2010. But, that effort stalled and the prospects for regulated online gambling in Hawaii within the next few years seem slim at best.
Useful Sites for Hawaii Gambling Research
FindLaw: Hawaiian Gambling Law Overview – Guide to the basics of Hawaiian gambling law along with links to legal synopsis to all 50 states (not poker-specific).
History of Hawaiian Horse Racing – An in-depth look at the legal, social and cultural history of horse racing in Hawaii. Covers recent legislative attempts to bring legal betting to the state's tracks.
Gambling in Hawaii and Utah – Scholarly paper from the Gaming Law Review and Economics journal. Covers the history and development of gambling in the only two states (Hawaii and Utah) that have no forms of regulated gambling whatsoever.
Hawaii's Role in Poker's Development
Relatively isolated from the rest of the United States and lacking a develop gambling industry, Hawaii has played a minor role in the history of poker. The state produced no World Series of Poker champions in 2012, and no poker players of national note (that we could uncover) hail from Hawaii. The one link from the newest US state to one of the oldest US games: Wikipedia claims that "Hawaii" is a hand nickname for QJ – because if you play it too much, you'll end up losing about what a vacation to the islands costs.
All Poker and Gambling Laws by State
Hawaii in the News
When 2022 began, we took a look at the various states with the potential to legalize online poker and other
There are only two states out of the 50 in America with no legalized gambling: Utah and Hawaii. The former
When a construction worker at a Saipanese casino development died on site in late March, U.S. investigators raided the construction
Sources & Citations For This Article on Hawaii Online Poker