Summer in Vegas Offers Many Live Poker Options
By
May 26th, 2019 | Last updated on April 11th, 2021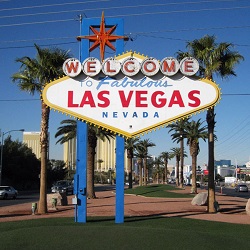 It starts this week. The summer poker season doesn't have an official start date, but the majority of live poker tournament series in Las Vegas get underway this week.
The leader of the pack is the World Series of Poker. Whether players head to Vegas to play WSOP events or not, poker rooms around town launch their own tournament options to compete with the WSOP. Essentially, the summer poker season is built around it.
Every bit of it benefits the poker player. The level of competition to draw players to various poker rooms has reached new levels, as series schedules are released months ahead of the Memorial Day influx of players. They all try to offer more variety in terms of game choices and buy-in ranges, and many of them now put prize pool guarantees on their events.
Poker players – whether recreational or professional or somewhere in between – now have eight prominent poker tournament series from which to choose for a summer in Las Vegas.
World Series of Poker
The 50th Annual WSOP was the first to begin releasing tournament details in December 2018, and the final schedule has been complete for several months now.
Here is the link for the entire schedule, complete with all pertinent information, including structure sheets. It's a sortable schedule by date, game type, buy-in, and even searchable by keywords.
Start date:  Wednesday, May 29

End date:  Tuesday, July 16

Events:  89

Location:  Rio All-Suite Hotel & Casino

Official schedule link:  http://www.wsop.com/tournaments/
Goliath Phamous Poker Series
As a sister property to the Rio, courtesy of Caesars, Planet Hollywood likely coordinated its schedule with the WSOP. Ironically, though, it was the last one of the eight poker rooms to release its summer options.
Planet Hollywood's poker room doesn't have a unique website of which to speak, but there is a schedule on a Google drive, though no structures are available.
Start date:  Tuesday, May 28

End date:  Thursday, July 11

Events:  67

Location:  Planet Hollywood
ARIA Poker Classic
The Aria was the first to put out a complete summer schedule after the WSOP. It has become a regular central poker location for players of all bankrolls, seemingly replacing the Bellagio as the place to be for cash games and daily tournaments. And ARIA staff wants it to be the prime alternative for WSOP players.
There are no event numbers or structures posted on the website, but the basic information is available.
Start date:  Sunday, June 2

End date:  Sunday, July 14

Events:  65

Location:  Aria

Official schedule link:  https://aria.mgmresorts.com/en/casino/poker.html#/Tournaments
Summer Poker Series
The Orleans may be a bit off the Las Vegas Strip, but it has long been a favorite poker room of locals and visitors alike. The staff spreads a variety of games in the spacious poker room, and it released a substantial schedule for poker events this summer.
The casino's website has a section for its poker room, complete with daily options and links to the tournament schedule and structures.
Start date:  Tuesday, May 28

End date:  Sunday, July 7

Events:  76

Location:  The Orleans

Official schedule link:  https://static.boydgaming.net/orleanscasino10/media/downloads/2019%20Orleans%20Summer%20Schedule.pdf
Binion's Summer Poker Series
The downtown area of Las Vegas is merely a bus ride or cab away from the Strip, and there are two major poker rooms there offering summer tournaments. Binion's announced its series back in March.
The Binion's website does have a page dedicated to its poker room and one especially for this series, and each event is clickable to obtain its structure.
Start date:  Saturday, June 1

End date:  Monday, July 1

Events:  15

Location:  Binion's

Official schedule link: http://www.binions.com/gaming/summer_poker_series.php
Grand Poker Series
The Golden Nugget is the other tournament option in the downtown area of Las Vegas this summer, and it offers a much more diverse series. It released the information back in March, one of the first to do so.
There is a special page on the Golden Nugget website with links to the tournament series and a separate link for its structures.
Start date:  Tuesday, May 28

End date:  Monday, July 8

Events:  93

Location:  Golden Nugget

Official schedule link:  https://www.goldennugget.com/contentassets/313f19219fd740bbb31a41f74d1afe19/2019-gps-schedule.pdf
Wynn Summer Classic
The Wynn has grown its poker offerings significantly in the past several years, and it is likely to attract big crowds again in 2019. The Wynn Summer Classic was one of the last Vegas poker rooms to announce its schedule for this year.
Wynn has its own website for poker and a page for the summer series.
Start date:  Thursday, May 30

End date:  Tuesday, July 16

Events:  43

Location:  Wynn

Official schedule link:  http://wynnpoker.com/wynn_classic.cfm
DeepStack Poker Series
And finally, the Venetian has its signature summer offering on tap. For those who can get over the casino's ownership by Sheldon Adelson, the schedule for the DeepStack Poker Series is massive and offers everything a player would want in a tournament series. The action started weeks ago, and it won't wrap up until the other casinos have gone back to their daily tournaments.
As usual, the Venetian's poker room has a website with all pertinent information about the series, including a link to structures.
Start date:  Monday, May 13

End date:  Sunday, July 28

Event:  136

Location:  The Venetian

Official schedule link:  https://www.venetian.com/content/dam/venetian/casino/poker/deepstack/2019/DSCPS_2019-Schedule.pdf
Please bookmark the following link if you wish to be kept updated about the 2019 Las Vegas Summer Poker Tournament Schedule. https://t.co/rw0Llm0LmQ @Kevmath

— Kenny Hallaert (@SpaceyFCB) December 20, 2018
Related Articles