Orleans Las Vegas Announces Summer Poker Series Schedule
By
March 31st, 2019 | Last updated on March 31st, 2019
Home
»
Poker News
»
Orleans Las Vegas Announces Summer Poker Series Schedule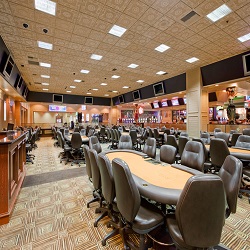 It may not be on the Las Vegas Strip, but the Orleans in Sin City is one of the most popular casinos for poker. The poker room is spacious and a longtime favorite for grinders and tourists alike.
The Orleans' poker room didn't waste much time in releasing the schedule for its 2019 Summer Poker Series. The tournaments will run most of the length of the World Series of Poker and offer alternatives for players in town for the WSOP.
The first out with its summer series was the WSOP, which finalized its full schedule – including online poker events – in February. A few weeks later, the ARIA poker room offered up a healthy alternative (or complementary) series, and the Golden Nugget did the same for its Grand Poker Series.
Today, we add the Orleans Summer Poker Series to the list of summer poker options in Las Vegas.
Orleans Prepares for Summer
With 35 tables, the Orleans' poker room is a locals' favorite for cash games, as it spreads an array of games, including Hold'em, Omaha, and Stud, all with variations per customer requests.
Each summer, a series of tournaments is offered for locals and Vegas visitors. The 2019 listing includes guarantees for nearly every tournament, including a $200K guarantee for its championship event. There are also partnerships in place to offer events in conjunction with the Senior Poker Tour and the Ladies International Poker Series (LIPS).
2019 Summer Poker Series Schedule
May 28 at 11am:  $150 Super Stack NLHE ($10K GTD)

May 28 at 6pm:  $150 PLO ($10K GTD)

May 29 at 11am:  $150 Omaha-8/Stud-8 ($10K GTD)

May 29 at 6pm:  $150 8-Game Mix ($10K GTD)

May 30 at 11am:  $250 Triple Draw Mix ($20K GTD)

May 30 at 6pm:  $150 Omaha-8 ($10K GTD)

May 31 at 11am:  $150 Super Stack NLHE ($15K GTD)

May 31 at 6pm:  $130 Friday Night NLHE ($20K GTD)

June 1 at 11am:  $400 Omaha-8 Championship ($50K GTD)

June 1 at 6pm:  $200 Short Deck NLHE ($20K GTD)

June 2 at 11am:  $400 HORSE Championship ($50K GTD)

June 2 at 6pm:  $200 ROSE ($20K GTD)

June 3 at 11am:  $150 NLHE ($25K GTD)

June 3 at 6pm:  $150 Omaha-8/Stud-8 ($15K GTD)

June 4 at 11am:  $150 NLHE ($25K GTD)

June 4 at 6pm:  $150 PLO ($15K GTD)

June 5 at 11am:  $150 NLHE ($25K GTD)

June 5 at 6pm:  $150 Dealer's Choice ($10K GTD)

June 6 at 11am:  $150 NLHE ($25K GTD)

June 6 at 6pm:  $150 Omaha-8 ($15K GTD)

June 7 at 11am:  $300 Big Bet Mix ($25K GTD)

June 7 at 6pm:  $130 Friday Night NLHE ($20K GTD)

June 8 at 11am:  $400 8-Game Mix Championship ($50K GTD)

June 8 at 6pm:  $250 Big Bounty NLHE ($15K GTD)

June 9 at 11am:  $400 Stud Mix Championship ($50K GTD)

June 9 at 6pm:  $150 HORSE ($15K GTD)

June 10 at 11am:  $150 NLHE ($25K GTD)

June 10 at 6pm:  $150 Omaha-8/Stud-8 ($15K GTD)

June 11 at 11am:  $150 NLHE ($25K GTD)

June 11 at 6pm:  $150 PLO-8 ($15K GTD)

June 12 at 11am:  $150 NLHE (425K GTD)

June 12 at 6pm:  $150 8-Game Mix ($10K GTD)

June 13 at 11am:  $150 NLHE ($25K GTD)

June 13 at 6pm:  $150 Omaha-8 ($15K GTD)

June 14 at 11am:  $300 Triple Draw Mix ($25K GTD)

June 14 at 6pm:  $130 Friday Night NLHE ($20K GTD)

June 15 at 11am:  $400 Seniors Poker Tour Championship NLHE

June 15 at 6pm:  $200 Triple Stud Mix ($20K GTD)

June 16 at 1pm:  $400 PLO Championship ($50K GTD)

June 16 at 6pm:  $150 HORSE ($15K GTD)

June 17 at 11am:  $150 NLHE ($25K GTD)

June 17 at 6pm:  $150 Omaha-8/Stud-8 ($15K GTD)

June 18 at 11am:  $150 NLHE ($25K GTD)

June 18 at 6pm:  $200 LIPS NLHE Shootout

June 20 at 11am:  $150 NLHE ($25K GTD)

June 20 at 6pm:  $150 Omaha-8 ($15K GTD)

June 21 at 11am:  $300 LIPS NLHE Championship Day 1A

June 21 at 6pm:  $130 Friday Night NLHE ($20K GTD)

June 22 at 11am:  $300 LIPS NLHE Championship Day 1B

June 22 at 6pm:  $250 Big Bounty PLO ($15K GTD)

June 23 at 1pm:  $400 PLO-8 Championship ($50K GTD)

June 23 at 6pm:  $150 HORSE ($15K GTD)

June 24 at 11am:  $150 NLHE ($25K GTD)

June 24 at 6pm:  $150 Omaha-8/Stud-8 ($15K GTD)

June 25 at 11am:  $150 NLHE ($25K GTD)

June 25 at 6pm:  $150 PLO ($15K GTD)

June 26 at 11am:  $150 NLHE ($25K GTD)

June 26 at 6pm:  $150 Triple Draw mix ($10K GTD)

June 27 at 11am:  $150 NLHE ($25K GTD)

June 27 at 6pm:  $150 Omaha-8 ($15K GTD)

June 28 at 11am:  $300 Omaha-8 Mix ($25K GTD)

June 28 at 6p:  $130 Friday Night NLHE ($20K GTD)

June 29 at 11am:  $400 NLHE Championship Flight 1A ($200K GTD)

June 29 at 6pm:  $400 NLHE Championship Flight 1B ($200K GTD)

June 30 at 11am:  $400 NLHE Championship Flight 1C ($200K GTD)

June 30 at 6pm:  $150 HORSE ($15K GTD)

July 1 at 6pm:  $150 Omaha-8/Stud-8 ($15K GTD)

July 2 at 11am:  $150 NLHE ($25K GTD)

July 2 at 6pm:  $150 PLO ($15K GTD)

July 3 at 11am:  $150 NLHE ($25K GTD)

July 3 at 6pm:  $150 8-Game Mix ($10K GTD)

July 4 at 11am:  $150 NLHE ($25K GTD)

July 4 at 6pm:  $150 Omaha-8 ($15K GTD)

July 5 at 11am:  $200 PLO ($20K GTD)

July 5 at 6pm:  $130 Friday Night NLHE ($20K GTD)

July 6 at 11am:  $150 Super Stack NLHE ($15K GTD)

July 6 at 6pm:  $250 Big Bounty NLHE ($15K GTD)

July 7 at 11am:  $150 Super Stack NLHE ($15K GTD)

July 7 at 6pm:  $150 HORSE ($15K GTD)
It's finally here…….. The Orleans Poker Room is happy to announce our schedule for the 2019 Orleans Summer Poker Series!!! Structures and additional information will all be posted in days to come. We're looking forward to a great summer of poker! pic.twitter.com/7ueUa2XJ3e

— OrleansPokerRoom (@OrleansPokerRo1) March 28, 2019
Related Articles