Golden Nugget Releases Grand Poker Series Schedule
By
March 21st, 2019 | Last updated on March 21st, 2019
Home
»
Poker News
»
Golden Nugget Releases Grand Poker Series Schedule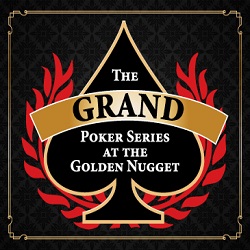 The summer of poker is approaching quickly, as only about two months now stand between poker players and a plethora of live poker action in Las Vegas.
The World Series of Poker begins at the end of May with nearly 100 live and online tournaments for players in Nevada. And the ARIA Las Vegas recently announced its ARIA Poker Classic schedule, complete with more than 50 tournaments daily from June 2 to July 14.
Now, the Golden Nugget in the downtown area of Las Vegas has released its summer schedule of live tournaments as well. The Grand Poker Series will start one day before the WSOP and run through the first week of July, with a range of buy-ins that will appeal to low-stakes to mid-stakes poker players.
The Grand Poker Series 2019
The entire series has been released via social media, though the details are not yet available on the Golden Nugget's website.
GRAND POKER SERIES 2019 SCHEDULE

For special hotel rates call 800.634.3454 and use code: POKER19 pic.twitter.com/u4GVNz6Fnr

— GNLV Poker (@GNLVpoker) March 9, 2019
According to the postings on Twitter and Facebook, there are more than 90 tournaments listed, and their combined guarantees exceed $3 million. The majority of the events require buy-ins of less than $300 and guarantees go as high as $600K. The highest buy-in of them all is $1,000 for the Seniors High Roller event, but that is an exception to the general buy-in level.
All 93 Events
The schedule is as follows:
May 28 at 11am:  Event 1 – $250 Omaha Hi-Lo ($10K GTD)

May 28 at 1pm:  Event 2 – $150 NLHE ($10K GTD)

May 28 at 7pm:  Event 3 – $120 NLHE

May 29 at 11am:  Event 4 – $250 HORSE ($10K GTD)

May 29 at 1pm:  Event 5 – $150 NLHE ($10K GTD)

May 29 at 7pm:  Event 6 – $120 NLHE

May 30 at 10am:  Event 7 – $250 Mixed Triple Draw Lowball ($10K GTD)

May 30 at 11am:  Event 8 – $200 NLHE Day 1A ($300K GTD)

May 30 at 3pm:  $200 NLHE Day 1B ($300K GTD)

May 30 at 7pm:  $200 NLHE Day 1C ($300K GTD)

May 31 at 11am:  $200 NLHE Day 1D ($300K GTD)

May 31 at 3pm:  $200 NLHE Day 1E ($300K GTD)

May 31 at 7pm:  $200 NLHE Day 1F ($300K GTD)

June 1 at 11am:  $200 NLHE Day 1G ($300K GTD)

June 1 at 3pm:  $200 NLHE Day 1H ($300K GTD)

June 1 at 7pm:  $200 NLHE Day 1I ($300K GTD)

June 2 at 11am:  Event 9 – $250 Omaha/Stud Hi-Lo Mix ($20K GTD)

June 2 at 1pm:  Event 10 – $150 NLHE ($25K GTD)

June 2 at 7pm:  Event 11 – $120 NLHE ($5K GTD)

June 3 at 11am:  Event 12 – $250 PLO/O8/Big O Mix ($20K GTD)

June 3 at 1pm:  Event 13 – $150 NLHE ($25K GTD)

June 3 at 7pm:  Event 14 – $120 NLHE ($5K GTD)

June 4 at 11am:  Event 15 – $250 Big O ($20K GTD)

June 4 at 1pm:  Event 16 – $150 NLHE ($25K GTD)

June 4 at 7pm:  Event 17 – $120 NLHE ($5K GTD)

June 5 at 11am:  Event 18 – $250 Omaha Hi-Lo ($10K GTD)

June 5 at 1pm:  Event 19 – $150 NLHE ($25K GTD)

June 5 at 7pm:  Event 20 – $120 NLHE ($5K GTD)

June 6 at 10am:  Event 21 – $250 8-Game Mix ($10K GTD)

June 6 at 11am:  Event 22 – $200 NLHE Ultimate Reentry Day 1A ($250K GTD)

June 6 at 3pm:  $200 NLHE Ultimate Reentry Day 1B ($250K GTD)

June 6 at 7pm:  $200 NLHE Ultimate Reentry Day 1C ($250K GTD)

June 7 at 11am:  $200 NLHE Ultimate Reentry Day 1D ($250K GTD)

June 7 at 3pm:  $200 NLHE Ultimate Reentry Day 1E ($250K GTD)

June 7 at 7pm:  $200 NLHE Ultimate Reentry Day 1F ($250K GTD)

June 8 at 11am:  $200 NLHE Ultimate Reentry Day 1G ($250K GTD)

June 8 at 3pm:  $200 NLHE Ultimate Reentry Day 1H ($250K GTD)

June 8 at 7pm:  $200 NLHE Ultimate Reentry Day 1I ($250K GTD)

June 9 at 11am:  Event 23 – $250 Stud Hi-Lo ($10K GTD)

June 9 at 1pm:  Event 24 – $150 NLHE ($25K GTD)

June 9 at 7pm:  Event 25 – $120 Cheap and Deep NLHE

June 10 at 11am:  Event 26 – Bar Poker Open Championship Invitational Day 1A

June 10 at 1pm:  Event 27 – $150 NLHE ($25K GTD)

June 10 at 7pm:  Event 28 – $200 Tag Team NLHE

June 11 at 11am:  Bar Poker Open Championship Invitational Day 1B

June 11 at 1pm:  Event 29 – $150 NLHE ($250K GTD)

June 11 at 7pm:  Event 30 – $120 Green Chip Bounty NLHE

June 12 at 11am:  Bar Poker Open Championship Invitational Day 1C

June 12 at 1pm:  Event 31 – $150 NLHE ($25K GTD)

June 12 at 7pm:  Event 32 – $120 NLHE ($5K GTD)

June 13 at 11am:  Event 33 – $100 PLO

June 13 at 1pm:  Event 34 – $150 NLHE ($25K GTD)

June 13 at 7pm:  Event 35 – $120 NLHE ($5K GTD)

June 14 at 11am:  Event 36 – $250 Short Deck ($5K GTD)

June 14 at 1pm:  Event 37 – $200 NLHE ($50K GTD)

June 14 at 7pm:  Event 38 – $120 NLHE ($5K GTD)

June 15 at 10am:  Event 39 – $250 Seniors NLHE ($100K GTD)

June 15 at 1pm:  Event 40 – $150 NLHE ($25K GTD)

June 15 at 3pm:  Event 41 – $1,000 Seniors High Roller

June 15 at 7pm:  Event 42 – $120 NLHE ($5K GTD)

June 16 at 10am:  Event 43 – $400 Seniors NLHE Championship ($100K GTD)

June 16 at 1pm:  Event 44 – $150 NLHE ($25K GTD)

June 16 at 7pm:  Event 45 – $120 NLHE ($5K GTD)

June 17 at 11am:  Event 46 – $250 Seniors Omaha Hi-Lo ($10K GTD)

June 17 at 1pm:  Event 47 – $150 NLHE ($25K GTD)

June 17 at 7pm:  Event 48 – $120 NLHE ($5K GTD)

June 18 at 10am:  Event 49 – $250 Super Seniors NLHE ($100K GTD)

June 18 at 1pm:  Event 50 – $150 NLHE ($25K GTD)

June 18 at 7pm:  Event 51 – $120 NLHE ($5K GTD)

June 19 at 11am:  Event 52 – $150 Ladies NLHE ($10K GTD)

June 19 at 1pm:  Event 53 – $150 NLHE ($25K GTD)

June 19 at 7pm:  Event 54 – $120 NLHE ($5K GTD)

June 20 at 10am:  Event 55 – $360 Short Deck ($5K GTD)

June 20 at 11am:  Event 56 – $200 NLHE Ultimate Reentry Day 1A ($250K GTD)

June 20 at 3pm:  $200 NLHE Ultimate Reentry Day 1B ($250K GTD)

June 20 at 7pm:  $200 NLHE Ultimate Reentry Day 1C ($250K GTD)

June 21 at 11am:  $200 NLHE Ultimate Reentry Day 1D ($250K GTD)

June 21 at 3pm:  $200 NLHE Ultimate Reentry Day 1E ($250K GTD)

June 21 at 7pm:  $200 NLHE Ultimate Reentry Day 1F ($250K GTD)

June 22 at 11am:  $200 NLHE Ultimate Reentry Day 1G ($250K GTD)

June 22 at 3pm:  $200 NLHE Ultimate Reentry Day 1H ($250K GTD)

June 22 at 7pm:  $200 NLHE Ultimate Reentry Day 1I ($250K GTD)

June 22 at 8pm:  $100 Pinstripes and Polka Dots Charity Event

June 23 at 11am:  Event 57 – $250 PLO Hi-Lo ($20K GTD)

June 23 at 1pm:  Event 58 – $150 NLHE ($25K GTD)

June 23 at 7pm:  Event 59 – $120 NLHE ($5K GTD)

June 24 at 11am:  Event 60 – $360 Big O ($10K GTD)

June 24 at 1pm:  Event 61 – $150 NLHE ($25K GTD)

June 24 at 7pm:  Event 62 – $120 NLHE ($5K GTD)

June 25 at 11am:  Event 63 – $250 Triple Stud Mix ($10K GTD)

June 25 at 1pm:  Event 64 – $150 NLHE ($25K GTD)

June 25 at 7pm:  Event 65 – $120 NLHE ($25K GTD)

June 26 at 11am:  Event 66 – $570 PLO/O8/Big O Mix ($25K GTD)

June 26 at 1pm:  Event 67 – $150 NLHE ($25K GTD)

June 26 at 7pm:  Event 68 – $120 NLHE ($5K GTD)

June 27 at 11am:  Event 69 – $600 NLHE Day 1A ($600K GTD)

June 27 at 1pm:  Event 70 – $150 NLHE ($25K GTD)

June 27 at 7pm:  Event 71 – $120 NLHE ($5K GTD)

June 28 at 11am:  $60 NLHE Day 1B ($600K GTD)

June 28 at 1pm:  Event 72 – $150 NLHE ($25K GTD)

June 28 at 7pm:  Event 73 – $120 NLHE ($25K GTD)

June 29 at 11am:  $600 NLHE Day 1C ($600K GTD)

June 29 at 7pm:  Event 74 – $120 NLHE ($5K GTD)

June 30 at 11am:  Event 75 – $360 HORSE ($20K GTD)

June 30 at 1pm:  Event 76 – $150 NLHE ($25K GTD)

June 30 at 7pm:  Event 77 – $120 NLHE ($5K GTD)

July 1 at 11am:  Event 78 – $360 Black Chip Bounty PLO ($10K GTD)

July 1 at 1pm:  Event 79 – $150 NLHE ($10K GTD)

July 1 at 7pm:  Event 80 – $120 NLHE ($5K GTD)

July 2 at 11am:  Event 81 – $360 Stud ($10K GTD)

July 2 at 1pm:  Event 82 – $150 NLHE ($10K GTD)

July 2 at 7pm:  Event 83 – $120 NHLE ($5K GTD)

July 3 at 11am:  Event 84 – $570 Omaha/Stud Hi-Lo Mix ($25K GTD)

July 3 at 1pm:  Event 85 – $150 NLHE ($10K GTD)

July 3 at 7pm:  Event 86 – $120 NLHE ($5K GTD)

July 4 at 11am:  Event 87 – $200 NLHE Ultimate Reentry Day 1A ($250K GTD)

July 4 at 3pm:  $200 NLHE Ultimate Reentry Day 1B ($250K GTD)

July 4 at 7pm:  $200 NLHE Ultimate Reentry Day 1C ($250K GTD)

July 5 at 11am:  $200 NLHE Ultimate Reentry Day 1D ($250K GTD)

July 5 at 3pm:  $200 NLHE Ultimate Reentry Day 1E ($250K GTD)

July 5 at 7pm:  $200 NLHE Ultimate Reentry Day 1F ($250K GTD)

July 6 at 11am:  $200 NLHE Ultimate Reentry Day 1G ($250K GTD)

July 6 at 3pm:  $200 NLHE Ultimate Reentry Day 1H ($250K GTD)

July 6 at 7pm:  $200 NLHE Ultimate Reentry Day 1I ($250K GTD)

July 7 at 11am:  Event 88 – $360 Black Chip Bounty NLHE ($10K GTD)

July 7 at 1pm:  Event 89 – $150 NLHE ($10K GTD)

July 7 at 7pm:  Event 90 – $120 NLHE ($5K GTD)

July 8 at 11am:  Event 91 – $150 Super Deep Stack Turbo NLHE ($150K GTD)

July 8 at 1pm:  Event 92 – $150 NLHE ($10K GTD)

July 8 at 7pm:  Event 93 – $120 NLHE ($5K GTD)
We should have the structures out sometime next month. Follow for updates. #GPS2019

— GNLV Poker (@GNLVpoker) March 9, 2019
Related Articles