Binions Las Vegas Offers Compact Summer Poker Series
By
April 1st, 2019 | Last updated on April 1st, 2019
Home
»
Poker News
»
Binions Las Vegas Offers Compact Summer Poker Series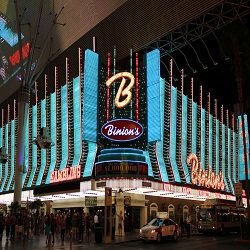 Many of the poker rooms in Las Vegas are going out of their way to outdo one another with their summer schedules. With most offering two events per day throughout June and into July, some offer bigger guarantees, others with deeper stacks, and some with longer schedules that run through most of May. The demand for poker is great in Sin City during the summer, and the poker rooms are scrambling to win the players' time and money.
Binion's had limits, however. While some poker rooms can set up extra tables and expand into the casino area for large tournaments, Binion's doesn't have the same equipment or luxury. They have 10 tables and limited space, as well as limited staff.
So, how can Binion's compete for summer Vegas poker business with only 15 tournaments and higher buy-ins than most other series – even the Grand Poker Series from the Golden Nugget in the same downtown vicinity?
It's simple. Binion's is a part of poker history. It is a poker room for the ages, one with history in its walls and stories floating in the air. For many poker fans, the name and its place in history alone make the trip to Binion's worthwhile.
Small but Mighty
The Binion's poker room is darker than most, offering only 10 poker tables and a limited spread of cash games. As mentioned, however, it is Binion's, and poker players will always have a place in their hearts for it.
The 2019 Binion's Summer Series takes a different road than most other poker rooms in Las Vegas during the summer. There are no prize pool guarantees. And buy-ins are either $550 or $1,100, higher than most others' daily offerings. But there is a range of poker variations with only two No Limit Hold'em events in the mix.
While there are only 15 tournaments on the official schedule, there are other dailies in the mix that are separate from the series. On days with no major Summer Series event starting, there will be a 1pm and 8pm NLHE tournament with a $75 buy-in, $25 add-ons and rebuys, and 20-minute levels. On days with a major event getting underway early in the day, there will still be an 8pm NLHE $75 buy-in option.
Binion's Summer Series Schedule
June 1 at 11am:  Event 1 – $550 PLO 8-or-Better
June 3 at 11am:  Event 2 – $550 HORSE
June 5 at 11am:  Event 3 – $550 Limit Omaha 8-or-Better
June 6 at 11am:  Event 4 – $550 7-Card Stud
June 8 at 11am:  Event 5 – $550 PLO
June 10 at 11am:  Event 6 – $550 Stud 8-or-Better
June 12 at 11am:  Event 7 – $550 Triple Stud
June 14 at 11am:  Event 8 – $550 NLHE
June 15 at 11am:  Event 9 – $550 Limit Omaha-8/Stud-8 Mix
June 17 at 11am:  Event 10 – $550 PLO 8-or-Better
June 18 at 11am:  Event 11 – $550 Razz
June 19 at 11am:  Event 12 – $1,100 PLO Championship Day 1A
June 20 at 11am:  Event 12 – $1,100 PLO Championship Day 1B
June 23 at 11am:  Event 13 – $1,100 NLHE Championship Day 1A
June 24 at 11am:  Event 13 – $1,100 NLHE Championship Day 1B
June 27 at 11am:  Event 14 – $550 Triple Stud
June 28 at 11am:  Event 15 – $1,100 HORSE Championship Day 1A
June 29 at 11am:  Event 15 – $1,100 HORSE Championship Day 1B
Structures will be ready soon pic.twitter.com/UQyuHKZxvr

— Jerry Benetatos (@JB_BinionsPoker) March 29, 2019
Related Articles