PokerStars Extends SCOOP and Debuts New Features
By
May 18th, 2020 | Last updated on May 18th, 2020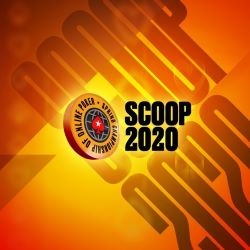 PokerStars has made some big announcements in the past few weeks, all as online poker traffic soared amidst the coronavirus pandemic. With live poker closed in most countries around the world, online poker teed up some of the biggest schedules and massive tournament series in many years.
While live tournament operators like the World Poker Tour partnered with PartyPoker and the World Series of Poker linked up with GGPoker, PokerStars took its own live tournaments online. The Brazilian Series of Poker (BSOP) and Lex Live were the latest to do so in April. The United States PokerStars options in New Jersey and Pennsylvania hosted SCOOP (Spring Championship of Online Poker) series that were very successful.
Of course, PokerStars teamed up with more than 90 celebrities to donate more than $1 million to charities around the world.
There were also two big series familiar to PokerStars players. MicroMillions took place in the latter part of April, complete with 100 tournaments and $2.6 million in guarantees over eight days. They also set SCOOP 2020 for the dot-com market in May. With 240 tournaments in the original schedule (three tiers of each of the 80 events), the total guarantee for the series was $85 million.
BREAKING NEWS: The full Spring Championship of Online Poker 2020 (#SCOOP) schedule has been revealed.

Check out the complete schedule here: https://t.co/RNhMMlSMV3 pic.twitter.com/dztwWaAj8b

— PokerStarsBlog (@PokerStarsBlog) April 16, 2020
SCOOP was running so well that PokerStars extended it…twice.
At the same time, the UK version of PokerStars debuted some new features, like a personalized poker client and throwables at the tables.
More SCOOP and Even More SCOOP
When PokerStars announced its SCOOP series on April 14, the cumulative guarantee of $85 million was the largest in online poker series history. It was going to set new records.
Less than two weeks later, GGPoker announced its WSOP Super Circuit Online Series schedule, which would offer 595 tournaments and $100 million in guarantees.
(Interpretation: In your face, PokerStars!)
Approximately one week after that, PokerStars announced that it was increasing the guarantees in some of its biggest SCOOP tournaments in its May series. Instead of a total of $85 million in guaranteed prize pools, it climbed to $95 million.
(Interpretation: Just give us another minute, GGPoker. We've got this.)
Ten days later, on May 15, PokerStars moved in for the kill. It officially extended the length of SCOOP through the end of May, and the new full schedule for the series guaranteed $135 million in the combined prize pools.
(Interpretation: Gotcha. We rule this roost. You can't beat us at our own game.)
The series extended through Sunday, May 31, a day that will boast of 18 tournaments to close it out. And among the added tournaments, seven offered guarantees of at least $1 million.
The Spring Championship of Online Poker has now been extended, with an increased overall guarantee.

Check out the details here, along with the updated #SCOOP2020 schedule…https://t.co/nP2RElgqdD pic.twitter.com/FASiCk15Wl

— PokerStarsBlog (@PokerStarsBlog) May 15, 2020
Of course, the back-and-forth between PokerStars and GGPoker remained unofficial and indirect, but the jabs were there. GGPoker certainly didn't hold back from touting its partnership with the WSOP, its registration numbers smashing guarantees, and its ambassadors like former Team PokerStars players Daniel Negreanu and Bertrand "ElkY" Grospellier.
Nothing much here. Just legends doing legendary stuff.
What a fun watch! 😀 https://t.co/FWEdzlh51O

— GGPoker – Home Of The $100M WSOP Super Circuit (@GGPokerOfficial) May 15, 2020
Meanwhile, Across the Pond…
PokerStars UK debuted a couple of new features last week. If they operate well and garner player praise, they will likely roll out to other markets. That's how it usually works.
The main new feature is called "The Rail." It allows players to personalize their view of the PokerStars client with their favorite activities, events, and content. When a player logs into his or her account on PokerStars, they will quickly find their games of choice, widgets, and updates.
Some examples of personalized information on a player's Rail hub include:
–Links to most commonly-played games and tournaments

–Links to favorite Twitch streams and social media accounts

–Latest promotions and offers from PokerStars

–Links to lessons or guides from PokerStars School

–Latest tournament results
Since it is customizable, players can make it into their own space on PokerStars.
Players in the UK will find something new when logging into @PokerStars from today (and elsewhere from next week).

It levels up your playing experience and puts everything you need into one place. It's called The Rail, and you can get details here…https://t.co/3uYDQRGeUu pic.twitter.com/awX4TiwPMq

— PokerStarsBlog (@PokerStarsBlog) May 13, 2020
The other new feature for UK players is the introduction of new throwables, virtual objects that players can use or throw at the table…or at opponents.
The latest additions to throwables are fireworks (to celebrate a win) and a box of tissues (to throw at an opponent whining about a hand). UK players will get to try them out and weigh in with the opinions.
The Rail is accessible from within the lobby.

It shows various widgets in a Pinterest-style display, including personalized panels.

After a trial of almost a year in the Italian market, PokerStars has launched throwables in the UK this week.https://t.co/4aW54tlMzb

— Poker Industry PRO (@pokerindpro) May 15, 2020
Related Articles