PokerStars and Celebrities Raise Million for Charity
By
May 14th, 2020 | Last updated on May 14th, 2020
Home
»
Poker News
»
PokerStars and Celebrities Raise Million for Charity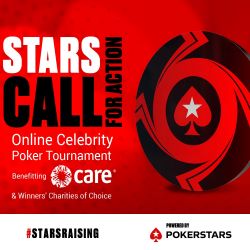 Celebrities often play poker behind the scenes – in home games or private high-stakes games – to avoid the spotlight. But then there are the times that celebrities use their status and name recognition to combine their love for poker with raising money for a good cause.
This has been happening more often in recent weeks due to the coronavirus pandemic. Many celebrities were not working during the shutdowns throughout the United States and saw the great needs of so many charities helping people through this difficult time.
Instead of organizing galas and live poker tournaments for money, as celebrities sometimes do, they had to do it online. They wanted to work with arguably the biggest name in poker, PokerStars, but they couldn't play for real money online. That was when actor Hank Azaria, journalist and screenwriter Andy Bellin, and PokerStars put their heads together to figure out a solution.
And they ended up raising $1 million doing it.
Thank you to our host @HankAzaria, and to all the stars who helped raise so much money. ⭐🙏
You can still donate by visiting https://t.co/vOa6EmsHDx 🙂
Thanks for watching. #StarsRaising pic.twitter.com/vedy7uvXcE

— PokerStars (@PokerStars) May 9, 2020
Quick Setup
Azaria and Bellin went to PokerStars to arrange the friendly but profitable-for-charities tournament online. They wanted a group activity, one fun to play and to watch, and one that included enough celebrities to try to raise $1 million.
As soon as they reached out to celebrities, the list quickly grew:
–Amy Schumer, Bryan Cranston, Don Cheadle, Jon Hamm, David Schwimmer, Jason Alexander, Brad Garrett, Kevin Pollak, Ed Norton, Michael Cera, Brian Koppelman, Michael Ian Black, Tony Yazbeck, Neymar Jr., Lisa Kudrow, Jack Black, Aaron Paul, Casey Affleck, Macaulay Culkin, and many more
A special guest is in the booth…
👋 to @amyschumer #StarsRaising pic.twitter.com/pkOOqYImPU

— PokerStars (@PokerStars) May 9, 2020
It was set up as a play-money tournament. This allowed players from the US to participate, as most celebrities and players for this event were located in the US.
For every celebrity that entered the tournament, PokerStars pledged $10K to the prize pool. Players would then compete for fun, but those finishing in top positions could direct their portions of the "prize pool" to their own favorite charities. Players and viewers could donate during the streaming of the game as well.
More Than $1 Million
The tournament took place on Saturday, May 9. The "Stars CALL for Action" tournament, powered by PokerStars, was streamed on YouTube, Twitch, and Facebook.
Ouch. Sick pot alert. 📢😬@DavidSchwimmer couldn't stay afloat on this river.
🎥 https://t.co/zyANRbhmnT
🎥 https://t.co/L6nbXSgJl4#StarsRaising pic.twitter.com/no0DQYySl2

— PokerStars (@PokerStars) May 9, 2020
When registration ended, there were more than 90 celebrities in the tournament, alongside numerous poker pros. PokerStars rounded up to a solid $1 million for the tournament, from which 50% was donated to Care International. That left $500K in the prize pool for players' own charities.
In the end, there were 24 players who finished "in the money" so as to be able to dictate the charity to receive their allocated portion of the prize money from PokerStars. Some of those players were Cheadle, Culkin, Cranston, and Norton.
The final table of six players was a mix of actors, sports stars, and poker pros. And they won donations in the following amounts:
–1st place:  David Constabile (actor) – $100K to World Central Kitchen

–2nd place:  Douglas Costa (footballer) – $75K

–3rd place:  Jennifer Shahade (poker pro) – $40K

–4th place:  Casey Affleck (actor) – $30K

–5th place:  Chris Moneymaker (poker pro) – $20K

–6th place:  Mike Tindall (rugby player) – $15K
And just like that, it's all over. 😲
Congrats to David Costabile and @douglascosta, who won $100K and $75K for their chosen charities. 💰👏#StarsRaising pic.twitter.com/jmWrThpjyz

— PokerStars (@PokerStars) May 9, 2020
Celebrities who busted from the initial tournament could then play a winner-take-all side event. That tournament had $50K set up to go to the winner's charity choice. Footballer Wayne Bridge won that event, and he donated his $50K prize to the Little Roo Neonatal Fund.
He shoots, he scores! 🎉🏆
A round of 👏 for @WayneBridge for taking down the 2nd-Chance tourney and earning $50K for his charity. #StarsRaising pic.twitter.com/TQhCqytnGB

— PokerStars (@PokerStars) May 9, 2020
Azaria was quite pleased with the event and its results. "What an amazing day it was," he said afterward. "I was genuinely moved to connect with so many people that I like and admire for such a wonderful cause, and I remain blown away by how much PokerStars stepped up."
Of course, Azaria being a poker player himself, added, "And I got to play some poker!"
PokerStars transferred its $500K to CARE International UK, and the rest of the money will go to the Entertainment Industry Foundation (EIF), which will distribute the charity money to players' chosen foundations.
Related Articles