WSOP Circuit Season Finales Go Online in America
By
May 26th, 2020 | Last updated on May 26th, 2020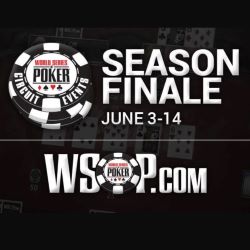 The World Series of Poker had few choices. When the coronavirus pandemic shut down live tournament options around the world, the company had to cancel numerous tournaments on the WSOP Circuit US-based and international tours.
A solution for the US-based tour was fairly simple: Take it online. They announced and quickly launched the WSOP Online Super Circuit Series with 18 online poker tournaments in 18 days and more than $1 million in guarantees. Considering that the length of the shutdowns seemed temporary, the move online gave some US players the opportunity to play from Nevada, New Jersey, or Delaware.
That series was a massive success. It awarded more than $3.9 million in prize money, more than three times the original cumulative guarantee.
As the pandemic showed no signs of slowing by April, the WSOP put another plan in place for the international players. The WSOP partnered with GGPoker to offer a WSOP Super Circuit Online Series for players outside of the US. With 18 primary WSOP Circuit events included, GGPoker created a series to run throughout the month of May with a total of 595 tournaments and more than $100 million in guaranteed prize pools.
AT LEAST $100 MILLION TO BE WON IN GGPOKER WSOP SUPER CIRCUIT ONLINE SERIES FOR INTERNATIONAL PLAYERS

Runs May 3 through May 31.

The series will comprise 595 events, with over $100,000,000 in guaranteed prize money to be won.

Read more: https://t.co/nCSMceaHvR pic.twitter.com/heDKUc7cbQ

— WSOP (@WSOP) April 27, 2020
Facing More Significant Decisions
The decision for the massive online series couldn't have been timelier, as the WSOP officially postponed its summer 2020 WSOP series just days later. After carefully designing the 101-event series throughout the winter months in preparation for the 51st World Series of Poker, the annual two months of poker action in Las Vegas, it was a painful but necessary decision.
Meanwhile, other problems loomed.
Casinos began to consider opening their doors again in mid-May, but state governments and health officials required new and stricter protocols before those locks could be removed. Poker was going to be the most difficult game to adjust, considering its players expect – and depend on – full tables and fast action. On the contrary, casino operators were considering plexiglass barriers, four-max and six-max games, and a lot of time for sanitizing and disinfecting.
The WSOP knew that however casinos decided to reopen, it would not be an ideal situation for a poker tournament. It looked as if the US market (and many others) would require at least another few months before any sense of normalcy resumed.
WSOP executives needed to find a way to officially close the WSOP Circuit season and handle the Global Casino Championship.
Putting a Button on It
Each year, the WSOP Circuit season ends just before the annual WSOP begins in Las Vegas. And when that ends, the WSOP hosts its Global Casino Championship. The tournament gives all Circuit winners and casino champions of the past season (both domestic and international) a seat in a million-dollar freeroll with a WSOP bracelet on the line. And it has also come to serve as a kickoff to the new WSOP Circuit season.
This year, the 2020 WSOP Global Casino Championship was set for August 11-13 at Harrah's Cherokee in North Carolina. It was to coincide with the start of the 2020-2021 WSOPC season.
The pandemic shot that plan down, too.
This weekend, the WSOP announced its solutions.
Coming soon: "Season Finale" Online Circuit Event. This finale event will award 13 guaranteed spots into the invite-only WSOP Global Casino Championship on Sunday, September 13 with a guaranteed $1 million in prize money. For more information, visit: https://t.co/fNvQIekmne pic.twitter.com/kho0f5GZvu

— WSOP.com (@WSOPcom) May 24, 2020
WSOP Online Circuit Season Finale: June 3-14
The WSOP announced its season finale, which will take place in the US in June and involve players located in New Jersey, Nevada, and Delaware.
It will consist of 12 official gold Circuit ring-awarding events as follows:
–Event 1 / June 3:  $215 NLHE Kickoff with 2x reentries ($100K GTD)

–Event 2 / June 4:  $320 NLHE with 2x reentries ($100K GTD)

–Event 3 / June 5:  $250 NLHE Turbo Deepstack with 2x reentries ($100K GTD)

–Event 4 / June 6:  $500 NLHE Big 500 with 3x reentries ($150K GTD)

–Event 5 / June 7:  $525 NLHE Monster Stack with 3x reentries ($200K GTD)

–Event 6 / June 8:  $320 NLHE Freezeout ($100K GTD)

–Event 7 / June 9:  $1K NLHE 6-Max High Roller with 2x reentries ($150K GTD)

–Event 8 / June 10:  $215 NLHE with 2x reentries ($100K GTD)

–Event 9 / June 11:  $320 NLHE with 2x reentries ($100K GTD)

–Event 10 / June 12:  $320 NLHE Monster Stack with 3x reentries ($100K GTD)

–Event 11 / June 13:  $320 NLHE Double Stack with 2x reentries ($150K GTD)

–Event 12 / June 14:  $525 NLHE Main Event with 3x reentries ($300K GTD)
All players from these events will also qualify to play in the Global Casino Championship, with the exception of players who win on the Delaware WSOP site. That player will be allowed to keep the WSOP Circuit ring and prize money, but the seat into the Global Casino Championship will go to the highest-finishing player not playing from Delaware.
I've confirmed w/ WSOP, Delaware players can participate in circuit finale, but not eligible for points or entry to GCC. If DE player wins auto bid it'd go to highest non-DE player. September's Global Casino Championship is for NJ and NV client only.https://t.co/h3LapWw34I pic.twitter.com/PkeEYK8G5t

— Chad Holloway (@ChadAHolloway) May 25, 2020
The reasoning for Delaware's exclusion is unclear.
WSOP Global Casino Championship: August 13
This tournament will be online but only available from Nevada and New Jersey. Players, for whatever reason, will be able to access the event from Delaware.
The Global Casino Championship is scheduled for August 13 to put a final button on the 2019-2020 WSOP Circuit season. All players who won a WSOP Circuit Main Event during the season or won the Casino Champion title at any one of those stops earned a seat and can play the freeroll online from New Jersey or Nevada.
More will be invited to participate, including the top 50 players on the US-based WSOP Circuit leaderboard. And any player who won a WSOP Circuit ring anywhere in the world during the 2019-2020 season or finished in the top 100 WSOP Player of the Year rankings may buy in to the event for $10K with no rake added.
WSOP Executive Director Ty Stewart noted that the $1 million prize pool remains the same, despite many of the tournament stops that were cancelled or postponed. "Hopefully, the choice of an East Coast or West Coast destination makes it more viable for qualifying players," he said. "We look forward to returning to Harrah's Cherokee in 2021, but until then, the show must go on…online."
The GCC is on! Didn't qualify yet? Play the Circuit Season Finale June 3-14 where every event also includes a ticket to the $1M Championship https://t.co/KXVT0C8yvj

— WSOP.com (@WSOPcom) May 23, 2020
Related Articles