Stones and Kuraitis in Settlement Talks with Plaintiffs
By
August 6th, 2020 | Last updated on August 6th, 2020
Home
»
Poker News
»
Stones and Kuraitis in Settlement Talks with Plaintiffs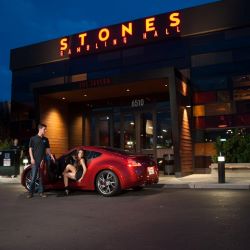 The case that started with a cheating scandal at a Northern California card room took yet another unexpected turn.
Many were surprised when the judge dismissed all charges against Mike Postle, Stones Gambling Hall, and Tournament Director Justin Kuraitis two months ago. The poker community is in for yet another surprise, though, as paperwork filed with the court on August 5 indicates that Veronica Brill and the other dozens of plaintiffs are in talks with Stones and Kuraitis regarding a settlement.
The court case that began on October 8, 2019 may be in its final stages of a settlement. The court will reveal more – but not much – information in the coming month, as the case is now on hold again, this time until September 11, 2020.
When We Last Checked In…
People in and even just connected to the poker community had been following the story since it began in the latter half of 2019. Poker pro Mike Postle played regular games on the Stones Gambling Hall livestream with an unbelievable win rate. Sometimes competitor and commentator for the livestream broadcasts Veronica Brill noticed and took her concerns to the card room's management but was essentially dismissed. So, she enlisted the help of Joey Ingram, who helped break down hours upon hours of Postle's play.
@Angry_Polak saying " it doesn't make sense " about postle play https://t.co/sju1rudvP0

— Steven Touitou (@StevenTouitou) August 6, 2020
The overwhelming conclusion by most poker players: Postle cheated.
No one could seem to prove exactly how he did so, but the poker community as a whole seemed to support Brill's lawsuit against Postle, Stones, and Tournament Director Justin Kuraitis.
The case even garnered some national coverage. And the original case featuring Brill and 24 other poker players grew to include nearly 90 players in total. Stones, Kuraitis, and Postle filed motions to dismiss the lawsuit, with Postle creating much ado with his choice to represent himself…mostly.
Even so, the entire civil case in the US District Court came to a head with a hearing on May 18. Due to the coronavirus pandemic, the judge and attorneys – and Postle – met via video feeds to argue for and against the motion to dismiss all charges. Mac VerStandig represented Brill and the other plaintiffs.
All Claims Dismissed
The ruling shocked most people who followed the case. US District Court Judge William Shubb ruled on June 3 that all charges and motions against Postle, Stones, and Kuraitis be dismissed.
Judge Shubb dismissed many of the claims based on insufficient evidence and detail, including naming a confederate that could shed more light on the case, as well as a lack of particularity regarding the damages caused and how that specifically injured the plaintiffs. (This is an oversimplification, of course, but we broke it down in more detail here.)
The judgment did grant the plaintiffs 20 days to file an amended complaint, but that could pertain to Stones and Kuraitis only.
And VerStandig indicated every intention of the plaintiffs to file that complaint.
Some musings on yesterday's news in the Postle/Stones case. (Also, y'all realize we're going to amend and go forward against Stones, right? Reports of the case's death are greatly exaggerated.) https://t.co/5FQsLmb2BL

— Mac VerStandig (@mac_verstandig) June 4, 2020
Another Round Leads to Settlement Talks
VerStandig was working on an amended complaint due on June 23, but he and the plaintiffs decided they needed more time. On June 19, the plaintiffs requested an extension to July 7. The defendants agreed to this, as well as to extending the filing of the joint status conference statement to September 29.
On July 7, the plaintiffs again requested an extension due to the number of plaintiffs involved, all trying to agree to streamlining the litigation. The court granted that extension as well, putting the date at August 7.
Two days before that deadline, VerStandig filed a third stipulation to extend time to file the second amended complaint. The reasoning for this request was more interesting.
"Counsel for the parties have reached an agreement as to the principal terms of a settlement of this case but require additional time to finalize the settlement. Specifically, inasmuch as there are 88 plaintiffs in this case, some additional time is needed to communicate with each about final settlement terms and the relative benefits and detriments of accepting such a settlement."
The plaintiffs requested a new deadline of September 11, 2020.
In all likelihood, Judge Shubb will approve, considering the defendants granted permission.
An official settlement may be announced before that date. VerStandig would not speculate on a timetable or any details of a potential settlement.
Related Articles