PokerStars Signs PSPC Champion Colillas as Ambassador
By
February 12th, 2019 | Last updated on February 12th, 2019
Home
»
Poker News
»
PokerStars Signs PSPC Champion Colillas as Ambassador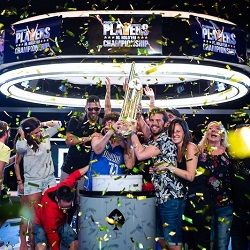 Less than one week after two members of Team PokerStars – Jaime Staples and Jeff Gross – left the roster, PokerStars announced a new addition to the team. The new Team PokerStars Pro is none other than Ramon Colillas, the winner of the inaugural PSPC in the Bahamas.
It is become somewhat of a rarity for players to be signed as official PokerStars ambassadors, as the roster has been thinning over than time. The primary exception was the June 2019 announcement that Maria Konnikova, renowned author and poker student of Erik Seidel, became a member of Team PokerStars. It hadn't been much of a surprise, since she had been playing quite a few PokerStars live events and had been spotted at the World Series of Poker in Las Vegas sporting a PokerStars patch.
However, it is hard to remember the last time a tournament win translated into an online poker sponsorship. But as everything lined up for Colillas, from his Platinum Pass win to the PSPC victory, it spelled the perfect story for a new Team PokerStars Pro.
It's official. PSPC champion Ramón "@Mr__Boxes" Colillas joins Team @PokerStars Pro!
Announcement: https://t.co/fZV7vDbc2F
Step-by-step to Team Pro: https://t.co/aVhLQcgfgu pic.twitter.com/magFyCeOX0

— PokerStarsBlog (@PokerStarsBlog) February 11, 2019
The Making of a Team Pro
Colillas enjoyed sports throughout his life, though injury relegated him to the role of personal trainer instead of athlete. That penchant for competition led him to friendly poker games with friends and some online freerolls. While he opened a gym and focused on his business, he took any free time to play and study poker.
Through trials and tribulations, Colillas became a better player, and his skills were on full display in 2018. He played the first stop of that year's Campeonato de Espana de Poker (CEP) live tournament series and won through a deal. And he played the rest of the season, ultimately accumulating enough leaderboard points to win the Platinum Pass that was being awarded by PokerStars.
That $30K prize package included a $25K entry to the inaugural PokerStars Players No Limit Hold'em Championship (PSPC) in January 2019 in the Bahamas, with the rest of the prize available for travel and accommodations. Colillas and his girlfriend made the plans.
Colillas was one of 320 Platinum Pass winners in the January tournament, one that brought a total of 1,039 players to the tables and set the prize pool at nearly $26.5 million. And when it was all said and done, the 30-year-old Spaniard transformed that free pass into a victory in the historic PSPC tournament, for which he won a trophy and $5.1 million.
The Naming of a New Moneymaker
In the PokerStars press release about the membership of Colillas in Team PokerStars, the company called him "Spain's very own Chris Moneymaker."
Uno de los mejores momentos fué cuando Chris Moneymaker me dice:
"Te puedo llamar de nombre Ramon Fabricadinero" ? https://t.co/pzvZ4awecY

— Ramon Colillas (@Mr__Boxes) January 12, 2019
It seems that Colillas will represent PokerStars far beyond the borders of Spain, as he is listed alongside Moneymaker and Daniel Negreanu as global ambassadors.
PokerStars Director of Poker Marketing Eric Hollreiser said, "Ramon's journey is the stuff of legends, and his humility, spirit and personality perfectly reflect the aspirations we see among young poker players around the world. Ramon is a great representative of the next generation of poker players."
Colillas commented that the new role is an honor. "This journey has been a dream come true for me, and I hope that I can inspire people the way I've been inspired. Winning the PSPC was thrilling and has changed my life," he said.
The first tournament in which Colillas will wear the official Team Pro patch is at the CEP at Casino Barcelona this week, and he will then begin his travels with a stop at the EPT Sochi in Russia this March.
?♠️ @PokerStarsSpain @PokerStars pic.twitter.com/i67yfD3U0G

— Ramon Colillas (@Mr__Boxes) February 11, 2019
The New Trend in Sponsorship
As mentioned, the last person to be signed to Team PokerStars Pro was Maria Konnikova. Her selection made sense, as she brought a rather wide, diverse, and sizable social media audience with her and she was (and still is) in the process of writing a book about her journey into poker from the perspective of a new player and a psychologist. She has also been learning the game from one of its most successful players of all time, Erik Seidel.
While some players are losing their sponsorship deals for reasons that have yet to be revealed, very few are finding the chance to pick up new deals, especially with PokerStars.
Colillas, however, does fit the bill. His story is inspirational and includes the study of the game, working hard to move up in the game, and winning life-changing money via a PokerStars tournament. While English isn't his best language by a long shot, he is Spanish, which can be helpful as PokerStars continues to grow its EU player base in the liquidity-sharing market of Spain, France, and Portugal. His effectiveness as an ambassador on a global level can only be judged over time.
Photo by Neil Stoddart for Rational Intellectual Holdings Ltd.
Related Articles