Konnikova and PokerStars Make It Official
By
June 25th, 2018 | Last updated on March 15th, 2021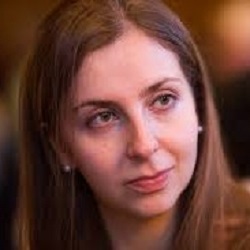 Photo credit: Thomas Hawk
Maria Konnikova has been donning a PokerStars patch for many months, so everyone knew she had an affiliation with PokerStars. That came on the heels of last year's spring announcement that she had been studying poker under the tutelage of Erik Seidel in order to pen a book about the experience of traveling the poker tournament circuit.
The trained psychologist with a PhD and author had been working most recently as a writer for The New Yorker when she and Seidel began working together. Konnikova hoped to gain some insight into the balance of skill and chance exemplified by the life of a professional poker player. The plan was to shadow Seidel for the better part of 2017 and finish the book.
Little did she know when she began her journey that it would lead to her own success in poker tournaments and a sponsorship by the largest online poker site in the world. The book is still in progress and now is set for a late-2019 publication, and it seems there may be much more still to write for The Biggest Bluff.
(And for those who've been asking: yes, the book is still coming, yes, I'm still writing and working hard on it, and will even be sending my wonderful edit @scottmoyers some pages this summer. But yay poker ☺️!) https://t.co/n0og26f6Dl

— Maria Konnikova (@mkonnikova) June 25, 2018
A Poker Ambassador
The announcement came on Monday, June 25, more than a year after Konnikova first made public her book arrangement with Seidel. In that time, she has gone from a writer and author to a regular on the poker tournament circuit.
Her first big tournament series was the PokerStars Championship in Monte Carlo last year, where she played a few events and studied with Seidel. She cashed in three events there, and then did the same at the 2017 World Series of Poker. She finished out the year with a second place in a NLHE event at PokerStars Dublin and another in a Venetian daily tournament, then a cash in a PokerStars Prague event. But in January 2018, her work took her to the top. She flew to the Bahamas for the PokerStars Caribbean Adventure, and she won the $1,500 NLHE PCA National tournament for $84,600 and a Platinum Pass. She then cashed in the PCA Main Event, final tabled a couple of events at APPT Macau, and cashed again at the Monte Carlo series.
Mentoring from Seidel clearly has its perks. As one of the all-time poker greats, Seidel is the top live tournament earner in the United States and second in the world only to Daniel Negreanu. Seidel's $34.5 million in winnings have accumulated over the past two decades and include payouts in everything from $1K buy-ins to those requiring more than $100K to play.
In only 15 months, Konnikova has garnered $207,750 in live tournament earnings.
The 34-year-old is now an ambassador for PokerStars, and the whirlwind continues. "I never could have imagined poker becoming as big a part of my life as it has, and joining PokerStars offers me an incredible opportunity to take my game to the next level and to represent a brand that I've come to admire greatly."
So excited to officially join team @PokerStars! Can't wait to see what the next year will bring. https://t.co/lzBFaKb3DE

— Maria Konnikova (@mkonnikova) June 25, 2018
An Author First
Konnikova has an obvious insatiable desire to learn. She pursued and obtained her PhD not to practice in the field of psychology but because she wanted to know as much as possible about the subject matter. And she pushes that knowledge back out to the public to educate others.
Her original plan for the poker book came from her desire to examine game theory, specifically the skill-versus-chance riddle, from a first-person perspective. She wanted to learn from Seidel but experience much of it herself. As she mentioned in a 2017 interview, "For (Seidel) taking me on as the only student he's ever taken on, is a profound test of the psychological approach to the game. Can you actually – with just psychological insight and that thought process – train someone to become someone who can hold her own at the poker table?"
What an epic year it's been for @mkonnikova! 😮 Having already secured a #PlatinumPass and won her first major tournament, we're now proud to announce author and journalist Maria Konnikova as the newest PokerStars Ambassador. 👋🎉 pic.twitter.com/RY0uv5pOjy

— PokerStars (@PokerStars) June 25, 2018
As an author, Konnikova can take the answer to that question and expound on it in her book. She may be the person who examines the psychological aspects of the game better than anyone who ever attempted it before. If her previous non-poker-related books are any indication, this, too, will be a great book and open may more minds to the game of poker.
Meanwhile, she has found success amidst her in-depth mission. And it keeps her challenged, intellectually more than anything else. As Konnikova mentioned in her 2017 interview, "It's so strategically and psychologically fascinating, and the more I learn, the more difficult the game becomes and the more nuance it acquires. What I love about it is that I don't think it can ever get boring. I see why Erik has been able to do it for 30 years; it's something where you're constantly challenging yourself and growing in the game and as a person."
The Stars Group VP of Corporate Communications Eric Hollreiser noted his first observations upon meeting Konnikova in early 2017. He could tell that she was ready to avidly learn the game. "But it was when Maria told me that her working thesis is that poker is a metaphor for life, that I told her on the spot that we would support her project in any way we can. I didn't know – or frankly care – whether she would become a good enough player to turn pro. I knew from her past literary work that she'd be able to distill the essence of poker into life lessons in ways that would resonate with people."
As a PokerStars Ambassador, Konnikova will be able to do that from an entirely new perspective.
"I'm thrilled to have the opportunity to share my passion for poker with the world," she noted, "and hopefully bring many new players into the game."
Related Articles