Colillas Freerolls PSPC with Platinum Pass to Win $5.1M
By
January 11th, 2019 | Last updated on January 11th, 2019
Home
»
Poker News
»
Colillas Freerolls PSPC with Platinum Pass to Win $5.1M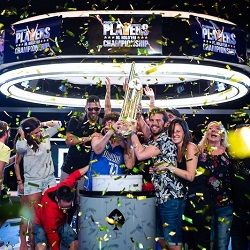 It happened. Not only did PokerStars make history with the largest-ever $25K buy-in tournament in the history of live tournament poker, the company's investment in the event paid off in a unique way. One of the Platinum Pass winners won the tournament for $5.1 million.
PokerStars awarded 320 Platinum Pass prize packages – each worth $30K – over the course of the past year. Each player with a pass was able to buy in to the inaugural PokerStars Players No Limit Hold'em Championship (PSPC) for $25K and use the other $5K to fly to the Bahamas for the event, reserve a room, and handle expenses for the trip.
While Platinum Pass winners made up approximately one-third of the players in the tournament, many of them did not have the experience at the tables that many of the pros brought to the game. It was a longshot that one of them would win.
Ramon Colillas did it, though. The 30-year-old Spaniard is a professional poker player but won his Platinum Pass through a leaderboard challenge at the Campeonato de Espana de Poker series throughout the 2018 year. He topped that leaderboard and won his pass in December. And that free ticket to the tournament turned out to be worth $5.1 million.
Platinum Pass winner, Spain's Ramon Colillas, wins #PSPC for record-breaking $5.1 million.

"Now, it's only about happiness and enjoying the moment," he said.

Full story here:https://t.co/1oVEKxgQdI

— PokerStarsBlog (@PokerStarsBlog) January 11, 2019
The Making of the Final Table
The PSPC actually began on January 6, and there was a total of 1,039 players in the field. By the time those buy-ins were tallied and PokerStars added its extra $1 million to the winner's take as promised, the prize pool was set at $26,455,500.
On Day 3 of the tournament, the money bubble burst to allow the last 181 players with chips to be guaranteed a payout of at least $25,450. The field dwindled greatly, leaving only 38 players to return on Day 4, when minimum payouts were $86,400.
Day 4 closed in on the final table, and as pros like Griffin Benger and Kristin Bicknell busted for six-figure payouts, the stakes continued to increase. Ultimately, Florian Duta busted in ninth place for $405K to end play for the night and set the final table.
The final table of the #PSPC is set.
Who's going to win the magnificent trophy and $5.1M?
Join us at 13:30 ET to find out. pic.twitter.com/CuXJ4tTZVj

— PokerStars LIVE (@PokerStarsLIVE) January 10, 2019
The final table began on Day 5 with these players and these corresponding chip counts:
Scott Baumstein (US):  10,725,000

Marc Rivera (Philippines):  10,350,000

Julien Martini (France):  8,600,000

Farid Jattin (US):  8,525,000

Ramon Colillas (Spain):  8,300,000

Jason Koonce (US):  7,125,000

Talal Shakerchi (UK):  5,500,000

Marc Perrault (Canada):  2,275,000
Final Table Action
It didn't take long for short-stacked Perrault to shove all-in, and he doubled through Jattin. Rivera took the lead from Baumstein, and then Martini climbed to the top. And when Shakerchi moved all-in with pocket aces, Martini called with A-Q of spades. The flush finished on the river to eliminate Shakerchi in eighth place.
So brutal…?
Watch the #PSPC final-table live at: https://t.co/hRFaQAqWdk pic.twitter.com/c0ERyyUeqE

— PokerStars LIVE (@PokerStarsLIVE) January 10, 2019
Perrault doubled through Martini to keep playing, but the latter continued to take chips all around and climb over 16 million chips. Jattin then made his move with A-J suited, but Martini called with A-K. The board didn't help Jattin, who departed in seventh place.
Perrault had lost more chips to Martini before Jattin busted, but he just watched as Martini and Rivera battled. That big hand left Rivera fairly short and Martini over the 30-million chip mark. Perrault was soon all-in with his short stack holding 6-3 offsuit, and Colillas's pocket kings ousted Perrault in sixth place.
Colillas gained some confidence and got aggressive, taking some pots uncontested and a sizeable one from Koonce to climb above 15 million chips. Koonce then shoved with T-7 suited, and Colillas called with pocket fives to send Koonce home in fifth place.
Rivera took some wind out of Colillas' sails when he doubled through him, and Martini took chips from Rivera. Baumstein hadn't found many places to do any damage to his opponents at the final table and finally needed to move. He pushed all-in with A-9, and Martini called with K-Q. A king on the flop was enough to send Baumstein out in fourth place.
Martini held a significant chip lead going into three-handed play, but Rivera and Colillas both took some. Rivera climbed into a solid second, but Colillas then doubled through Rivera. Soon after, Rivera took his chance with A-3 from the big blind after Martini raised with A-K from the button. Martini quickly called, the board helped no one, and Rivera was out in third place. The Platinum Pass winner from the Philippines picked up a solid profit from his free buy-in.
At the start of heads-up play, Martini was still the chip leader, but Colillas quickly chipped up. The two then got involved in a pot. On the board of Ah-4h-Qh-Qd-5d, Martini moved all-in with 9-6 of hearts for the flush, but Colillas called with Q-5 for the full house and doubled up to more than 48 million chips. Martini was down to little more than 13 million. Colillas continued to chip up, and Martini did double from his low stack of 6.25 million but remained in danger. Martini then shoved with J-9 of clubs, and Colillas called with A-5 offsuit. The board delivered 9d-8h-Ah-2c-5d, and Martini was out in second place.
We have a champion! #PlatinumPass winner Ramon Colillas is the #PSPC champion, winning $5.1M! pic.twitter.com/C5w52JZCxs

— PokerStars LIVE (@PokerStarsLIVE) January 11, 2019
Platinum Pass winner Ramon Colillas won the first-ever PSPC for $5.1 million.
1st place:  Ramon Colillas (Spain) $5.1 million

2nd place:  Julien Martini (France) $2,974,000

3rd place:  Marc Rivera (Philippines) $2,168,000

4th place:  Scott Baumstein (US) $1,657,000

5th place:  Jason Koonce (US) $1,304,000

6th place:  Marc Perrault (Canada) $1,012,000

7th place:  Farid Jattin (Colombia) $746,000

8th place:  Talal Shakerchi (UK) $509,000
Photo courtesy of Neil Stoddart for Rational Intellectual Holdings Ltd.
Related Articles