PokerStars Dismisses Fees for Gordon Vayo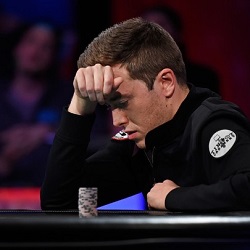 Call it a holiday gift, a gesture of good will, or simply a way to be done with an irksome legal affair. No matter the reason for it, poker pro Gordon Vayo should be thankful.
PokerStars won the case against Vayo last month, and the result not only made Vayo look terrible but his lawyers were none too happy with the evidence presented, either. And on top of it all, Vayo was on the hook for more than $280K in legal fees for the case.
But as of December 4, the remainder of the case was dismissed via a joint stipulation for the dismissal with prejudice and withdrawal of motion for attorneys' fees. With that, Vayo can try to shake off the loss and figure out if he wants to remain a poker player or find another line of work.
https://twitter.com/AdamLoebSmall/status/1070485980765978624
Explosive Lawsuit Beginnings
It all started 2017 when Gordon Vayo, poker pro and former World Series of Poker Main Event runner-up, won the PokerStars Spring Championship of Online Poker (SCOOP) opening event for more than $692K. It was an impressive score for a pro that had made a real mark in the professional poker world in the past several years.
Unbeknownst to most in poker, Vayo never received his winnings. PokerStars withheld the tournament payout in order to conduct an investigation based on information obtained by the operator indicating that Vayo may have played from inside the United States. Vayo claimed to be playing the tournament online from Canada, but PokerStars claimed that he was in California and used a VPN to try to disguise his location, which is against the site's terms and conditions.
When the investigation concluded at PokerStars, Vayo took action by suing Rational Entertainment Enterprises Ltd doing business as PokerStars in the US District Court in the Central District of California. Vayo alleged a number of wrongdoings by the site and sued for the winnings, interest, restitution, punitive and exemplary damages, injunctive relief, and all related court costs. He seemed confident.
Confident PokerStars Rebuttal
When PokerStars officially responded to the lawsuit several months later, the company filed a motion to dismiss the lawsuit. It claimed that its geolocation technology and evidence showed that Vayo played the tournament from Los Angeles, and using a VPN to play from California rather than Canada was a clear violation of the site's rules.
PokerStars also asserted the case should be pursued in the Isle of Man, where parent company Rational is located. If Vayo claimed he won the tournament in Canada, there would be no basis on which to litigate the matter in a California court.
Regardless, PokerStars revealed even more evidence, all of which came to light in November and prompted Vayo to drop the case. PokerStars provided details to show that Vayo forged documents – verified by the forger – claiming he had been in Canada when playing the tournament. The forged documents from Bell Canada and First Republic Bank were presented to Vayo.
The whole Gordon Vayo thing is further proof (if it were needed) that poker players are really the dumbest smart people in the world

— Barry Carter (@Barry_Carter) November 15, 2018
Within 48 hours of that revelation, Vayo dropped his lawsuit via a voluntary dismissal, and his attorney even withdrew from the case.
And About Those Fees
The November court filing from Rational Entertainment and PokerStars also contained a motion for damages and court fees. Calling the lawsuit "frivolous," the motion requested the recovery of its fees and costs related to attorneys in the amount of $279,347.40, in addition to nontaxable costs of $8,641.08.
It is unclear what Vayo's financial situation was at the time, but he definitely did not have the $692K from his online poker victory in 2017.
On December 4, a new document came to light per USBets. Filed in the same US District Court, Attorney William Bowen filed a motion on behalf of Vayo: "Joint Stipulation re: Dismissal with Prejudice and Withdrawal of Motion for Attorneys' Fees."
https://twitter.com/brianpempus/status/1072205518746411009
The document stated that the plaintiff and defendant, through respective counsel, agreed and requested that the action be dismissed with prejudice by Vayo and the motion for attorneys' fees and costs by Rational Entertainment doing business as PokerStars be withdraw without prejudice. And it was signed by attorneys for both parties.
No matter the reason for PokerStars agreeing to dismiss the motion for legal fees, most agree it was a smart move. PokerStars won the case, Vayo's reputation is damaged by his own doing, and Vayo may not have the kind of money to pay those fees anyway.
Case closed.
Happy Holidays Gordon Vayo.

This looks to be the end of the Vayo/PokerStars matter. https://t.co/QNSxd7HuZc

— Jeff Walsh (@JeffWalshPoker) December 6, 2018