PokerStars Gets Hearing to Dismiss Vayo Lawsuit
By
September 25th, 2018 | Last updated on September 24th, 2018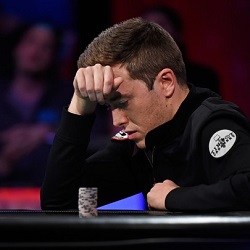 A successful poker player must have confidence. Gordon Vayo has displayed that quality on numerous occasions at the poker tables, whether playing live or online, but none more than in the 2016 World Series of Poker Main Event. On the biggest stage in poker, playing for one of the largest prizes and the most coveted piece of jewelry in the game, Vayo remained confident as he played through to heads-up with Qui Nguyen. Though Vayo finished in second place for $4.66 million, he took the result in stride.
Forward two years and Vayo is displaying a different kind of confidence in his game as he goes up against the largest poker site in the world in a major legal battle. To take on PokerStars over withheld winnings in a court of law takes confidence, as Vayo's opponent in this case comes prepared with a team of top gaming lawyers, nearly unlimited funds, and some of the most advanced technology with which it intends to prove its case.
Vayo could be bluffing in this spot, but it would be a risk that most in the industry would not be willing to take. As the case goes further, Vayo must have the nuts in the form of evidence to continue on in the hand. To do so without it – with PokerStars at the other end of the table – would be foolish.
It Began with a SCOOP
Vayo was no stranger to poker before his big score in 2016. He had been accumulating live and online cashes since 2008, even final tabling several WSOP and WSOP Circuit final tables before his appearance in the November Nine.
But the WSOP Main Event final table was the start of some run-good for Vayo, as he won the River Poker Series Main Event in September for more than $587K. He was also back to playing some online poker events, as he would – by his account – travel to Canada to play tournaments on sites like PokerStars. In the early months of 2017, he did just that for the PokerStars Spring Championship of Online Poker (SCOOP) and came out swinging. He made the final table and took part in a five-way payout deal before playing on and winning the $1,050 buy-in event. His winnings showed as $692,460.92.
PokerStars withheld the money and refused to let Vayo claim the winnings. The online poker giant told Vayo his poker account online was frozen due to the need for an investigation into suspicious activity. Ultimately, PokerStars revealed it believed Vayo was playing at least part of the tournament from the United States, which was not only illegal but violated the company's terms and conditions and put the company in jeopardy of ruining the good will it had built with the US government after Black Friday.
Vayo showed proof of his presence in Canada during the time of the tournament, but PokerStars continued to claim that it was "not inconceivable" that Vayo wasn't in Canada for the entirety of the tournament. When PokerStars concluded its investigation in April 2018 and notified Vayo that his evidence was insufficient and he was denied all winnings from that SCOOP event, Vayo filed a lawsuit at the beginning of May, approximately one year after he won the SCOOP event.
PokerStars gets hit with a lawsuit from poker pro Gordon Vayo, who wants his roughly $700k payment for winning a 2017 tournament https://t.co/SGVtpB88z9

— Darren Heitner (@DarrenHeitner) May 8, 2018
PokerStars Takes Charge
Vayo filed his case against PokerStars' parent company Rational Entertainment Enterprises in the US District Court in the Central District of California on the basis of fraud and deceit, false advertising, violation of the right of publicity, unfair competition, breach of a written contract, and money unpaid. He claimed that PokerStars' requirement that legal claims must be filed in the Isle of Man, where Rational is based, was unreasonable and unconscionable. He also demanded a jury trial and sought his winnings, punitive and exemplary damages, restitution, prejudgment interest, preliminary and permanent injunctive relief, costs, and attorney fees.
PokerStars' response noted that it used geolocation in its investigation to show that Vayo was in Los Angeles, California, not Canada, when he was playing SCOOP. They allege that he used a Canadian mobile internet provider to try to indicate he was playing online from a Canadian IP address.
In early September, PokerStars hit back. The company filed a motion to dismiss the lawsuit on the basis of Vayo's assertion that he won the tournament from Canada, which makes California an inappropriate venue and the Isle of Man the ideal one. PokerStars also claimed that California would make the case too costly to pursue. "Under these circumstances, and under established Supreme Court precedent, Mr. Vayo's choice of forum should be given no weight and his complaint must be dismissed," read the motion per CardPlayer.
Vayo responded that he wouldn't be able to find appropriate legal representation in the Isle of Man, and his case may be subject to bias because gaming is such a large part of the Isle of Man's economy. He also noted that PokerStars' action in this case was disingenuous due to its longtime practice of ignoring the actual location of numerous US residents that still play from America despite the new rules put into place after Black Friday.
Delays
The original date set for the motion-to-dismiss hearing was set for September 25, but the federal judge recently pushed it back to November 6.
Should the hearing go as planned, the case could be dismissed or the motion could be denied. In the case of the latter decision for any of the charges, a trial date will need to be set and will likely run into the early months of 2019. Since a settlement is unlikely, as PokerStars does not seem inclined to doubt any of its own evidence, a trial is likely unless Vayo drops his case entirely.
Related Articles