Vayo Sues PokerStars for SCOOP Winnings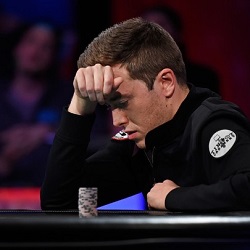 Poker pro Gordon Vayo is known for many accomplishments at the live and online poker tables, most famously for his second-place finish at the 2016 World Series of Poker Main Event final table. He lost the heads-up match against Qui Nguyen at the November Nine event, though he still cashed for more than $4.66 million.
In fact, in live tournaments alone, Vayo has accumulated more than $6.2 million. He has final table appearances dating back to the Heartland Poker Tour in 2010 and WSOP in 2012 and 2014, and he won the River Poker Series Main Event in 2016 for $587,120.
In online tournaments, Vayo was a force as well and won the opening event at the 2017 Spring Championship of Online Poker (SCOOP) series on PokerStars. It was a $1,050 buy-in NLHE tournament with 5,821 entries, and the final five players ended up striking a payout deal before playing for the title and extra $100K. Vayo, playing as holla@yoboy, took the second-highest payout but won the tournament, which garnered a winning amount of $692,460.92.
Congratulations to @GordonVayo winner of SCOOP-01H for almost $800k!

— Max Silver (@max_silver) May 23, 2017
However, nearly one year later, Vayo has yet to receive his money.
And on May 2, 2018, he filed a lawsuit against PokerStars.
Why the Withholding?
When Vayo attempted to withdraw his winnings after the series, PokerStars informed him that his account had been frozen for an investigation of suspicious activity. The company claimed it had reason to believe Vayo was in the United Stats for at least part of the tournament he won, which violates PokerStars terms and conditions.
PokerStars departed the United States market when its executives were indicted on April 15, 2011, better known to most in the poker world as Black Friday. In order to regain good standing with the US government and offer services in new regulated markets like New Jersey, PokerStars forbids any play on its site from the US.
For this reason, many American players have established Canadian residencies in the past several years in order to compete on PokerStars, especially during massive tournament series like SCOOP and WCOOP. Vayo was no different. The Illinois native lives most of the time in San Francisco, California, but he also keeps a residence in Ottawa, Canada, for poker purposes. And he claimed he was in Ottawa when he played SCOOP in 2017.
Despite Vayo providing evidence that reportedly showed he was in Canada at the time of the SCOOP event in question, PokerStars maintained it was "not inconceivable" that Vayo was in the US during at least part of the tournament.
From the Gordon Vayo lawsuit re: why his account was flagged:

"(Vayo) surmised that the issue may have been related to a problem with the VPN he was using to access internet sites which he had encountered earlier that Spring, and which had persisted between March and May of 17."

— Lance Bradley (@Lance_Bradley) May 8, 2018
In April 2018, Vayo received a letter regarding the conclusion of the investigation, which stated Vayo failed to produce sufficient evidence of his whereabouts during the tournament. Therefore, he would not receive any of his winnings.
The Lawsuit
Less than a month after the PokerStars notification, Vayo filed suit in the US District Court in the Central District of California. His case against Rational Entertainment Enterprises Ltd d/b/a PokerStars accuses the company of fraud and deceit, false advertising, violation of the right of publicity, unfair competition, breach of a written contract, and money unpaid. Vayo included a demand for a jury trial.
Vayo also claims that PokerStars threatened to countersue him for breaching its terms of service if Vayo did not "comply with a purported 'exclusive venue' provision" that requires all players to being legal claims to the Isle of Man, where the company is located and uses Manx law. Vayo claims that provision is "unreasonable and unconscionable."
The suit seeks the full amount of Vayo's win in the SCOOP tournament, along with a legal rate of 10% per annum, as well as punitive and exemplary damages, restitution, treble damages, prejudgment interest, preliminary and permanent injunctive relief, plaintiff's costs, and reasonable attorneys' fees.
According to the Forbes article that broke the story, Vayo said, "I am deeply disappointed it has come to this but feel that taking legal action is necessary to protect my rights as well as those of other PokerStars players who are in my situation but may not have the means to get their message out and protect themselves against the unwarranted bullying tactics that I have experienced during this ordeal."
PokerStars gets hit with a lawsuit from poker pro Gordon Vayo, who wants his roughly $700k payment for winning a 2017 tournament https://t.co/SGVtpB88z9

— Darren Heitner (@DarrenHeitner) May 8, 2018
PokerStars Responds
Nearly two weeks after Vayo filed his lawsuit, a spokesperson for the Stars Group offered the following statement:
"We cannot comment on pending litigation matters and our investigation into this particular matter is ongoing. However, as operator of the most regulated poker site in the world we believe that we have a duty to protect the integrity of the game and ensure we provide a safe and fair poker platform by enforcing our terms of service. We have paid out over half a billion dollars in tournaments winnings this year alone and will continue to implement rigorous security procedures to protect our players."
Photo credit: David Becker, Las Vegas Review-Journal