Online Gaming Supporter Resigns in Massachusetts
By
September 28th, 2018 | Last updated on September 28th, 2018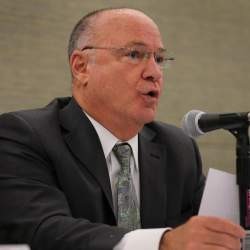 Online poker and gaming were never a certainty for Massachusetts, but there have been numerous signs in the past couple years indicating that lawmakers were working toward the legalization of online games.
Several members of the state legislature have supported studies and bills, but there was one driving force behind the movement to expand gambling in the state. That force was Stephen Crosby, chairman of the Massachusetts Gaming Commission. He had been in the role since the commission was formed per a gaming law passed in November 2011, tasked with overseeing a body that created a statewide gambling framework and processes for maintaining a fair industry.
Crosby's consistent support of legalizing online poker and other casino games was a constant through the years, but that all changed with his sudden resignation this week.
Stephen Crosby's resignation provides an opportunity to recount his accomplishments as the head of the Massachusetts Gaming Commission. https://t.co/3axGvgIDiF

— OnlinePokerReport (@OPRupdate) September 27, 2018
Effective Immediately
On Wednesday, September 26, Crosby resigned from the Massachusetts Gaming Commission with immediate effect. His lengthy written statement started with the reason for his action:
"Just recently, I have twice been accused of prejudging the outcome of the Investigations and Enforcement Bureau's ongoing investigation regarding the suitability of Wynn Resorts."
Crosby goes on to cite the two situations that led to the allegations of prejudgment and notes that accusations against him will likely taint the credibility of the Commission as a whole.
"I simply cannot let my involvement in these critical deliberations be used by others to hamper the Commission's ability to do its work, or to undermine the confidence of the public in that work.

"There has never been a shred of truth or accuracy to any charge of bias, favoritism, corrupt practice, ethics violations, or prejudgment in my execution of this job. I established our core value that our work must be 'participatory, transparent and fair.' I live that core value."
With that, Crosby resigned:
"With a profound sense of sadness, regret – and yes, frustration – I am resigning as Chair of the Massachusetts Gaming Commission, in order to give you the best possible opportunity to do your work without distraction. And I leave the leadership of this organization in the very capable hands of your four Commissioners."
An internal message to MGC Commissioners and Staff from Chairman Stephen Crosby https://t.co/sDZ8HWb255

— MA Gaming Commission (@MassGamingComm) September 26, 2018
The situations in question pertain to Steve Wynn, allegations of sexual assault against Wynn, and the suitability of Wynn Resorts to hold a casino license in Massachusetts. Wynn has accused Crosby of prejudging his guilt/innocence in the sexual assault cases, and Mohegan Sun sued the Commission for giving the license to Wynn Resorts before the investigation was complete. The complicated matter is now left for the remaining members of the Commission to handle.
Proponent of Online Poker
Crosby has long spoken in favor of legalized online poker and other forms of internet gambling for the state of Massachusetts, understanding fully the long-term economic benefits and contributions to the growth of the gambling industry for the state.
Specifically, Crosby was a key member of the Massachusetts Special Commission on Online Gaming, Fantasy Sports Gaming and Daily Fantasy Sports, a research group established in 2016 to examine the potential benefits of the internet games for the state. Though the end result of the entire group was to recommend daily fantasy sports be legalized right away, Crosby was key in pushing for a regulatory framework for DFS that would allow for online poker and casino games to be easily worked into the system in the future.
That type of advocacy undoubtedly played a role in the introduction of a comprehensive online gambling bill by Massachusetts State Senator Eileen Donoghue in January 2018. The bill called for the legalization of online poker, casino games, DFS, and sports betting, which was then pushed forward to authorize an additional study to detail potential economic benefits.
Due to growth of daily fantasy sports & online gaming, I established/co-chaired a commission on these industries that issued a 2017 report. I recently filed a bill to define online gaming & permanently legalize DFS. Read more: https://t.co/3s2EieMw6K, https://t.co/7x9K9ZSghv

— Eileen Donoghue (@EileenDonoghue) January 24, 2018
Crosby was also a key player in ensuring that casino licenses were awarded properly, which led to the state's first land-based casino opening in August 2018. The MGM Springfield was the first step in a line of casino openings scheduled for the coming years.
Just as it seemed that online poker was closer than ever to becoming a reality for Massachusetts in 2018 or 2019, Crosby and his advocacy are now removed from the equation. This could present a problem if other members of the Commission don't hold as favorable a position regarding online gaming as did Crosby. Gayle Cameron, who was appointed as the interim chair in Crosby's absence, will lead the Commission until a new chair is appointed, but her official stance on internet gaming remains to be seen.
Commission selects Commissioner Gayle Gameron as Interim Chair. https://t.co/mISrkeu5yC

— MA Gaming Commission (@MassGamingComm) September 27, 2018
Related Articles