Massachusetts Considers Online Gambling in 2018
By
January 25th, 2018 | Last updated on July 29th, 2018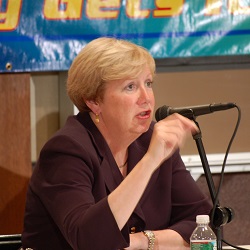 State Senator Eileen Donoghue open to online poker?
Massachusetts and its jagged road toward online gambling may prove that the internet betting market in the United States is as open and unpredictable as the lottery.
After a long-awaited report was released last year, it seemed that online poker and casino games would not be on the table for several years. The commission examined and researched various forms of online betting potential for Massachusetts and concluded that only daily fantasy sports (DFS) was in the cards for the immediate future.
Nevertheless, in the first month of 2018, a bill appeared in the state legislature to regulate DFS, online sports betting, and internet gambling.
Well, okay then!
Commission Report Results
The group was assembled in 2016 and delivered a final report in July 2017. The Massachusetts Special Commission on Online Gaming, Fantasy Sports Gaming and Daily Fantasy Sports included a number of legislators and experts, notably pro-online gambling Senate Minority Leader Bruce Tarr and Massachusetts Gaming Commission Chairman Stephen Crosby.
The end result of the year-long effort was a recommendation to the state legislature to regulate DFS with a larger online gambling picture to be addressed in the future. They indicated the goal for the state's gambling industry should be to "permanently legalize daily fantasy sports but hold off on allowing other forms of online gambling for now."
Fast Forward Six Months
A new year brought new goals, at least for one of the members of the aforementioned commission. Massachusetts State Senator Eileen Donoghue was the co-chairperson of that commission that recommended only DFS be legalized, and she is now the sponsor of a shiny new comprehensive online gambling bill.
On January 17, 2018, Donoghue introduced SD.2480, otherwise known as "An Act to Regulate Online Gaming, Daily Fantasy Sports, and Online Sports Betting." It was immediately referred to the Joint Committee on Rules.
Due to growth of daily fantasy sports & online gaming, I established/co-chaired a commission on these industries that issued a 2017 report. I recently filed a bill to define online gaming & permanently legalize DFS. Read more: https://t.co/3s2EieMw6K, https://t.co/7x9K9ZSghv

— Eileen Donoghue (@EileenDonoghue) January 24, 2018
Much of the language in the bill focuses on DFS, but its definition of "online game" notes that it includes DFS but not exclusively. And the name of the legislation itself includes online gaming in general and in addition to DFS and sports betting, the sports betting being contingent upon the New Jersey case awaiting a decision from the United States Supreme Court this spring.
Intentions Clearly Unclear
The ambiguous language of SD.2480 is likely intentional, meaning the general wording and inclusion of general online gaming keeps the bill open to more than just DFS. This opens the door for hearings and debate about the entire topic of online gaming, though there will be a focus on DFS.
Massachusetts legislators like Tarr have been pursuing online poker and casino games since 2013. He introduced a bill that year and even tried to attach it to the state budget. He tried again the following year and did set up a hearing with the Massachusetts Gaming Commission (MGC) to discuss online lottery and gaming possibilities. Tarr pushed again in the latter part of 2015 with the support of the MGC, but it failed to garner enough support for committee approval and a floor vote. That led to 2016 when the MGC commissioned the aforementioned study.
It seems odd that Donoghue spearheaded the 2018 bill, as Tarr has been doing it for five years, but the two likely have a plan to work together to push it forward. They also have the support of the MGC.
While the new bill doesn't line up with the commissioned report that they authored last year, it should be noted that the report and subsequent legislative recommendation was done before Pennsylvania legalized online gaming in late 2017. With that industry set to launch in 2018 alongside that of New Jersey, which showed another year of stellar growth, it seems some Massachusetts legislators want their state to be competitive. As New York gears up to consider an online poker bill as well, Massachusetts may want to keep the door open to all possibilities.
It should also be noted that the state's casinos are not yet open for business. According to Online Poker Report, this could be another factor in the introduction of the bill in anticipation of the casino openings.
Related Articles