First Poker Room in Massachusetts Could Spur Online Poker
By
September 1st, 2018 | Last updated on September 1st, 2018
Home
»
Poker News
»
First Poker Room in Massachusetts Could Spur Online Poker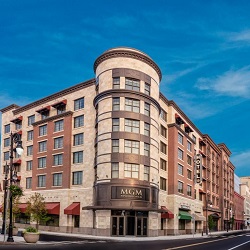 As the year progresses, it looks more and more like Massachusetts has a strong chance of legalizing online poker and other casino games in 2019. It could be sooner if a pending study is completed with favorable results, but considering the lateness of the legislative year and the upcoming November mid-term elections, the safe bet is 2019.
The latest encouraging sign is the opening of the first live poker room in Massachusetts. The MGM Springfield opened last week to usher in a new era of commercial gambling in the state, and the establishment boasts of a 23-table poker room. Should players flock to the casino and its poker room, it could indicate that the state is ready to embrace a comprehensive gambling expansion plan.
We have officially opened our doors. #NewTraditions begin now. 08.24.18 pic.twitter.com/gonekVWfCI

— MGM Springfield (@MGMSpringfield) August 24, 2018
Accordingly, the bill to watch is S.2273, which is now accompanied by a feasibility study in the form of Order S.2565.
Poker Room Open for Business
Massachusetts legislators passed the Expanded Gaming Act in 2011, which paved the way for up to three casinos and one slot parlor to open in the state. The latter opened in 2015, but the first of the three casinos didn't open until August 24, 2018. The MGM Springfield has everything a full-service casino can offer, including a poker room filled with 23 tables.
According to US Poker, players will find a high-end poker room with chairs in the style of a Rolls Royce vehicle seat, each offering its own mobile device docking station. There are 16 televisions in the room, which is open around the clock and serves complimentary drinks. The tables do not have built-in cup holders or a bet line, however.
As it opened, the dealers were only serving no-limit hold'em, though Omaha and seven-card stud are on tap for the near future. Buy-ins start at $100 for $1/$2 for NLHE and $300 for $2/$5 tables. Straddling is allowed, and poker room availability is offered on the Bravo Poker Live app.
One hour after opening, @MGMSpringfield #poker room had eight full tables and plenty of interest waiting in the wings. pic.twitter.com/dgwJHzg6cC

— Gary Trask (@casinocityGT) August 24, 2018
The poker room is currently the only one in Massachusetts but will have competition when Encore Boston Harbor opens in the summer of 2019. That poker room is purported to have 90 tables.
Possibilities for Online Poker
Does the opening of one live poker room translate into a sudden love of the game by lawmakers who are now ready to legalize online poker? No.
However, the existence of live poker in the state does help. With casinos open for business and attracting customers who play poker, it will give the casinos more lobbying power with state lawmakers. The same applies to the desire for online table games and slots and the benefits of linking online customers to the live casino business, all of which are incentives to push for legislation. There will also be statistics soon, as well, to compare with New Jersey, a state that has had tremendous success with online gaming.
We are ready!! Keep an out for the official @MGMSpringfield Poker Twitter..it's coming soon! #weareafirst #readytoroar pic.twitter.com/61DpP6G3ou

— Adam Nash (@adamnash777) August 22, 2018
The advancement of gaming in Massachusetts bodes well for legalizing poker and other games online, especially with the support of the Massachusetts Gaming Commission and other influential groups.
Pending Legislation
State Senator Eileen Donoghue decided to spearhead the push for legalized online gaming in Massachusetts with a new bill she introduced in January 2018. This not only included online poker and casino games but daily fantasy sports and online sports betting as well. Her plan culminated in S.2480, which eventually became and is currently S.2273, a proposal to expand gaming to the internet via several avenues.
Due to growth of daily fantasy sports & online gaming, I established/co-chaired a commission on these industries that issued a 2017 report. I recently filed a bill to define online gaming & permanently legalize DFS. Read more: https://t.co/3s2EieMw6K, https://t.co/7x9K9ZSghv

— Eileen Donoghue (@EileenDonoghue) January 24, 2018
The motivation for S.2273 came from a study that had been completed in mid-2017 by the Special Commission on Online Gaming, Fantasy Sports Gaming and Daily Fantasy Sports. The first takeaway was that DFS should be legalized, but the final report also specified that online gaming should be considered as a part of the state's gaming future. The creation of an internet gambling framework was recommended for that future.
While some pegged Donoghue's bill as too ambitious, she knew it had support from her fellow legislators. That was confirmed in June when her bill was combined with others for a Senate study in the form of Order S.2565. The Committee on Economic Development and Emerging Technologies ordered the study to compliment the one submitted last year and also add aspects of the lottery and horse racing to its scope. The order was signed on June 19 and referred to the Joint Committee on Rules, then to the Senate Rules Committee.
The deadline for the study remains unclear, but it is abundantly clear that Massachusetts is taking the potential for gambling expansion seriously. The possibilities in the online gaming world only improve the success of the casinos opening and preparing to open.
All eyes are currently on Order S.2565, as its results will likely pave the way for Donoghue's bill to move forward in the legislature in early 2019.
Related Articles