New York Moves Early on 2018 Online Poker
By
January 25th, 2018 | Last updated on October 16th, 2020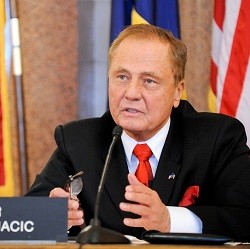 State Senator Bonacic champions online poker bill again
New York State Senator John Bonacic is wasting no time when it comes to pushing his online poker bill in 2018. He has championed a bill for several years in a row, and he seems more determined than ever to help his state finally legalize it.
Bonacic may get another passage through the Senate again this year, but the question mark remains hovering over the head of the New York State Assembly. The assemblyman who has sponsored the companion bill in the last few years always seems to develop concerns throughout the year, resulting in the death of his bills. Therein lies the problem for New York.
Path of Senate Bill 3898
The adventurous path of this bill started in early 2017 when Bonacic introduced it in January, nearly one full year ago. The bill moved from the Racing, Gaming and Wagering Committee to the Finance Committee on Valentine's Day, where it sat until it began advancing in May. And on June 13, 2017, the bill passed the Senate by a vote of 54-8 – a resounding level of support.
When the bill was forwarded to the State Assembly, it simply died.
New York Assemblyman J. Gary Pretlow failed to do anything with the bill from the Senate, just as he let his own A.5250 bill go into a coma after it passed his Racing, Gaming and Wagering Committee in June by a resounding vote of 10-1.
As the bills awaited Pretlow's attention, he was busy assessing the first revenue reports from the new land-based casinos in the state. They had yet to meet any of their revenue projections, leading Pretlow to wonder if the estimates were honest. He even asked the state comptroller to launch an investigation into the matter.
Meanwhile, S.3898 died in the Assembly but was given a ventilator on January 3 when it was returned to the Senate.
Fast Movement in Early 2018
Bonacic's bill remained alive as the new year began. It was sent back to its original starting point – the Racing, Gaming and Wagering Committee – to begin anew. Its summary, as a refresher, states:
Allows certain interactive poker games be considered games of skill rather than games of luck; includes definitions, authorization, required safeguards and minimum standards, the scope of licensing review and state tax implications; makes corresponding penal law amendments.
And it didn't take long for Bonacic to make his move. He put it to the committee on January 23, and the members voted 10-1 to advance it yet again. The bill now sits with the Senate Finance Committee.
Need to turn all this early in the year activity into some tangible results! https://t.co/WsQ34NTIlV

— Poker Alliance (@ppapoker) January 24, 2018
Next Steps
In all likelihood, Bonacic will do the same as last year, though maybe even with more expediency. With Pennsylvania now preparing to establish regulations for online casino games and poker and open the licensing process, and with New Jersey setting up an online poker network with Nevada and Delaware, there is more of an urgency to pass his bill and find a way to make it over the finish line. Competition for gambling dollars on the East Coast is heating up in 2018, and New York is going to want to stay competitive and ensure as much success as possible for its new brick-and-mortar casinos.
The big question remains as to how the bill will progress through the Assembly. Pretlow's hesitancy in past years, his on-and-off concerns about online poker, and his anger with land-based casinos may be enough to keep him from doing anything with regard to the subject this year. If this is the case, Bonacic will need to find another member of the Assembly to sponsor a new bill or take the baton for S.3898 after it passes the full Senate.
At this point, the poker ball seems to be in Bonacic's hands. If he wants to ensure its success in 2018, he will need to find allies in the Assembly to work with him and educate others as to the benefits for New York. There will need to be Assembly committee hearings and educational conversations, but Bonacic knows this.
Keep eyes on New York in the coming months. Nearly everyone pegged New York as one of the most likely states to join the legal online poker market this year.
Tuesday & Wednesday #Fight4Poker: Let's tell New York lawmakers to support online poker: https://t.co/kzA17e8ahE

— Mike Qualley (@mqusicMQ) January 10, 2018
Related Articles