Daniel Negreanu Named WSOP Player of the Year
By
November 5th, 2019 | Last updated on November 14th, 2019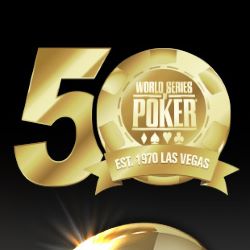 It was a tight race. And it all came down to the last tournaments at WSOP Europe in Rozvadov, Czech Republic. It took until the final day of the final tournament of the series to determine the player who would be the 2019 WSOP Player of the Year.
That player is Daniel Negreanu.
Most POY races don't come down to the last qualifying tournament, but this year was unique in that three players were vying for the Player of the Year title all the way until the end.
On the last day of play, when one of the three finalists finished in 11th place in the closeout tournament of the series, it was over. Negreanu beat out Shaun Deeb and Robert Campbell for the title, his third one.
Neck and Neck and Neck (and Neck)
The top players knew that they were in contention to be the Player of the Year, so many of them made the trip to King's Casino to play in the events of the World Series of Poker Europe to earn more points. While the WSOP POY doesn't actually translate into anything tangible, it is an honor that many players aspire to achieve.
While there is no cash prize for WSOP POY, poker is my passion.

The title is the achievement and acknowledgment of a lot of hard work, long grueling days against top competition.

— Daniel Negreanu (@RealKidPoker) November 4, 2019
According to the WSOP rules, there were several events excluded from the POY race this year. Most were understandable as they limited entries – casino employees, seniors, ladies, bracelet winners – but the WSOP also excluded the summer tag team tournament and the WSOP Europe €250K buy-in Super High Roller.
All other tournaments were fair game. That led players like Negreanu, Campbell, and Deeb to join others like Anthony Zinno and Phillip Hui to make the trek to Rozvadov, too. Poker players do love a challenge.
The ultimate path came down to four finalists playing hard to win. And it was in Event 15 – the very last opportunity to win points in 2019 – that they all made a run for it.
Zinno busted in 256th place in Event 15, so he was definitely out of contention for POY. Negreanu busted in 195th place, garnering some points. Campbell made it to 149th place in that tournament, but that wasn't enough to overtake Negreanu.
And then there was Deeb, the reigning 2018 WSOP Player of the Year. He most certainly wanted back-to-back wins and pushed through to the final day of Event 15, ultimately busting out in 11th place. That wasn't enough and left him in third place.
The final standings were:
Daniel Negreanu – 4,074.88 points
Robert Campbell – 3,961.31 points
Shaun Deeb – 3,710.64 points
Anthony Zinno – 3,322.0 points
Phillip Hui – 3,186.17 points
Daniel Zack – 3,126.13 points
Dario Sammartino – 3,091.03 points
Kahle Burns – 2,983.37 points
Dash Dudley – 3,860.79 points
David Baker – 2,808.51
First to Win Without a Win
Negreanu becomes the first player to ever with the WSOP POY without winning a bracelet as a part of his points accumulation. Deeb would've had that same designation if he would've won.
This has made many – even Negreanu himself – question the accuracy of the POY points system used by the WSOP. Even though the multiple reentries allowed in so many tournaments may skew the results to a certain degree, Negreanu doesn't control the system but will play within it to win, as many others did.
For comparison, here is Negreanu's 2019 WSOP scores, a serious list of tournament finishes that accumulated points toward the POY:
LV Event 2 – $10K Super Turbo Bounty – 6th place ($52,099)

LV Event 9 – $600 NLHE Deepstack – 485th place ($1,257)

LV Event 13 – $1,500 NL 2-7 Lowball Draw – 29th place ($2,780)

LV Event 25 – $600 PLO Deepstack – 381st place ($875)

LV Event 31 – $3K NLHE 6-Handed – 106th place ($4,514)

LV Event 34 – $1K NLHE Double Stack – 523rd place ($2,164)

LV Event 38 – $600 Online NLHE Knockout Bounty – 46th place ($1,652)

LV Event 41 – $10K Seven-Card Stud – 2nd place ($151,700)

LV Event 56 – $1,500 NLHE Super Turbo Bounty – 155th place ($1,762)

LV Event 60 – $1,500 PLO-8 – 152nd place ($2,330)

LV Event 62 – $10K Razz – 5th place ($69,223)

LV Event 66 – $1,500 LHE – 20th place ($4,360)

LV Event 68 – $1K Online NLHE Championship – 36th place ($4,734)

LV Event 74 – $3,200 Online NLHE High Roller – 72nd place ($6,310)

LV Event 78 – $1,500 PLO Bounty – 42nd place ($3,553)

LV Event 83 – $100K NLHE High Roller – 2nd place ($1,725,838)

LV Event 87 – $3K HORSE – 36th place ($4,734)

EU Event 2 – €550 PLO 8-Handed – 59th place (€787)

EU Event 6 – €25,500 NLHE Short Deck High Roller – 16th place (€39,943)

EU Event 8 – €25,500 NLHE Platinum High Roller – 10th place (€48,929)

EU Event 9 – €1,650 PLO/NLHE Mix – 37th place (€2,392)

EU Event 10 – €25,500 Mixed Games Championship – 6th place (€54,287)

EU Event 11 – €2,200 PLO – 20th place (€4,127)

EU Event 15 – €550 NLHE Colossus – 195th place (€2,036)
Campbell, on the other hand, finished in second place for POY with this list, including two bracelet wins:
LV Event 10 – $1,500 Dealers Choice – 8th place ($13,681)

LV Event 18 – $10K Omaha-8 – 5th place ($102,868)

LV Event 33 – $1,500 Limit 2-7 Lowball Triple Draw – WIN ($144,027)

LV Event 54 – $1,500 Razz – 7th place ($12,837)

LV Event 60 – $1,500 PLO-8 – 63rd place ($4,083)

LV Event 63 – $10K Seven-Card Stud-8 – WIN ($385,763)

LV Event 84 – $1,500 NLHE Closer – 174th place ($3,500)

LV Event 85 – $3K PLO 6-Handed – 33rd place ($10,351)

EU Event 2 – €550 PLO 8-Handed – 48th place (€908)

EU Event 3 – €1,350 NLHE Mini Main Event – 50th place (€2,596)

EU Event 8 – €25,500 NLHE Platinum High Roller – 8th place (€59,189)

EU Event 15 – €550 NLHE Colossus – 149th place (€1,325)
Daniel I know we are friends but I feel compelled to speak out for the best interest of the poker community. Your unlimited rebuys in high rollers and the way you have flexed your bank roll against Robert Campbell who should have easily been POY is just not right.

— Phil Helmuth (@PhilHelmuth4) November 2, 2019
Deeb had 17 cashes in Las Vegas over the summer, highlighted by second place in the $10K Dealers Choice, fifth in the $50K Poker Players Championship, and seventh in the $1,500 NLHE Closer. When he got to Europe, he scored 18th, 13th, 26th, and 11th place in tournaments to secure third place on the POY leaderboard in the end.
I choked

— shaun deeb (@shaundeeb) November 4, 2019
Zinno had nine cashes in Vegas, including several final tables and a bracelet win in $1,500 PLO-8. He then did well in Europe, even final tabling the Main Event and finishing in third place.
Hui had 10 cashes, including winning the $50K Poker Players Championship. Sammartino had a handful of cashes but two very significant ones – second place in the WSOP Main Event in Las Vegas and fourth in the WSOP Europe Main Event.
There were many players deserving of recognition for their efforts at the WSOP in 2019.
In the end, Daniel Negreanu won his third title. The first one came in 2004 and the second in 2013.
I'm very proud of the year I had and super grateful I get to play a game for a living.

Wow, what an emotional roller coaster this was!

I did say I like dramatic finishes and this one certainly fits the bill!

— Daniel Negreanu (@RealKidPoker) November 4, 2019
Related Articles