Online Poker Supporter Yang Ends Presidential Bid
By
February 13th, 2020 | Last updated on February 13th, 2020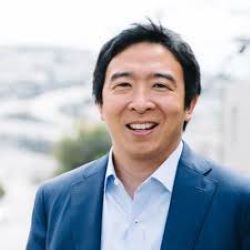 The fight to legalize online poker in the United States is more than a dozen years in the making. Most poker players had given up hope that the game would be legalized on the federal level…until entrepreneur and businessman Andrew Yang ran for the American presidency. He was the first candidate affiliated with a major political party to take a serious stand on legal online poker.
While Yang's support from the poker community grew over many months, his campaign did not garner enough overall support to remain viable past the first caucus and primary.
On the night of February 11, Yang officially ended his campaign, much to the disappointment of supporters across America, including many in the poker community.
I need to assess who I will support now in the 2020 Election now that my man @AndrewYang is out.🤔🤔🤔

— Bill Perkins (Guy) (@bp22) February 12, 2020
Most Support from a Presidential Candidate
Online poker as a political issue doesn't exactly carry the weight of vital economic and social issues. Presidential candidates focus their attention on the economy, health care, climate change, education, military, criminal justice, racial and gender issues, immigration, infrastructure, and foreign policy. Mainstream presidential candidates, especially those of the Democratic or Republican persuasion, don't publish policy papers about online poker.
Yang didn't do it either…at first.
Then, Daniel Negreanu became a member of the Yang Gang. As a major political donor and well-known figure, Negreanu caught the attention of Yang. And he caught his ear. The two spoke, undoubtedly about quite a few issues but about online poker, too.
And that led to the tweet heard 'round the poker world:
Online poker is legal in 4 states. The state-by-state rules are variable and push many players to offshore sites. We should clarify the rules and make it legal in all 50 states. US players and companies would benefit and new tax revenues could be used to mitigate addiction.

— Andrew Yang🧢 (@AndrewYang) October 26, 2019
Yang even agreed to be a guest on Joey Ingram's podcast. Though the interview never happened, Yang and Ingram had spoken about it.
Further, Negreanu hosted a poker tournament-based fundraiser for Yang in Las Vegas, which raised campaign donations and garnered more support for Yang's campaign as a whole.
No Online Poker Supporters Remain
As the Democratic field of potential party nominees dwindles throughout the first month of primary and caucus voting, few candidates remain in the race. Even fewer remain viable.
Leading up to the Nevada caucuses in November, there were still several Democratic candidates in the race:
–US Senator Bernie Sanders

–Former US Vice President Joe Biden

–Former South Bend Mayor of Indiana Pete Buttigieg

–Former New York City Mayor Mike Bloomberg

–US Senator Elizabeth Warren

–US Senator Amy Klobuchar

–Businessman Tom Steyer

–US Representative Tulsi Gabbard
Of those candidates, few have indicated any particular stance or thoughts regarding online poker or any type of internet gambling. Biden supports the 2011 reading of the Wire Act but had no further thoughts. Warren was not supportive of online gambling but admitted she knew little about it. None of the others have answered any questions about the subject matter.
Former candidate and current US Senator Cory Booker of New Jersey was a solid supporter of the 2011 Wire Act decision and of internet gambling in general. He suspended his campaign in mid-January 2020.
Yang Still May Go to Washington
Needless to say, many poker players are still reeling from Yang's exit from the presidential race this week. It can happen when any person becomes invested in a candidate's race for office.
GG Andrew Yang, I appreciated you putting a spotlight on universal programs and poker! To my fellow poker players – Bernie is pushing for the programs that will take a lot of stress out of a variance-filled lifestyle.

— david bakes (@DMBakes) February 12, 2020
Negreanu, actor Ken Jeong, and musician Steve Aoki had events planned for Yang, originally as a fundraiser, on the days after Yang ended his campaign. Negreanu noted that they were going through with it all anyway, as a celebration of his contributions to the race.
Heading to Las Vegas later today to thank staff and attend planned events with @steveaoki @RealKidPoker. A lot of people in Nevada worked hard for the campaign. 👍🙏

— Andrew Yang🧢 (@AndrewYang) February 12, 2020
It may not be the last that they see of Yang anyway. He has indicated that he is certainly open to considering a vice-presidential nod or a place in a new president's administration.
For now, the poker community can thank Yang for bringing national attention to the US online poker and gambling issue. And they can encourage other candidates to take a stance on internet gambling or, at the very least, the current federal court case involving the Wire Act.
Related Articles